I have been thinking a lot lately about what we couldn't be without during these first 3 months and what we really didn't need to buy and I thought I'd put my top 4 newborn essentials into a blog post for any expectant parents.
Muslins Squares
These have been a god send for us at every feed and just for clearing up sicky messes, covering us up when burping and for Ezra to cuddle. We didn't buy enough so we had to buy some more and they come in loads of designs. I used these all the time with Ethan too but they weren't in such nice designs 9 years ago. Primark and Asda ones seem to have held up best against the washing machine and the tumble dryer. Matalan have cute designs but they didn't like the tumble dryer much.
Sleep Next To Me Crib
I was a bit wary of buying one of these as it just seemed a huge expensive item and I didn't really see why as we used a cradle and moses basket combo with Ethan but it has been brilliant. We have had the side lowered on ours but it doesn't lower completely so baby is still contained and no risk of him rolling out or into my bed. I have found it to be brilliant during the night feeds and means a lot less bending up and down which was perfect during the early days of recovery. I never thought I would use it but the fact that it can tilt so when they have a cold or sniffles they can be laying slightly upright to help ease the congestion has helped us massively with Ezra's rotten cold. He doesn't like his moses basket as he is too flat but he will happily sleep in his next to me.
My exactly one isn't available on Amazon anymore but this one is similar.
Milton Cold Water Steriliser
Many people go automatically to a microwave steriliser but both times I have used a Milton Cold Water steriliser and honestly I think it is the best option. You change the water once every 24 hours and the items in the water are ready to use after just 15 minutes. Yes it isn't a quick option but most of the time the bottles are sterilised in advance anyway so it makes no difference. You can also put dummies in there and medicine syringes. It was the way I was shown in the neonatal unit too when both of my boys were born. I have to admit that the smell is slightly like swimming pools but the bottles don't keep that taste and the lid keeps the smell within the steriliser so it isn't noticeable.
It is a cheaper option too than most electric or microwave versions and the sterilising tablets are pretty inexpensive too. You can purchase them here from Amazon.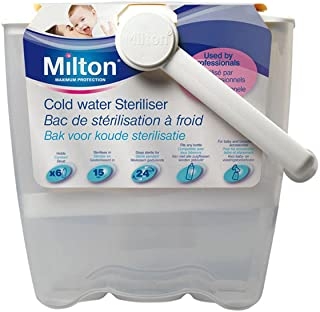 Baby Swing
I didn't think about adding this one to my list until recently but we now LOVE our baby swing now Ezra is big enough. It saves my back massively from swaying him to sleep and it also gives me free hands to do the housework. It has 2 settings which is semi fast and roller coaster speed but Ezra seems to love the fast speed and it always settles him when he is being fussy so maybe it doesn't feel as fast as it looks. The one we have is this model and we were lucky enough to get it as a pregnancy present from my work friends.
We also have a bouncer which vibrates but he doesn't love it as much as the swing. I would recommend it to any pregnant women to get one or add it to their baby wish list.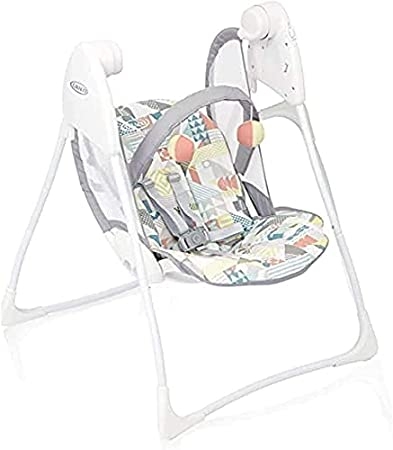 What are your top 4 baby items?
Comment below I would love to hear them