Ezra is quickly growing up and he has now reached 9 months which means he has been out of my belly longer than he was in it which is slightly scary! He is starting to interact with toys, and I thought I would tell you which children's toys he is loves when he is on the play mat. He isn't on the move forward yet (just backwards), but he is trying so sure this list will change once he starts moving. As Ezra was two months premature he is currently loving toys that are aimed at around a 7 month old + but to be honest I think these are toys all babies love once they are more alert and able to move their hands freely.
Jumperoo
We have a second hand one off the selling pages which we got for free but he loves it and he will often spend 10 minutes in at a time when we need our hands free or when he is in a bouncy mood. We have the Rainforest Jumperoo but when searching online I came across this one which has a slightly higher price but is lovely if you can afford it.
V-Tech Toot Toot Cars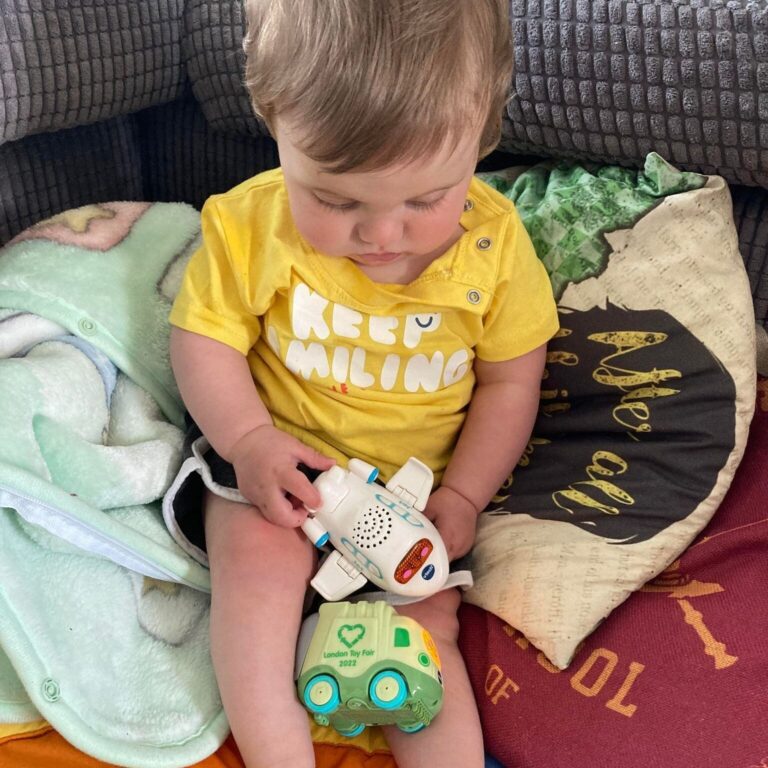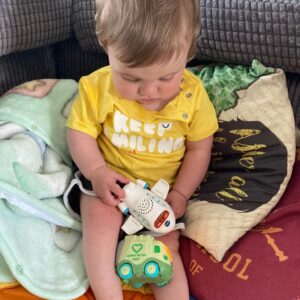 Ethan was a huge fan of these cars and it is looking like Ezra is following in his footsteps. We got our first toot toot vehicle at the toy fair at the start of the year as a free gift from Vtech and our collection has quickly grown. We love these ones and the ice cream truck that we are getting for his birthday.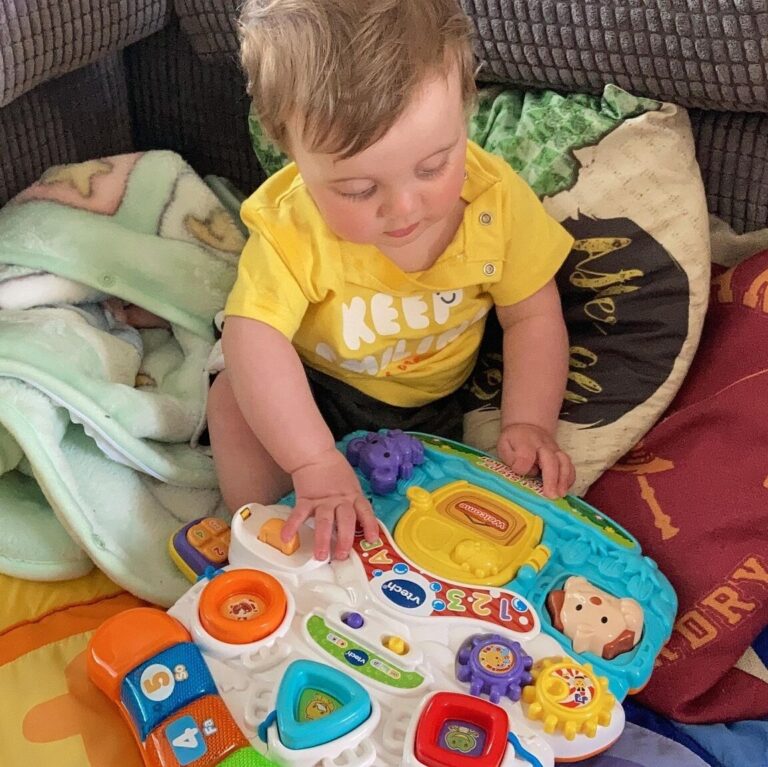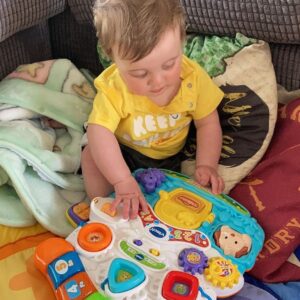 Obviously Ezra isn't on the move yet but he is loving using the front panel of the walker as it is noisy, colourful and it has a phone so its always a winner with children. Ezra got gifted this one for Christmas from his nanny and it has been a hit since we got it out of the box. It has 2 modes and 2 volumes, so it isn't always so obnoxious.
Rattles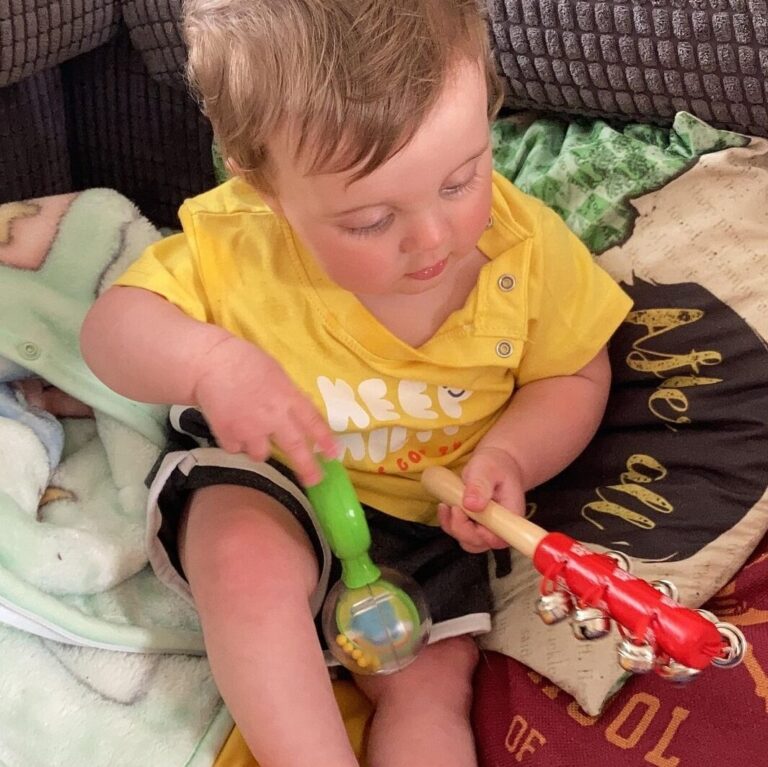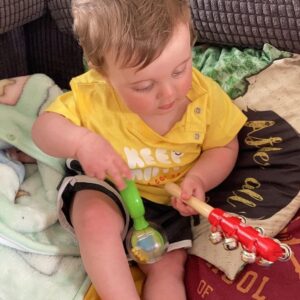 Anything that makes noise is currently a winner, we have a few plastic rattles from random sets and freebies off Facebook and we have a few wooden ones from Primark and they are all winners. He loves them all and we got one with bells on at Christmas and apart from when he smacks himself on his head, he loves it. Doesn't have to be expensive and doesn't have to do much as long as it has some beads inside or bells and makes noises. This set is similar to some of Ezra's favourite ones.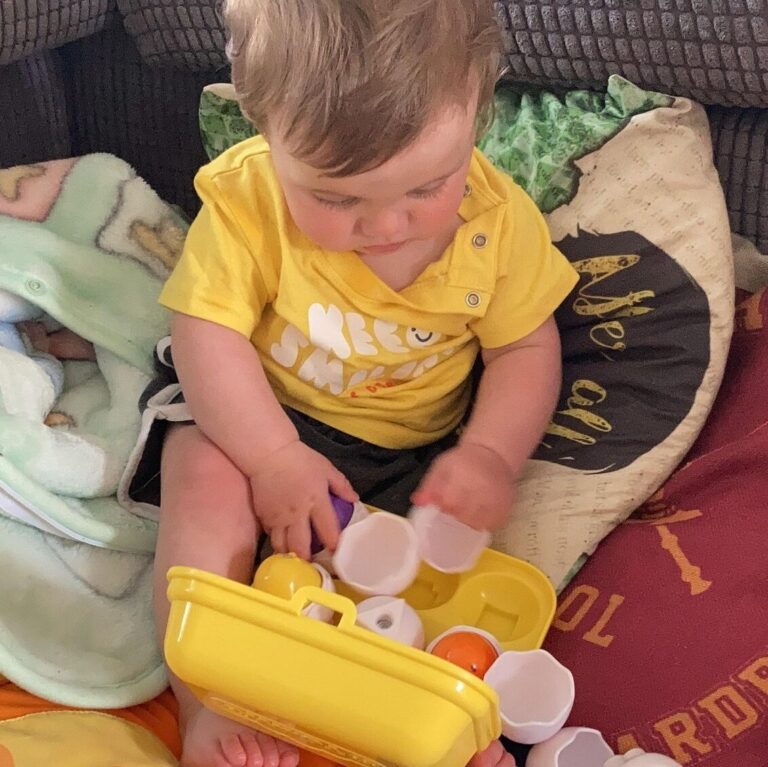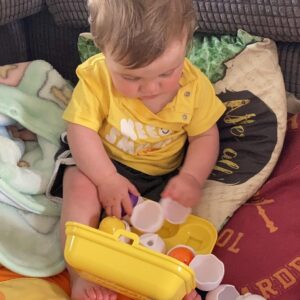 This box of 'eggs' has been a winner with both of my boys and all my nieces. Ava even said she remembers playing with them when she was little. Ezra loves the eggs but also the box and making them hide when he shuts them in there but he hasn't quite got the hang of re opening it yet. Cheap, cheerful toy and can withstand an awful lot of playing!
Other brilliant bloggers who have toy related posts :