My next adventure / holiday is to Rome for a few days by myself. I have only travelled abroad on my own a couple of times, and I have never done a flight this long solo unless it is to Spain. Italy is on my 30 before 30 list so thought I would start with Rome. Ethan is in the USA for 2 weeks with his dad so I thought I would take myself away for a few nights.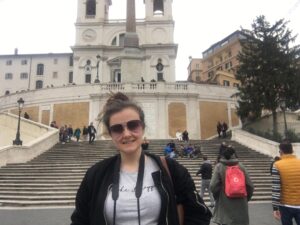 I looked and searched a few locations and Rome actually came up pretty cheap compared to Amsterdam and Dublin. I have taken the plunge and booked it and you know what I am SUPER excited. Money is tight right now but that is the joys of going away solo I only have to think about feeding myself. I am sure they have McDonalds there.
Next thing after organising the flights and hotels for me is the journey from the airport and how do I approach it. I speak NO Italian so this could be funny or stressful. The best advice I've found is to get a bus for €4 – €10 which I'm totally happy with. Some good advice regarding the journey can be found on this website.
I have a few ideas of places to go but always welcome to new suggestions especially regarding must eat food places. I'm not looking for posh or expensive just food on the go! During my research for this trip, I have found some good blogs and pages and this page is wicked and full of information!
Where In Rome I Plan To visit:
St Peter's Square (Free)
St. Peter's Dome (Great tips here)
Pantheon (Free)
Vatican Museums (€26)
Sistine Chapel (Same ticket as the Vatican)
Campo De' Fiori (Time Dependant)
Spanish Steps
The Pope's Wednesday Mass (If Possible)
Trevi Fountain (MUST DO)
The Colosseum
St Peter's Basilica (MUST DO)
Is there anything I'm missing in Rome?
I plan to prebook for what I can to get queue jumps and lower prices. I also plan to wake up early to go to the Dome and Basilica as they get super busy! I'm not usually a morning person but tend to be on holiday as I like to fit a lot in!
Comment below if you have any must have places that I need to do whilst I'm there.
Youtube Video: https://www.youtube.com/watch?v=teG3FvyhUOo&t=7s