All Aboard The GoBoat [AD]
GoBoat gifted us an experience on their Canary Wharf self-drive boats, and we couldn't wait to take the kids as a treat. We decided to make it a day out on the 7th May and booked our tickets and off we went.
Honestly it was slightly hard to find from the Canary Wharf tube station but if you go through the shopping centre then it is slightly easier as it is sign posted from there onwards. Once we arrived, we went signed in and then showed what the routes are and where to avoid. You need to arrive 15 minutes before your slot to find out the instructions and how to drive the boat and this allows you to be able to leave the dock on time, so you use your full time slot. All the staff were really friendly, knowledgeable, and happy to help.
What Is A GoBoat Experience?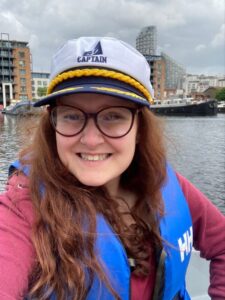 If you don't know what GoBoat is then let me explain it to you, GoBoat is the fun, self-drive boating experience. You are the captain; you choose the route. From our location in Canary Wharf, GoBoats have access to a stunning section of London Docklands. Our boats fit up to 8 people including children and dogs. I have zero boating experience and we managed fine as there is zero boating experience required. All you need to know is taught to you on the day including the boats instructions, what to do in an emergency, and also what routes to take. You get everything you need on an instruction board so even if you forget there is always a helping hand nearby.
All under 16's must wear a life vest in order to go on the boat and adults have the option to wear them too. I wore one but you don't have too it really is personal choice. The boat also has blankets, ponchos and umbrellas if required, we used the ponchos as it got a little drizzly but despite the weather it was still a lovely time. We actually agreed that it would have been too hot in full sunshine but for others that might be the ideal sunbathing weather, it really all depends on the person/group.
Our Experience
Nick loved driving the boat and he said it wasn't too hard to drive. He did mention he prefers a front steering boat as easier to handle. The kids loved it and haven't stopped talking about it. They have already asked if we can do it again in a different location. We would love to try the Paddington – Camden location to see what it is like in a different environment.
Did We Have Fun?
We had a fabulous time and I would definitely recommend it for hen do's, stag do's, and birthday parties. It would also be perfect as something different with the kids over the holidays.
If you would like to give it a try then use my code: DITTRICH10. This will give you 10% off your basket value**.
**This is for any trip sailed Monday to Friday before 31st October 2022. This is a self-drive experience, and your chosen captain (driver) must be 18+ and remain teetotal throughout the journey.
The code works across all GoBoat UK locations; Paddington, Kingston, Canary Wharf and Birmingham.
Thank you GoBoat for having us.
P.S You can buy a captain's hat for £7.50, but it can only be paid by card. No cash accepted.
Our YouTube Video is available here:
FULL YT VIDEO: https://youtu.be/oJwfAqvRKzc
YT SHORT: https://youtube.com/shorts/KTE1v7oeavo?feature=share