We moved into our house a year ago and I am still so bad at keeping up with the housework and I have so many products considering. However the one thing that has got to me lately is the amount of products tested on animals. Across Europe, countless animals such as rabbits, hamsters, rats and mice continue to suffer and die in household product testing. They are injected, gassed, force-fed and killed to test the ingredients that go into everyday household products.
I guess I was native and didn't want to think that this still happened within the UK but it does and it saddens me. It has become a new hot topic on instagram lately and this is due to Sister Pledge Cleans and The Organised Mum talking about it and breaking that silence. They both want to clean in a more natural way that isn't harming anyone. Why would anyone want to pump their homes and furnishings full of chemicals and fumes as essentially that is what some of these products are. Not only have we hurt an animal during the testing phase we are actually hurting ourselves and potentially bringing risk to ourselves. This is an article that is not only interesting to read but also eye opening regarding how we approach cleaning.
I emptied out my cleaning cupboard today after watching Sister Pledge Cleans and was shocked at the amount of items that were NOT cruelty free. Out of around 20 products, there was only 6 items that were marked or known to be cruelty free. I used an app called Cruelty Cutter which allows you to scan the bar code and it tells you the outcome of the product. Only 2 items couldn't be found on the app and they were easily found once searched.
Whilst researching for my own use, but also for this post I have looked into the supermarkets and their stance on their products being cruelty free.
Aldi have made it known they are Cruelty Free since 1/1/2018 by listing it on all their products as well as a section of their website dedicated to it.They have given a clear message to their consumers and its been well received across social media.
I was concerned about Tesco and Sainsbury's products because they are the two biggest supermarkets in my town. None of their products state if they are cruelty free or not and it cannot be found in the small print either. I have a few Sainsbury's products in my cleaning cupboard but also buy their cat food so this was a major one for me personally. After a quick google search I found these statements on their websites.
Sainsbury's have not commissioned any animal testing for cosmetic products or their ingredients since before 1996 when the Humane Cosmetics Standard was first launched. Animal testing is also associated with some household products and we insist that our suppliers do not commission any animal testing on these products or the ingredients that are used in them.
Animals are used to test our own label pet food for flavour, preference and palatability, in a similar way to human taste panels we use for food ranges. The animals are kept in a kennel or cattery environment and we do not permit any establishment to house or care for these animals that carries out any form of invasive animal testing, e.g. blood sampling.
The following was also found on Tesco website regarding Animal Testing.
Tesco do not support testing on animals for cosmetic or household products, and do not carry out or commission such tests on their own-brand products or the ingredients they contain.
This has put my mind at ease slightly with the products knowing that I can buy their own brand if I run out and I wont have to worry. I will be stocking up at Aldi though on my next trip as its fair priced and obvious on the packaging by the bunny logo. Aldi's cleaning products also smell amazing and do a fabulous job!
I have to say I was shocked at just some of the brands that aren't cruelty free though. I have used them a lot of them and stocked up on them since watching all the cleaning accounts such as Mrs Hinch. (Not hating on her just stating a fact)
I have used some of the products already so will finish using them as I don't like wastage and the companies have my money already. I have to say a lot of the products that I once thought were good and I used a lot now anger me as its just unnecessary in 2019 to be testing on animals. It is amazing how one minute you can be loving the smell of Febreze and the next it makes you feel sick!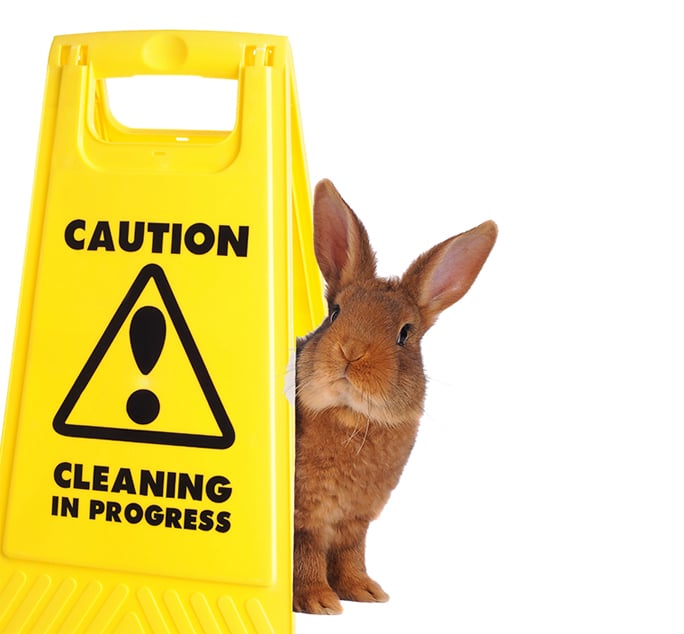 If you want to check some products yourself either download the Cruelty Cutter App or check websites such as Cruelty Free International or PETA.
I am aware that not everybody is going to want to change over and sometimes its not always possible. However if we all at least try then the bigger companies such as SC Johnson, Febreze and Unilever will realise they can't get away with it. There are so many ways and means to test items now a days and with science ever evolving that this shouldn't be happening anymore.
Please just take five minutes and read the website listed above and cast your own judgement on the matter. As they say knowledgeable is power and just be aware of the companies you are supporting and the CEO's pocket you are lining.
---