Christmas Gift Guide 2021
I tend to write a seperate gift guide for everyone in the family but this year I am going to write just one list and include items that I have come across that are from small businesses rather than big businesses. These products range from babies to adults and everything in between.
This isn't a paid advert, I just wanted to be nice towards small businesses this Christmas. All images belong to the businesses themselves.
Home / Accessories
Peter Bowden Art starts us off here with unique handmade art and ceramics that are lovingly crafted in Somerset, England. They are the higher price end of the scale but they are lovely pieces that have the possibility to become family heirlooms.
Primaberry have lots of items for everyone in the family but two products really stood out for me on their website. I LOVE the Orchid Bloom Cork notebook at £8 which is made from portuguese cork and would be a great gift for the budding writer or blogger. I also really like the matching Orchid Umbrella which comes in at £14.99 and is a brilliant handbag size. It also has a button function for open/close which I find super handy when i'm in a rush.
Dear Old Nelly is a store I have followed on Instagram for awhile and she has an Etsy account, I just think what she does is awesome and so unique and they make the perfect present. Her comissons are currently closed whilst I write this but I am sure if you message her she will be able to tell you when they reopen. So much time, care, effort and love goes into each one and they aren't expensive either. The mama bear one is my favourite though out of them all.
Teddy Eva Scents is my favourite wax melt brand and they are honestly so funny if you follow their instagram page. They are a down to earth and honest business and this allows them to be transparent with their products, costings and marketing. Ross who does a lot of the social media isn't everyone's cup of tea but we think he is brilliant and Rachel and Jenny work their butts off to get the restocks done on time for everyone to enjoy. They do an advent calendar each year but I THINK this years one has now sold out but I might be wrong. If you want wax scents that actually smell like they are suppose to then you buy them from here, no other businesses have matched up in my opinion.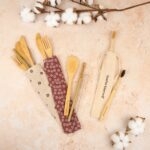 SeaForYourselfCo sell bamboo products which are perfect for the environmentally conscious this Christmas. All products are under £10 and they are perfect for fitting into Christmas stockings, or as a sustainable secret santa gift. SeaForYourselfCo's products make a perfect Christmas gift for anyone interested in living an eco-friendly/sustainable lifestyle or starting their sustainable journey. We love the Bamboo Cutlery Set with cotton carry pouch which is a steal at £6.95. If you hate paper straws then the Bamboo Straw Set with cotton carry pouch is great and affordable at £3.50. Both the cutlery and straw sets come with cotton carry pouches which are available in 8 designs so you don't need to compromise on style.
SeaForYourselfco's range of bamboo products are: non-toxic, BPA-Free, Sustainable, Biodegradable, Recyclable and Compostable. If you needed anymore of a reason then for every sale a total of 20p from every purchase is donated to 100 Tons of Plastic, a charity aiming to remove plastic waste from shores and seas while raising awareness about plastic pollution globally.
Women / Girls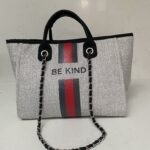 Universal Flip has been brought to my attention as they pride themselves on being a luxury ethical beachwear fashion brand. With us all being grounded for two years there hasn't been much call for beachwear but with 2022 looking to be the year we can travel again, these look brilliant. They would work well as an everyday bag too not just a beach bag. Nicky who owns the company is based in the Manchester area and is very passionate about her business.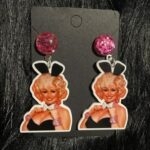 Gara and Jonay if you are looking for some earrings that nobody else will have then you don't need to go anywhere else. These earrings are definitely statement but they are awesome too and will be a conversation starter wherever you wear them. If you really want to go all out then you can matching keyrings too and by the looks of the website they have the odd tshirt for sale too. I know a few people who would look amazing in these earrings and they would make an awesome secret santa present.
The Krafty Goose is a small business that personalises items such as mugs, jumpers, dressing gowns and I came across them due to seeing this "Last Christmas as a Miss" Jumper and falling in love with it. She can personalise most items and if she can't then she will definitely help you to find a solution or an alternative. I love personalised items and find I tend to get them for Christmas presents as it just makes it that little bit extra special for the person receiving it. I don't think she is expensive either as £14.99 for a Christmas jumper that is a personalised one off would cost you a lot more elsewhere.
Children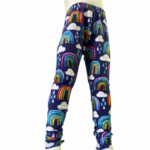 Equally Awesome is a gender equal clothing brand with fun patterned clothes for a wide range of ages and some styles are available in adult sizing too. They call themselves a slow fashion brand, that pride themselves on using high quality fabrics that wash and wear well. Their clothes are built to last with seams that are reinforced. The cuffs and waists are designed to be foldable to increase the longevity of the item which I really like as children just grow out of clothes far too quickly.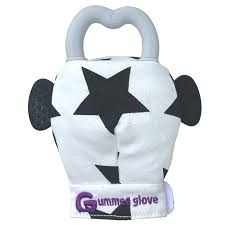 Gummee Glove is my go to teething life saviour and I personally think every parent needs to know about them. They also do a larger size for adults with additional needs which is brilliant as it isn't something that every business would take into consideration. Jodine does so much for everyone else and the business idea came to her when her kids were struggling with teething and I am so glad she did. Her products start from newborn and follow the babies up as they grow with not just gloves but a teething mallet too which is perfect for when the molars come through. Her full range of products can be found here and she has just recently launched a mini steriliser too for dummies which I will be ordering for myself.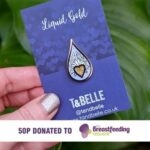 T &Belle is a lovely little business that has created these "Positive Mum Affirmations Organic Cotton Muslin Square" which are super soft and give a gentle reminder that we are doing a good job even though some days we might not feel like it. They are a brilliant size at 60cm by 60cm too and that makes it perfect for clearing up those sicky burps or for them to use as a comforter. T&Belle also do breastfeeding pins for each stage and I love the idea of them as a reward for getting another month under your belt.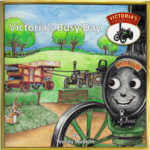 Victoria's Torton Tales is about the fun adventures of Victoria the traction engine and her friends. The latest book in the series is called "Victoria Meets Finnigan" and is a lovely story book filled with bright and lively pictures, it is aimed at children 3 years+. I love it's large format which makes it perfect for story-sharing or for a gift. All the books carry such positive messages about friendships, helping others and doing your best which I love and I strongly believe that it should be the message in all children's books. They retail at £6.99 which is perfect for a christmas present or a gift for a train lover.
Little Letterbox Learning is a brilliant company with amazing learning tools for children aged 2+. The idea behind it is that you match the envelopes to corresponding doors by posting them through the letterboxes and watch as your little ones faces light up as they have fun with this colourful and inviting learning resources. They are hand drawn illustrations which are gloss laminated making them durable for repeated use. They are perfect for aiding school learning or for use within a homeschool environment, they make a good gift for early year settings too!
Mens / Boys
Birtellis is an artisan pizza maker that allows you to make hand makes pizzas in the comfort of your own home. They pride themselves on using award winning British produce, which includes craft beer from smaller brands. It is ideal for experiencing in the kitchen or outdoors with a pizza oven and it is the perfect gift for the cook in the family. This gift is suitable for anyone in the family and if you are local to their stores you can get hot pizza delivered straight to your door which sounds amazing.
---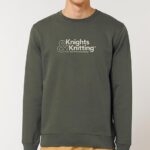 Wonderwalls have brought out new jumpers called Stick that In Your Stereotype Sweatshirts and they have been designed as a fightback against the outdated and harmful gender stereotypes that many believe are limiting our children and placing them in a box where they often don't belong. I think they look awesome and are suitable for all genders.
---
Billy Tannery, is an independent British leather company with an innovative sustainable edge. After discovering that thousands of goatskins were going to waste from the food industry, Billy Tannery's two co-founders set out to find a renewable solution. This is how this small business came to life. They are a small-batch tannery with fully traceable, premium goat leather which gets turned into beautiful handcrafted bags and accessories for men and women. This includes their best selling 'Gote' tote bag at £395 and signature range of leather pouches at £85 – £165. All their products come with free shipping and lifetime repair guarantee.
My favourite is The Key Wrap at £35. It is the perfect gift for the man who has everything! Upgrade your keyring to our British goat leather key wrap. It comfortably fits up to five keys with gunmetal studs for easy closing and opening. Made from bark tanned leather that ages beautifully with use for a truly durable gift.
---
Dog and Hat are an award winning multi roaster coffee subscription service which was founded in 2017 and since then they have got higher and higher ratings within the subscription community. They focus on sustainability and will only ship in recyclable packaging with everything printed on recycled paper. They are SCA – Speciality coffee Association verifted and use only their methods to select their coffee.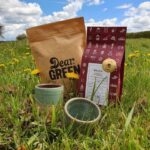 They are loved by many including "The Independent" who recently included them in their Top 10 Coffee Subscriptions. It isn't just for people with fancy coffee machines either and they have options for Filter Brewers, Espresso Makers, Decaffeinated drinkers as well as a Traditional and Blends Subscription for those who prefer their espresso milky.
Dog and Hat use over 46+ roasters and they are adding more as the weeks go on, this includes roasters from the UK, Europe and sometimes the USA.
This would be the perfect present for the coffee lover in your life and one of their gift sets would also make a good Secret Santa for a work friend.