I wrote one of these days out guides back in the Summer and I had some great feedback so here I am with a half term one! I've shortened it this time to just 4 places as it's only a week! I have tried to gather as much information as I can about each place just so it's easier for you but sorry if anything is slightly out.
Cammas Hall – Hatfield Broad Oak (CM22 7JT)
Cammas Hall was mentioned in my summer guide too due to the popular strawberry picking. They have taken it further this year and have been promoting their pumpkin picking. They are open for the two week half term as well as weekends. Full opening hours can be found on their website.
We really enjoyed being able to pick our own pumpkin especially with so many varieties there not just your traditional orange ones. We went last weekend and loved looking at them all as well as Ethan going on the quad bikes.
During half term they have got various events on but the star attraction is that children can get creative in their craft tent and make a jumping bat, a spooky snow globe or a scary bat. Prices for the crafts start at just £1. I think it's brilliant that they offering this at such a low price so it works as a cheap day out! They also have a face painter in every day during the half term to transform to transform your little monsters into their favourite spooky character. Which if they are anything like Ethan they will love!!
Be warned that it is VERY muddy so take wellies or clothes you don't mind getting dirty.
Ace of Lanes – Bishop's Stortford (CM23 3BP)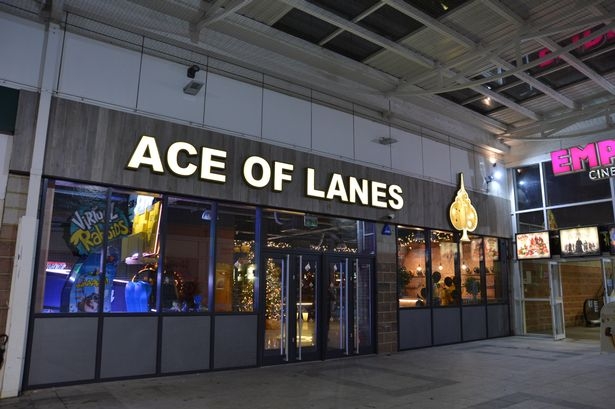 Bishop's Stortford has been lucky enough to get a brand new bowling alley open not that long ago! It's got state of the art equipment and they are constantly upgrading and expanding what they have available. Ethan attended a party here earlier this year and he had a brilliant time. He is due to have his party here in a few weeks. It's not badly priced at £31.80 for 2 adults and 2 under 18s for one game.
The price list isn't available online but I have been informed that these are the current prices for 1 game of bowling:
Adult £8.95
Student £6.95
Child (Under 18) £6.95
Children under 16 can't be in there unsupervised due to the bar area but it is definitely worth it for a family trip. Their food is also really nice and fairly priced and can be brought to the lanes if requested. You can book online via their website or call them for more details.
Redwings Ada Cole in Nazeing was founded in 1930s and originally home to horses from the war and it has a strong rescue pedigree. They have Horses, Donkeys, Cobs and tiny Shetlands. They welcome well behaved dogs as long as they don't upset the animals. We love visiting as it is free entry as well as free parking. It is somewhere you can spend a whole day as visitors can enjoy walking tours and horse care demonstrations and learn more about their animals and how they live.
If you don't fancy taking a picnic they do have a small refreshments area and be aware there is also a little gift shop to spend some pennies. What I love about the cafe is that all the profits from the Nosebag Cafe go towards funding the work of the Sanctuary. That means every time you buy something to eat, you are helping to keep our horses and donkeys fed too.
It is only open Friday, Saturday, Sunday and Monday 10am to 4pm so it does need some planning but it only around a 30 minute drive from the CM23 area and is super easy to find. Any the money you spend goes to the sanctuary so that cup of tea or squash is going towards a good cause!
This last place is a little further out than the rest and is a 40 – 50 minute drove from the CM23 area but it is a full day out. Prices for the activities vary from £6 to £30 depending on what you want to do and how many times. A lot of the ropes are ages 5+ but there are a few which are 8+ so do check in advance before going.
Over the half term their open days so vary due to weather etc so their website is updated regularly. It is an ideal way to keep the kids busy and tire them out for a whole day. It is also perfect for thrill seeking children who love theme parks as most parks are closed or coming to the end of their season.
It is one of the largest in the country and I loved this sort of activity when I was younger so I will be sure to take Ethan soon!
If you do go to any the places mentioned in either of our guides make you tag us on Instagram @dittrichdiary and tell us how your day went!
---
None of these are adverts or sponsored. The links are also not affiliated. Opinions are my own and nobody else's.