Spring is the time to get your skates on and change up the bedroom decor ready for a new season of happiness and laughter.
I have 5 ways you can do it without breaking the bank.
I find my bedroom always becomes a cluttered mess over the winter period as we get so much stuff at Christmas, and we don't tend to organise it. To avoid this happening, I've been purchasing nice storage boxes such as these for keeping us organised and tidy. The bedroom should be a calm, tidy, clean space and this should help us keep on top of the clutter. Ikea is also a good place to look for storage solutions or Pinterest.
I always find getting new duvet covers makes my room feel refreshed and clean and these luxury duvet covers do just that. There are plenty of colours and styles to suit all bedroom looks and they are good quality too. We love the Summer Breeze set as it would complement the mustard and grey tones in our bedroom.
I find a simple trick to make me fall in love with any room again is to move it around. Create a new layout or just move a couple of pieces of furniture to give it a fresh new look. I love to do this with the bedroom as it can really help me get a better night sleep when I move my bed away from the morning sun. Also, you might just find that a new layout allows for more space and that could help with the organisation of the room.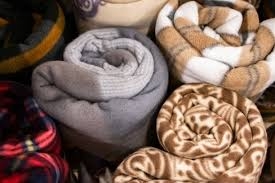 I LOVE a fluffy blanket all year round and I find having them on the bed is perfect for when you want to snuggle up and read a book before bed or just want an afternoon nap but don't want to get into bed. A blanket fluffy or not can make a room feel a lot more cosy and less cold as it brings the idea of warmth and comfort into the room where it might not have been before.
My last tip is if you haven't changed up your frames in the bedroom then this a good way to change the whole feel of the room without having to fully decorate or paint. Try Pinterest for free print out quotes or pop into your local hardware shop and grab a few wallpaper samples, they make great alternatives to expensive prints if you are on a budget. I personally use FreePrints for my photo printing needs as it is cheap and cheerful, and they arrive fairly quickly too or try your local photo store on the high street if you want them the same day.
---
Refreshing your rooms can make you fall in love with your house all over again and it doesn't have to cost a fortune.
Simple tips like these can make a house feel totally new and I bet your guests will notice too!