Have you heard of DoodleJamz?
They are the next BIG fidget / sensory toy.
DoodleJamz are the brand-new mess-free sensory drawing pads which have hit the shops and are a big hit with kids of all ages. We have been gifted a DoodleJamz Jellyboard & a Jellypic board for us to try out and review.
We are always on the look for a new fidget toy as Ethan loves to have something to fidget with as he is always on the go. Both of the kids love to play with fidget toys, and we find them great for car journeys. The children are usually addicted to their tablets when we are in the car, so it is a great alternative.
What Are DoodleJamz and Who Is It For?
As I mentioned above, DoodleJamz are sensory drawing pads which are mess free, which allow the user to squish and shape the Beads or Jelly to make pictures. They come with removable backgrounds which allows the user to change what they are "drawing" on and the designs they are using on the board. We have printed our own Easter versions for the boards and the kids think it is brilliant.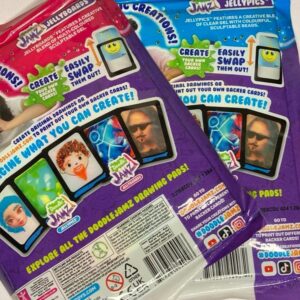 There are 2 styles of DoodleJamz – either with beads gel or 2 coloured layers of gel. Each DoodleJamz comes in a plastic frame, with a shaping stylus and as mentioned previously the removable paper background. DoodleJamz! Jellypics have transparent jelly with various colours of squishy beads. The idea is to sculpt the coloured beads on top of the picture to form different designs! DoodleJamz! Jellyboards are slightly different, and they have two separate layers of coloured jelly. The double-layer creates an amazing sensory touch and feel! Double-colour depth offers more complexity in artistic creations forming shapes of jelly or drawing in the negative space!
DoodleJamz have been designed and created for children 3 years and over. However, all ages will enjoy these fun drawing pads from kids to adults and I have to say it is very relaxing to sit here and just fidget whilst watching tv.
What Did We Think Of DoodleJamz?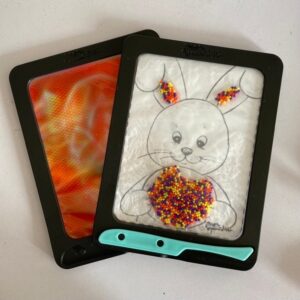 Both Ethan and A loved it and to be honest so do I, it is small and light to use and it has so many different design options with the removable background. It has hours of playtime available with it and that is important to me as I love a toy that will get LOTS of love. It is a steal at £4.50 and it will help us during the amount of hours of car journeys we have this summer and it will definitely keep the "I'm bored" at bay for that little bit longer. Ethan loved the Jelly Board a little bit more than the beads, but A's favourite is 100% the bead version as she loves trying to separate the beads as well as moving them to make silly faces.
How Do We Change The Background Photo?
In order to change the background picture you need to go to this website and upload a photo of your choice, once you have got it in the frame and how you want it to look then all you need to do it print it out. There is also a gallery on the website which allows you to choose from pre drawn designs if you don't have an image you would like.
DoodleJamz are available at Smyths Toy Store NOW for £4.99 but be careful if you order online as they can't guarantee which one you will get so better to get it in store if you can. I have a feeling these are going to be VERY popular so don't think they will stick around long.