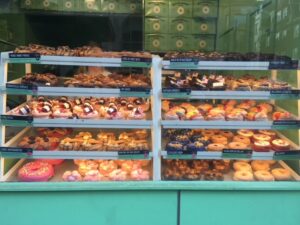 We have visited Doughnut Time Soho Branch twice and both times we have been totally happy with the service, the product and the overall standard. I originally found out about Doughnut Time via the wonderful world of Instagram and their page on there.
I have followed them since and love their stories and current on topic themed doughnuts. We shared the Bellatwix Lestrange doughnut and it was amazing and so filling. They are huge and not the standard tiny doughnut size you get in the supermarkets.
They are so worth the money and I wouldn't usually spend anything above £2 on a doughnut no matter how special it is but these are just another level.
We previously had the "Pride doughnuts" and they were limited edition so was super glad I managed to secure one to try when we first visited back in June.
They have many branches across London and often do free doughnut events if you keep an eye out on their Instagram stories.
We love, love, love the DIY kits you can get on their website too and they are perfect for parties, events and gifts.
This isn't a paid advert, an affiliation or anything like that just sharing a company that I love and I honestly wish they had one closer to us!!