This is the second half of Ethan's NICU story. It was always going to be hard breast feeding when Ethan wasn't there and getting up at stupid hours to express when it was quite easy to roll over and the one night I just rolled over I paid for it the next day. [Mastitis is a condition that causes a woman's breast tissue to become painful and inflamed.]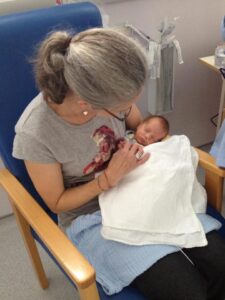 It was like I was dying, even my antibiotics were making me throw up I couldn't see Ethan and I felt like the worst mother in the world for two days that I didn't see him. Once my dosage was lower I got better and stronger but I was still white as a sheet but ringing every morning and night hearing he was doing so well just made everything better.
Everything was slowly falling into place I knew I had to get him to 35/36 weeks and then we could discuss bringing him home and I knew I had targets to hit! The days flew and dragged at the same time everyday was same routine and same meals in the canteen as was so scared of upsetting my very delicate stomach.
My mum was one of the first people to hold Ethan as I was too scared to let anyone else but it was a lovely sight seeing her hold him, so small, so tiny and all mine. Each day he was getting better and better and each phone call to the unit was positive every morning and evening it meant I could rest and try to relax.
Then the day came when his tube was out and I didn't notice at first until a nurse mentioned it to me then I remember looking twice and thinking oh mighty it's gone he can feed by the bottle! They told me I was trying to early to bottle feed him and to wait another week but I insisted and he did it! I could of cried!!
My gorgeous boy he looks even more beautiful without the tube.
Before he could come home I had to do my tick list of items to show I could care for him.
I had to prove I could make and sterilise bottles.
Change nappies.
I had to be able to give him his medication (Sytron, Domperidone, Avidec and Ratadine)
Show I could care for his ears and eyes
I had to be able to bath him!
I had to take a first aid course
I never got a photo of him in his first bath as we were concentrating too much and nobody else was there to take a photo unfortunately.
Next step was a first aid course this scared me witless as even though I knew all of it I was worried it would happen to Ethan but I passed with flying colours! You technically can't not pass but it was another tick in the box to bring him home. These were all milestones for me and a checklist for him and each day I just got prouder of Ethan and I realised just how strong he is and myself when I need to be.
I was counting down the days till he was classed as 35 weeks as so many had said that was the starting point of talking about coming home. I was then told because I live outside Essex (I live 7 miles from the hospital maximum) he couldn't go until 36 weeks but me being me meant that I begged and begged and they finally agreed on 35.5 weeks. I was allowed to bring him home, if I met all the criteria and as long as my parents were happy to support me with his care due to my age. I was 19 at the time but no social workers were involved or the council etc.
The sleepover was booked, he would stay in with me for one night so I could prove I could cope and that night was one of the hardest nights I'd ever had and one of the best. I knew the next day I was ready, I just had to convince the team at the meeting the next day.
Mum and I are sat round a big table with people asking us questions, about me, the sleepover, home life, support and in all honesty I've never felt so panicked, so sick, so scared in all my life. When they told me I would be going home today with Ethan and that the paperwork was being drawn up, I couldn't wipe that smile off my face.
It felt like such a long time till they told me the papers were ready, his hearing tests had to be done, paperwork, taught his medicines, told all this information and all I could think was my baby's coming home with me finally. Much like normal discharges they took forever in getting everything ready and even though the discharge started in the morning it was evening by the time we left.
I said my goodbyes and I left a card and chocolate and I thought it won't be long until another baby fills his bed and I prayed that the baby that follows will have the same amount of love, luck and strength Ethan did.
I've never known three adults to have such trouble with a car seat! Least it's a lot easier now…sometimes anyway. It was a raining day and we all bundled into the car, the nurses checked the car seat and that was it we were gone I had my baby all to myself and the journey really started from there.
Ethan came home on 27th November 2012, 25 days after he was born. Just under a month before he was even due.