It's that time of the year where I post a blog post about Ethan turning 6 and usually get emotional about his birthday. This year I am going to share with you what I have got him. I have used the standard birthday banners, number banners too, as well as balloons and 2 big helium foil balloons. I chose have a 6 foil balloon and a Spider-Man ball balloon for Ethan's helium one's. I also did a selection of the number 6 latex birthday balloons..
What Did We Get Him?
Ethan asked for a watch for his birthday so I did some research and got this one linked here. I got this due to it helping him with learning to read the time and also because it has a sturdy strap with a fun child friendly design which is also school friendly.
I got a Wubble from the Sainsburys sale as I have seen various Facebook videos about these and was more tempted by this probably for me than him but it looks like good fun for our garden in the summer months. It was £6 rather than £15 so a bargain.
Every 6 year old needs Lego so I got Ethan a little set from Very which I think he should be able to build himself with minimal help. He has recently got into Lego and using his imagination for building various things so I think this is right up his street. Prices for it vary but it seems to be around £15 in most shops.
I got Ethan a cute little piggy money bank to paint from Aldi a couple of months ago as he is obsessed with saving money for his holiday and has various money boxes. I thought this one could be for his special holiday next year to America and I will let him have free range painting this – I fear this might send me a little crazy.
I got him two of his favourite movie soundtracks for his new CD player he is getting from his Auntie and Uncle so this will be played very loudly I'm sure but luckily, he has headphones for it.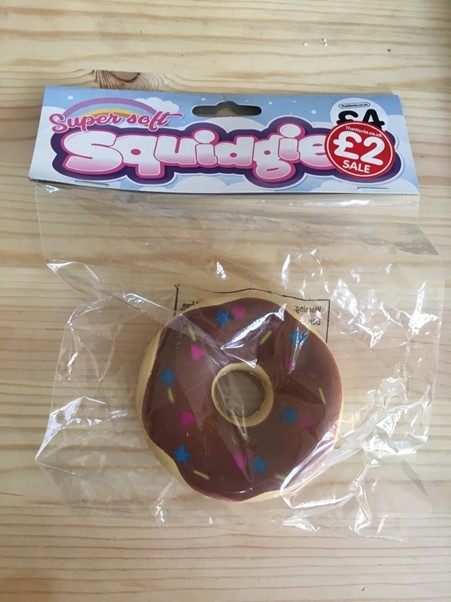 The latest trend is squishy stress ball items which Ethan has suddenly become interested in, so I picked him one up for a small present from us from The Works sale.
We haven't purchased Ethan many presents as he has SOOO many toys and we are also surprising him by taking to Build-a-Bear in Cambridge for a treat followed by dinner and bowling at Freeport in Braintree. We don't get to do much as the 3 of us so it will be nice to celebrate and spend the day doing something fun. I