I was making a point of documenting my pregnancy via the blog so I had something to look back on, and I had hoped we would of gone full term but much like Ethan's pregnancy it ended at 32 weeks with Ezra now being fit and healthy at 7 months. I wanted to write this sooner but birth trauma is a real thing and I had some healing to do first.
So let's get to the story Of ezra…..
I went in for monitoring on the Sunday before he was born as I hadn't felt many movements and I knew it was better to get checked. I honestly just thought we had overdone it on the beach the day before but after some resting they agreed I needed to have some traces done. The monitoring was mostly fine but they noticed he had a couple of decelerations of his heart beat so I got admitted for more monitoring. I was kept on the pre labour ward (can't think of it's name) and most people who were on this ward were not quite in full labour yet but were full term or nearly at full term. By this point I was already expecting them to say a c section at any point and I was just holding my breath that he could stay in longer and I would get sent home. I just wanted to go home and see my biggest boy and Nick but they weren't risking it.
I wasn't getting discharged anytime soon and I was being monitored every 4 hours on a trace machine. He kept dipping but they didn't seem too concerned just yet as 80% of the trace was fine. It was becoming an ongoing joke every time I got monitored that he needed to behave and stop messing around. I kept having to buzz every time we lost connection on the trace which meant the trace ended up being longer and longer as we had to keep it going.
One night at 4am I was on the trace and they realised the pain I was in wasn't braxton hicks but it was real contractions. This scared me as I had no idea what they felt like and they were PAINFUL. I got rushed over to labour ward and had to wait for Nick to arrive as no partners allowed until you are on labour ward. Baring in mind it is 4am and I am trying to wake him up by ringing him and texting him. When I got over there I was told my waters hadn't broken and I wasn't dilated but I was having REAL contractions. They were baffled what has caused it but they did warn us that he will be early and that I required steroid injections for his lungs ASAP and someone from the NICU team will be at some point to talk to us. By this point I am petrified but I felt like I had been here before so I knew what to do and Nick was terrified but staying strong for me so didn't let himself show it.
Contractions eased and we were put back onto the 'normal' ward and this time I managed to get a side room which was pretty quiet so I managed to get some proper sleep between my traces. I was told that we would wait for my scan and see how it goes and continue with the traces.
Minimal stress, movement etc not quite bed rest but to rest up.
I was still an in-patient when I had my consultant requested 32 week scan and this is when it got a little worrying. They were concerned about the size of his stomach, the lack of fluid, the lack of movement and basically the scan wasn't looking how they wanted. We were told that the fetal medicine doctor was going to need to have a look and work out the next steps. It wasn't long before they said that they would scan me on FRIDAY and by this point it is Wednesday. We were told we basically had to keep him in for as long as possible but I wouldn't reach term.
We went back to the room and discussed the future and what we needed to do and how the following few days were probably going to go. I told Nick about NICU and how it would go and what would happened from what I remembered from Ethan. Nick had to leave as it wasn't quite visiting time but he would be back later which is what kept me going.
Fast Forward to Thursday and a nurse came in and told me that I had a scan now and I was so confused as we were told that the fetal medicine appointment was on Friday but it came out that it had been moved and I had to go NOW. Luckily it was visiting time so Nick was on his way over anyway so he got to join us in the scan and they confirmed there wasn't enough fluid and that they were V.Concerned and a C- Section was on the cards and more likely asap. We walked out of that appointment baffled, worried, concerned and all I could think and wonder was what did I do wrong?
The next few moments were a bit of a blur as the consultant came in but basically we have been told that the c-section would happen Friday or over the weekend and Ezra would be born early at 32 weeks much like Ethan. I was pretty calm on the outside but inside I was bricking it and worrying and stressing. Nick and I started to tell our family when the consultant appeared and checked the traces and told us it would be happening today as his weekend was pretty booked up. The nurse told us to expect it to be within the next few hours and to get prepared.
Bricking it isn't a strong enough sentence right now. I was having flashbacks from my previous c section and honestly I was so scared of it being as painful and upsetting as last time. I knew I had Nick by my side though so I wasn't alone and I didn't want anyone else to be there holding my hand and keeping me calm.
We soon got the memo to walk over to the labour ward and we needed to hurry up as they were ready for us. I am shaking by this point and wanting to cry but I kept focusing on my breathing and listening to Nick as he was talking to me and keeping me calm. The next part is a blur but yet also so clear compared to Ethan's birth.
The epidural is 1000% uncomfortable and you have to stay so still but it is honestly the easiest process if you listen to the staff. I was focusing on my breathing especially as I had a mask on but to be honest it was kind of my saviour as It made me focus. During Ethan's epidural I was so upset (and 19) and I didn't stay still and the staff member got so angry with me as I just kept moving where I was crying. I can't lie and say I was the calmest person during the procedure but I just kept looking at Nick and focusing on my breathing and praying that he cried and he was ok.
The procedure isn't painful it is just lots of tugging and pulling but you 100% know when the baby is out as it is like a bubble popping and I was just waiting for the crying. The moment I heard Ezra's cry was magical and I actually heard it before Nick and burst into tears. They had to check him over but they let Nick go over and see him and that gave me a lot of reassurance as he could promise me that he was ok and crying. The whole theatre could hear him, he definitely had a set of lungs on him from the start. Once he was ok and wrapped up they brought him over for me to see him and I just remember thinking he looked like a little strawberry with his knitted hat on. I couldn't believe he was here and ok and it was such a relief.
We had the choice that Nick could stay with me or go down to NICU with Ezra and I sent him down with our boy as I knew he needed him more than me. As soon as they left for the NICU my headache that had started when I had my epidural was getting worse and worse. I started crying and by this point they realised I had slightly raised blood pressure and gave me some painkillers. Once the surgeon had finished the c-section, I was wheeled over to recovery and then the headache got A LOT worse. It was so bad that I asked them to get Nick for me as I couldn't calm myself down and knew I needed him. The lights were painful and any noise was just too much for me to cope with. They said that I needed to get my blood pressure down and that it would help with my headache and once it was down and stable I could go see Ezra. They also mentioned CT scans and Blood Clots if my headache doesn't go soon and that was super scary to be told and no real context.
I was determined to want to express and get some of the colostrum for Ezra ASAP but they weren't all that helpful in recovery regarding that as I had to ask for some syringes multiple times. It felt like because I didn't have my baby with me, I wasn't high up their list. They also really struggled with getting my blood despite having a cannula and it took 4 different people to take it which after major surgery I wasn't too impressed as being used as a pin cushion.
Nick was allowed to stay with me in recovery until they took me down to the NICU or a ward whichever came first and a lot of the nurses kept telling him he had to leave which was frustrating as we were playing the waiting game. We were told I was allowed to go to the NICU as soon as my toes came back to life and my blood pressure settled and this seemed to take forever.
Ezra was born at 4.56pm and by the time they got me to a ward it was nearly midnight as they were so busy and my blood pressure wouldn't settle. My blood pressure settled and I got taken to a ward where I wasn't given my call button or any information about when I could go to the NICU and Nick wasn't allowed with me.
I was getting frustrated, upset and angry by this point as it was 1am and I wanted to go see Ezra and I couldn't stop crying. Finally when a nurse listened to me, I was in hysterics crying as I was in pain, upset and couldn't call anyone. She got me into my chair and then made me wait a further 45 minutes before she would let me into the wheelchair to go see Ezra. Her reasoning was to make sure I wasn't pushing myself which I understand but I had been ready since around 8pm to see him and I was just desperate to see him.
With Ethan I had to wait until the next day to see him as they wouldn't take me so I was determined not to let it happen this time.
It also didn't help that I was on a ward with 3 other ladies with their babies crying all night which made me cry, leak and feel really lonely. I don't understand why they don't put mums with nicu babies in a ward together or in a side room as it adds to the trauma and I had to deal with this for two days nearly three until I demanded to come home. I felt like this last time too and the nurses didn't seem to understand why I was so emotional, angry and frustrated. Nobody understands NICU life until you live it yourself.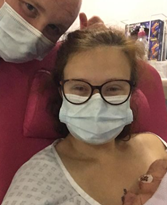 Anyway back to the evening – By the time I was allowed in my wheelchair it was around 2am and Nick was asleep in the waiting area as he was waiting to take me down to the nicu and in all honesty I was forgotten about as I didn't have Ezra with me. Nick kept buzzing to speak to someone as I couldn't reach my buzzer and nobody answered or gave us information, we were just left to it.
Once we reached NICU they were brilliant and let us hold Ezra which I didn't expect so soon but it was the glue I needed to heal all the pain from the previous hours and it was worth it.
Part 2 Coming Soon….