We are trying to do our wedding on a budget and this includes the floral arrangements. I didn't want fresh flowers as they are seriously expensive for a wedding and I had decided I was going to make my own bouquet of fake flowers. I was told Ikea and HomeSense had the best fake flowers but I was worried this was going to be super expensive as good fake flowers aren't cheap.
I have managed to hack this though and I am so proud of myself for it. I stumbled upon the fake flower arrangements in Home Bargains by pure accident as they are new in my store and at £2.99 a bunch they are amazing value for money. They also have similar Peony Bouquets and Rose Ones at £3.98 a bunch.
Our wedding theme is navy, blush pink and cream tones so the bunches in my local store (Harlow) worked out great as it is a mixture of those colours amongst pieces of greenery.
I managed to make my Bridal bouquet by using 3 bunches and the maid of honour and bridesmaid bouquets were made up of 2 bunches and some separate stems from Primark which were £1 each. I got the stems from the Westfield White City Primark as my local one doesn't stock fake flowers in their home section. Ava's bouquet is in a wicker basket for her to carry as everyone has something to carry so we thought this would look cute and rustic.Traditionally the flower girl throws petals but obviously that isn't allowed anymore so it is the closest I could get to it.
I plan to wrap hessian & lace around the base of my flower bunches similar to this style as our theme is rustic, non traditional, basically just things we like. We haven't been totally traditional throughout but I don't think a lot of weddings are anymore.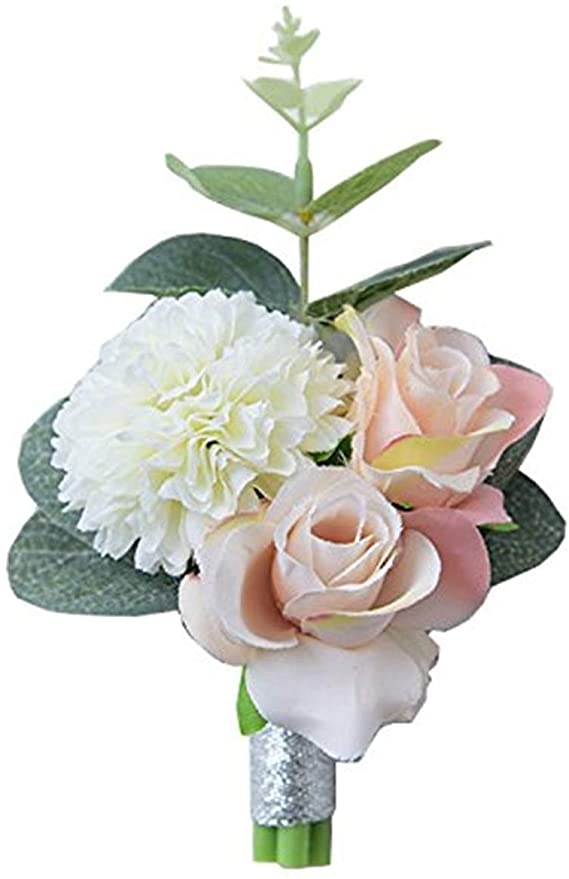 For the buttonholes I plan to do these with fresh flowers but I might change my mind if I find some good fake flowers that don't look too bad without a huge bouquet behind them. The bunches I got from Home Bargains are slightly too big for button holes but if i can't find something I like then this might be an option. I need to make around 10 of them to cover all the people in the wedding party so I want to do it within the budget we have set if possible. I do like these ones (pictured left) from Amazon but I would change up the ribbon for string but at just under £10 for 6 they don't work out the cheapest option but definitely the most hassle free.
I have also ordered a few extra bits from Shein but they will not be here until the end of April/May and it is currently March so i will update when they arrive.
---
Check out Savvy in Love for her take on the top wedding ideas this one about eco friendly bouquets is my favourite!