Gang Beasts Collection [AD]
Have you seen these Gang Beasts plushies, clip-on plushes and collectable figures that we have been gifted for Ethan from Amazon? Did you know that this brand new collection of Gang Beast toys will be available at Amazon this month. If you have Gang Beast fans like we do then they will make brilliant Christmas gifts or stocking fillers for them. Sinco Creations have recently launched a range of clip-on plushes and cool collectable figures from the game for collectors to collect.
What Is Gang Beasts?
Gang Beasts is a multiplayer beat 'em up party game with gelatinous and floppy characters, melee fight sequences, and hazardous environments, set in the fictional metropolis of Beef City. At initial release, it contained eight multiplayer stages, and costume customization. The core gameplay involves using various physical abilities such as punching or kicking an opponent until they are knocked out, and then attempting to toss them over one of the stage hazards. Opponents that have been knocked down are not completely defenseless however, as they can fight back to be released.
What Gang Beast Merchandise Did We Get?
Ethan received two members of the Gang Beast clan in soft toy plush form. He got the Blue Wrestler (Blue Bear) and the Green Wrestler. I LOVE the chicken plush. The stitching and details on these soft toys is just brilliant and they are very soft, I was quite surprised at just how soft they were. Ethan loved them straight away and they have been in his bed with him every night so they must be comfy to sleep with.
Ethan was gifted a clip on plushie which he wanted to put on his school bag straight away. I think his one looks like a mexican wrestler style but he said it looks like it has eyeliner on. It is definitely a chunky clip on figure but it is so well made, with no loose stitches or rough parts. The collectable clip-on's are great for backpacks and pencil cases and 100% they will be loved by children, gamers and collectors. The clip-on items would make a great stocking filler as they are the perfect size.
Lastly Ethan was sent a set of collectible figures, and this selection contains 8 characters and 2 of those are classed as rare figures. There are a total of 16 designs to collect and each figure is around 6cm tall and come with a black base for stability. Ethan loves having them on display in his room and showing them to his friends.
Do you have a favourite character?
Comment below and let us know.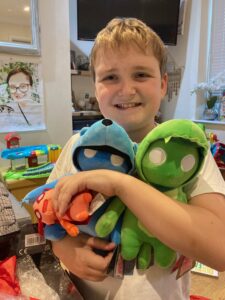 ---
DISCLAIMER: This item has been gifted to us but our opinions do not reflect on the products company, or the thoughts of any social media companies we have shared this review on. We give our 100% honest opinions on the products we test and we have declared it is an AD and gifted as required by the ASA guidelines
---