[AD] Grandma's Magic Balm
We have been gifted a tub of Grandma's Magic Balm which is a 100% plant based, vegan, entirely natural skincare balm. This is perfect for me as working with my hands all day makes them rough and dry and quite often crack.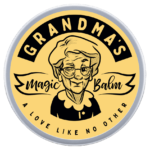 Grandma's Magic Balm is designed to nourish, hydrate, soothe and protect damaged skin. I don't like using a lot of hand creams as they have steroids in them or other nasty things. This particular one is steroid free, non-toxic, gentle, and easy to use.
I'm not vegan but I like to use products that are vegan friendly and this proudly displays that badge of honour.
I have recommended this to my colleagues at work, as they suffer with bad hands too due to the nature of our work. One of my colleagues hasn't found anything that helps her cracked hands and when I recommended this she was surprised to find out it worked.
It not only works but it is also suitable for sensitive and hypoallergenic skin as well people who suffer from skin conditions such as Eczema, Psoriasis, and Dermatitis.
It is a well thought out product that smells lush and works well and even though it isn't the cheapest on the market I would rather pay for more for a better product.