Ava was GIFTED 2 of the BRAND NEW KookyLoos Dolls which are officially launching on the 22nd August 2022 which happens to be the day this post launches! Funny that eeh?
If you are going to the store then these are OUT NOW so keep your eyes peeled. They will be popular!!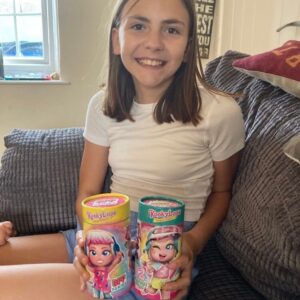 What Is a KookyLoos Doll ?
Every KookyLoos has its own personality, they are creative, urban, sweet, clever, curious… and they each have different squads: S.I.S Team, Sugar Sweeties, Creative Hearts and Urban Crew. I love that there is 12 to collect so you can expand your collection and create your own little bff squad. Ava opened one of her tubes and she found out there is another squad too including Carnival Crew, Sporty Squad, Beach Buddies and The Wild Kats.
Every KookyLoos is different and much like other doll brands each one has its own personality and hobby. In each tube there is enough information for you to be able to find out what she likes or dislikes, which squad she belongs to and just how you two will become BFF.
What Does Each KookyLoos Doll Include?
Each tube/doll comes with 6+ surprises which includes it's own accessories, which can be swapped with other dolls! The doll also has 3 changeable expressions which is simple to do, and can really bring a new story to the dolls every time you play with them. Ava got one of the special VIP dolls with her surprise tube which included an extra outfit plus a little pet. It is awesome and the hair is super cute and plaited. I really want June from the SIS TEAM gang as she is a gamer style character.
What Do We Love About Them?
I love the surprise element as it adds to the unboxing experience and I have to say I am very happy that it is in a cardboard tube with paper bags and not plastic packaging. I personally think if your child likes roblox or something similar then they will love these as they remind me very much of that style. I would give it a 8/10.
Ava loved the changeable expressions and the surprises as they were cute and definitely her style. She rated it a 10/10.
Where Can We Get These?
These are available from Amazon or The Entertainer with other retailers to follow shortly. These will be popular this Christmas as they have been very popular in Spain.