Laura Zabo Jewellery [AD]
If you follow us on YouTube you will of seen our giveaway when we hit 2K subscribers. I said that I would be back with a blog about Laura Zabo and how she has become an upcycler extraordinaire and here it is finally (sorry). 
Laura dropped into my inbox after I was asking for some 2k prizes for my giveaway on YouTube and I didn't know much about her and her style until the parcel arrived at my house. If you are looking for a statement piece then look no further.
Laura Zabo Background
Five years ago Laura was in Tanzania, whilst visiting a local market, she found an array of brightly coloured sandals, made from upcycled tyres. This is the moment that she fell in love with the idea that functional items could be made with rubbish. It was with research and knowledge as well as the sights she had seen in the Maasai market, that her jewellery business began when she got back to the UK. 
Staggeringly 3 billion tyres are dumped worldwide each year, each one taking decades to break down.
Amazingly Laura even had 5000 tyres donated by German brand Schwalbe, in order for her to be able to upcycle them into accessories. 
The Artwork / Jewellery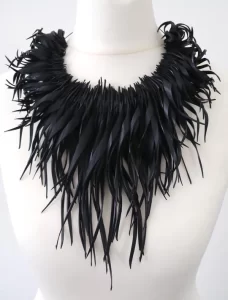 The most stand out piece that she has sent us for the giveaway is her CURLYWURLY NECKLACE, it is very striking and could easily be mistaken for artwork if it was hung up in a gallery. It is made from an old inner bicycle tube. This piece is unique and eco-friendly, which is in the long run contributing to a better planet.
This particular piece has been made using scrap bicycle inner tube. Each piece has been individually cut making for a real statement piece. 
[Image belongs to Laura Zabo as I couldn't find a way to photograph it that did it justice.]
If you like the idea of this necklace, but are worried that it might be too much then I would suggest you check out The Claudia design. It still has the statement aspect but in a slightly more subtle way. Other options for you could be; the bracelet or the earrings which are both wonderful.
The CurlyWurly Necklace comes in at £59.
Laura Zabo sent me a whole range of beautiful products for my giveaway including many sets of gorgeous earrings such as these wonderful Giovanna Earrings which I was gutted to have to be parted with. They are £13.99 on the website.
Our giveaway over on YouTube has now ended by I hope the wonderful winner loves their prizes and recommends Laura Zabo to everyone for presents and gifts.