Misfittens are such a brilliant cuddly collectible that you are going to love! Much like real cats these ones love to mis-fit themselves into small places.
Misfittens are based on the hashtag #ifitfitsisits which is used by cat owners showing their cats squeezing into weird and wonderful places! My childhood cat Shogi used to LOVE boxes and the smaller the better.
Once you pull them out of their tube you just need to give them a big hug, fluff and shake and then they show their true size which is huge!
Misfittens need your help to get them MEOWT!
There are 12 Misfittens to collect, each with its own special colours and personality. Like most collectible toys there are a few that are SUPER RARE and this is shown in the leaflet inside of the tube.
4 ginger tailed cats
4 blue tailed cats
4 purple tailed cats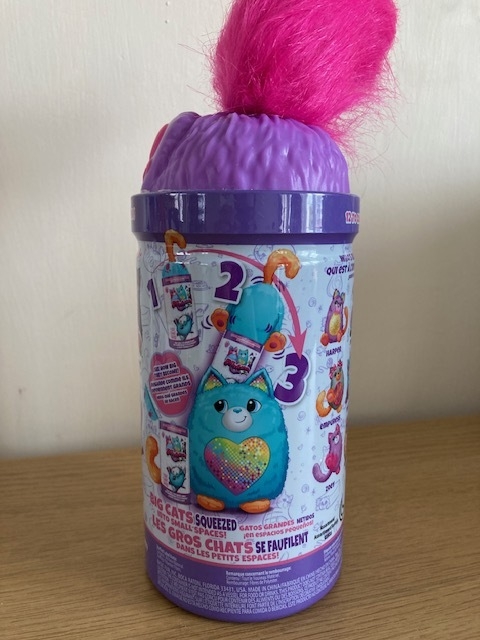 How To Open The Misfitten Surprise
First pull up the perforated tab on the side of the container to open the plastic wrapper and then make sure you have the camera ready. You won't be able to recreate it.
Once you have done this, it will reveal your fun container design (there are 6 to collect) and then you get a glimpse of the cat that has squeezed itself inside!
Our Thoughts
Misfittens will be loved by kids, and big kids (adults) because they are super soft and they work amazing as a comfort toy from the under stuffing. They feel well loved and cuddled and I just love that about them. Misfittens are the ideal travel toy because they squish down easily, they are lightweight and they do also make an awesome cushion for nap time.
Where To Buy Misfittens?
Misfittens are available to buy now from Smyths, Amazon and other good toy stores.
---
DISCLAIMER: This item has been gifted to us but our opinions do not reflect on the products company, or the thoughts of any social media companies we have shared this review on.
We give our 100% honest opinions on the products we test and we have declared it is an AD and gifted as required by the ASA guidelines