A few years ago I wrote a very personal post about Teen Pregnancy and once I decided to take this blogging malarkey to the next level I deleted it. I deleted it due to the fear of receiving hate, backlash and trolling about my abortion. I deleted my own story due to not being liked.
Today that changes. Here Is My Abortion Story
After watching the latest Netflix trend show "Sex Education" last night and bawling my eyes out at Episode 3 I have decided that it's time to rewrite my story. I'm stronger than I was and I believe the world needs to hear it now more than ever.
I believe there isn't enough people speaking the truth anymore. It's all about what people want to hear and what people want to read. Everyone seems to be scared of offending each other and I'm going to ride with the backlash and the trolling and publish my side.
This article contains abortion and depression. It may be a trigger for some so please take the topics into consideration before reading further. Any TROLLING will be deleted and reported.
This is the story of a scared teenager who found herself pregnant at 14 with an older guy (16).
So as mentioned I was dating an older guy and we decided to have sex for the first time – we did it unprotected thinking it would never happen to us and also just being naïve as we were so young. A month or so passed and I didn't feel right – I felt podgy and tired and nausea. I took a pregnancy test due to a friend making me and it was positive.
I couldn't believe it had happened to me. This was the kind of thing you saw on American TV shows and it always happened to the popular kid. This time though it happened to the nerdy, definitely unpopular kid.
I was petrified and scared and I did what most teenagers seem to do when they are scared and I ran away. I took £20 and I ran as far as I could. The story luckily doesn't end there – I was found safe and well. I was taken to stay at a relatives thanks to the local police and within 24 hours of leaving the house and I was brought home.
At the time I was horrible to my parents and I said awful things which to this day I regret but I was so scared and didn't know who to turn too and what to do. (If you are reading this Mum and Dad – I'm sorry!)
As a side note when I fell pregnant again at 18 – that fear was exactly the same. Anybody who has had a baby at any age will understand this fear that comes with being pregnant. But at 14 I didn't know how to process it or how to act.
My parents and I spoke about what to do and lots of crying and anger was dealt with over the kitchen table. Lots of words were said which I wish I could take back but as we know we don't always speak the truth in the heat of the moment.
The school got involved and informed me I wasn't allowed to return until the situation was dealt with and I was sent on my way. They offered no after care and support for my return and let students bully me regarding my abortion throughout my last years at the school.
It was decided I would have an abortion as it was for the best – the doctors sent me to a clinic around 20 miles away which is about a 40 minutes drive away. Nobody drove in my family at the time so it was down to public transport which took around 2.5 hours each way and I still can't do that route to this day without getting a feeling of panic and bile rising. I can't even visit the town where the clinic was as it just brings back all the feelings.
The clinic was professional and they looked after me really well despite me being a difficult patient. It was a two appointment process involving a dating scan and then the operation date. I was too far gone for the tablets at the time. I was advised of the process and what it would entail and I was told of the recovery time.
It was the same process that was shown in episode 3. This is when the panic started building and all the feelings came rushing back.
I was sent home from the clinic and told to rest. I don't think when they said rest that they meant crying and thoughts of suicide. I also don't think they meant returning to school to be bullied every day for the rest of your school days. Children can be incredibly unkind.
Nobody warned me how empty I would feel after and just how much I would regret it. There is of course the standard leaflets that they give out but none of them address the emotional well-being and the mental state you are in after an abortion.
Nobody warned me that I would struggle to watch the soaps when they contained an abortion storyline.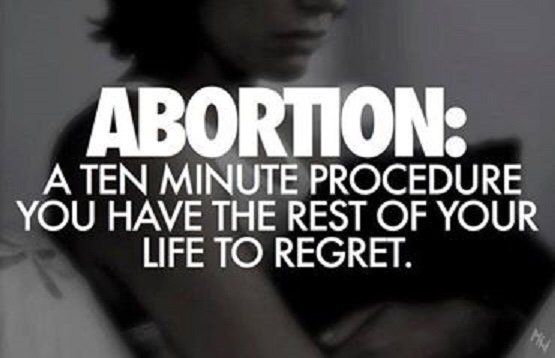 Nobody warned me that 12 years later I would be sat here crying and writing this on my blog. This month marks 12 years since I had my abortion. Some years it kinda just goes by without too many tears and some years I find it incredibly hard.
Nobody warned me that I would be so hurt and so upset over my choice and that I still hate myself for doing it despite it being years later. Nobody warned me about anything.
They all just said it's for the best.
---
I was starting to think I was crazy for feeling like this especially this many years later however I did some research before writing this post. What I'm experiencing is called Abortion Regret.
The amount of posts on Google suggest it is quite a common thing and that I'm indeed not crazy. Despite everyone saying we are not alone there is no cure, no magic helpline or magic pill. It's a decision I will have to live with for the rest of my life.
Of course now as an adult of 25 (nearly 26) I find that raising a child is hard and I without a doubt would of found it harder at 14 but I do regret it still.
I recently found this artist and I couldn't make it to the end of the song without crying. I believe it deserved a place in my post so click here to listen. (Not an Ad)
---
Did you know Teenage Pregnancy in the UK is currently at its lowest in around 5 years?
People are thanking social media for the low stats and I honestly believe the current generation have already learnt from us thanks to social media and the current "open" speech movement. They don't want to start families young as they want to travel and they want a house first.
---
Images used belong to myself or to Netflix UK.