Plus-Plus – The New Building Toys You Need [ad]
When it comes to building Ethan and Ava love it and they love to create so when I saw Plus-Plus, I knew that it would be a hit. When it arrived I was really impressed with the compact size of the packaging and how it was easy to transport and contain.
With Easter holidays looming I knew these would be a hit in our house. Plus-Plus have a load of different tubes with different designs and even a selection of designs for younger builders – think 18 months plus.
We got 3 designs gifted to us – the alien, the unicorn and a bunny which had bigger parts. The themed sets come with instructions on how to make the character and the sets of just bricks include some ideas of what to build with the suggested colours.
Ethan found his alien easy to build and then he went onto making Ezra's bunny as he wanted to do more with them. Both sets had extra bits so he made little pets for his alien and an extra carrot.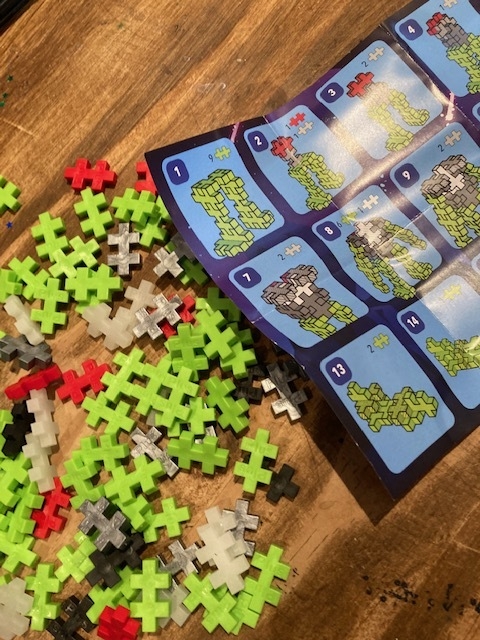 Ava did enjoy building her unicorn but she did struggle with a few sections of the instructions.
Ethan has already asked if we can get more designs as he really enjoyed making his tube and it kept him quiet for ages which is unusual.
Also did you know Plus Plus big can be used as a bath toy as it can easily dry off and won't absorb the water. Plus-Plus is also made from food-approved plastic so it won't be a big worry if your little ones happen bite it or chew it but I would of course advise against it.
I really like this set with the storage tin from a little find.com.
You can get your hands on them at all Toymaster stores and other toy stockists online and in stores.
---
DISCLAIMER: If marked with a ** then it is an affiliate link – if you purchase from this link I may receive a few pennies from the retailer. It doesn't increase the price you are paying.
DISCLAIMER: This item has been gifted to us but our opinions do not reflect on the products company, or the thoughts of any social media companies we have shared this review on. We give our 100% honest opinions on the products we test and we have declared it is an AD and gifted as required by the ASA guidelines