I went to university back in 2011 to 2012 and I know a lot has changed since then, but I thought I might be able to offer some wisdom from my experiences. I went to Portsmouth University and stayed in halls of residence so if you are living in a house share or commuting in this advice might not be helpful or relevant!
Don't Spend Lots On Utensils For University
Your plates, bowls, cups, and cutlery will get used by EVERYONE and they will get lost, more than likely broken or go MIA so don't go spending a lot otherwise you will soon get angry when things go missing. IKEA is a good shop for cheap university items or when the supermarkets have their university essentials section. I would even try the £1 shops for simple things like baking trays, pots, pans, shower essentials. Do not bring anything that you would be angry about if it got broken. BIG Sports Direct Mugs were a thing when I was there as perfect size for cuppa soups and noodles when you are down with freshers' flu.
Stock Up On Pain Killers, Loo Roll and Home Comforts
You will not realise just how many pain killers you will take when you are there and even though they are cheap there is nothing worse than a banging hangover and no painkillers. Pick up 2 packs with every shop about a month before you go, and you will have enough to last you during the first two weeks of freshers.
Loo Roll is another one that you will need a lot of and that's for every spill, everyone who borrows your loo during pre-drinks, every throwing up and every morning after. You will hate it if you wake up and there is none left. I used to get the 24 pack on our shopping, and it would last maximum 2 weeks as my bathroom was the one next to the kitchen so lots of people borrowing my key for a wee.
Home comforts such as blankets, a good duvet, lots of pillows and cosy pjs will be your best friend when hungover, feeling poorly, up in the middle of the night due to a fire alarm or just for when you are missing home. You can never underestimate what a good blanket can do for you! Those middle of the night fire alarms are a killer, and it gets VERY cold whilst waiting so dressing gowns are a must.
Talk To Your University Roommate's In Advance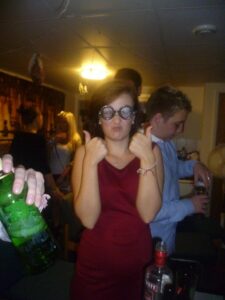 If you are in halls, you will be sharing with others and usually that means sharing a kitchen. If you can make sure you talk to your flat mates in advance to make sure you don't all turn up with kettles, toasters, sandwich makers etc. We took it in turns to replace it when it was worn out, but we luckily didn't need to replace it often. This also goes for other kitchen appliances, but it is worth checking out what your kitchen comes with and what is needed. My halls provided a fridge, microwave and a cooker and then communal washing machines which took a couple of £1 a spin. I often brought my washing home so make sure you have plenty of sheets, underwear and clothes. Tea towels are a good one for everyone to bring as they get trashed, burnt and full of alcohol so buy in bulk and buy cheap!
Group chat's are really good and going on nights' out with your flat so you can socialise with them and get to know each other. It is also a good time to make funny memories.
Technology Is Key
I took a laptop and a desktop computer but to be honest in 2022 all you will is a laptop but also a printer. There will be things you will need to print despite a lot of it being online and you will be everyone's best friend if you have a printer as lots of people don't think about it. Cheap printer paper is a must as there is no point buying fancy stuff when you will have LOTS to print. The laptop doesn't need to be fancy unless you are doing some tech degree but its all up to personal preference.
I wish I had taken a Dictaphone with me as I struggled to keep up with note making in lectures and not all the lecturers put up the slides afterwards.
If you have a Chromecast, Amazon fire stick, or something like a Netflix account then this will come in handy for flat movie nights etc but unless you are lucky someone brought a tv then it might be everyone crowding around a laptop. If you have a mini projector and you don't mind sharing it, then it will be of use to you and your flat mates and will gain you some serious points with your new friends.
Lots of phone chargers too as believe me they will go missing into your flat mates' rooms / guests will borrow them too. Spare Laptop charger too as nothing worse than that dying, and you have an assignment due. Back in 2012 we took cameras with us everywhere so required chargers for that too but guessing that isn't really a thing anymore as we all have smartphones now.
Don't Forget Documents!
You will always be needing some form of documents, be it for doctors, signing up to university when you arrive, jobs etc so make sure you always have the following documents somewhere safe! If you can get away with taking copies, then that would be wise but often people want to see originals so you can't always do it.
Passport / Driving Licence / ID Card
NHS Number
Doctor's Address
Student Loan Documents
Bus Pass / student pass / student railcard
CV Copies
Passport Photos – (For Your Student ID etc)
Certificate Of Registration
Student Accommodation Documents
Exam Results
ONE LAST PIECE OF ADVICE: NEVER leave your room unlocked or you will return to everything wrapped in tin foil or jam over the door handles.
Enjoy yourself, it truly is the best years of your life.