I jetted off to Rome for 72 hours on my own at the start of last week. I decided to go alone as nobody was particularly fussed about going. Ok I'm lying it's because wanted a break from being mum, girlfriend, daughter and I wanted to try and find who me is. To save this being a massive blog post I'm going to split it into separate blog posts. This is going to be just an overall post and the places I went will separate so I can include more details. Here I Come Rome!!
First 24 Hours
I took the early flight as I didn't want to waste the day and wanted to make the most of my time. I decided foolishly not to sleep as I had to leave mine at 2.30am for the bus and didn't want to sleep through my alarms. I got to the bus stop with plenty of time to spare but just typically my luck it didn't show. An hour later and I'm still stood there so I ended up walking to the main road and grabbing a different bus!
I got there though and managed to get to my gate within plenty of time. I flew into Ciampino as the flights were slightly cheaper and it was around 15 minutes closer to the centre of Rome. It does deal with a lot less flights though due to the airport size.
When I arrived I was faced with a choice of providers to get a bus with into Rome City Centre. I chose Terravision due to knowing the coming from back home. It was €6 for a single which I what I needed and the bus stop was literally outside the doors of the airport.
A round trip costs around €10 if booked on the day or €9 online. Each way I was told to allow an hour due to traffic. I personally found it took around 45 minutes on both of my trips.
My hotel was booked through Expedia and it is called Hotel Touring. It is a basic hotel and by this I mean it has no fancy TV's or fancy views. It's classed as 2 stars but as I didn't need anything fancy and as it was purely for sleeping, it was fine. The WiFi connection was a bit temperamental but once connected it was good enough to just check in with the family. My only issue was the lack of plug sockets! I had one in my room and it was right behind the bed. I could of done with a couple to charge various items but its not major. I was upgraded to a double bed though instead of a single for no extra cost so that was nice and unexpected.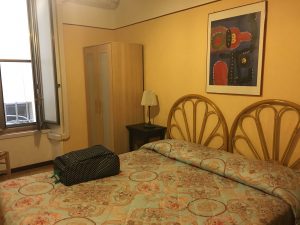 So now onto the actually interesting stuff. Once I'd done the whole drop off the bag and check in, I decided to go and find the Trevi Fountain. I thought I might as well start as I mean to go on and that would mean a heck of a lot of walking. I knew it wasn't far due to the reviews I read on TripAdvisor.
I used google maps on my phone to help locate me and direct me as all the streets look the same. I did try and just walk but ended up walking in the wrong direction and it got confusing very quickly.
Just a little tip – Pinpoint your hotel as your "home" location so it makes it easier when you are walking back In the evening. Also saves you remembering your hotel name. External chargers are a must as maps on your phone will drain your battery.
I found the Trevi Fountain quite quickly in the end. It was about a 20 minute walk from the hotel and that was walking at a leisurely pace. I will write a full post about my experiences at the Trevi Fountain, Pantheon and Piazza Navona plus the do's and don'ts. The Trevi Fountain is a staple to any journey to Rome and you must find it and visit it especially early in the day before it gets busy. Its not too far from most points and there are good gelato places surrounding it.
From the Trevi Fountain I walked up to the Pantheon which was around a 10 minute walk. You walk through a cute little street with various shops and restaurants but be aware of street sellers. I would advise not to buy from them as they are illegal. The police often move them on and they sometimes get aggressive when you say no. All their items are available from the gift shops and there isn't much of a price difference.
Make sure you take your time at the Pantheon and allow for visiting inside which is free. It is worth spending some time looking around inside and reading the information dotted around. There are various donation spots too which help with its upkeep and allowing it to remain free. There are a few lovely restaurants located here so it's a great time to stop and people watch. They are what I call table cloth restaurants though so they aren't the cheapest way to eat in Rome.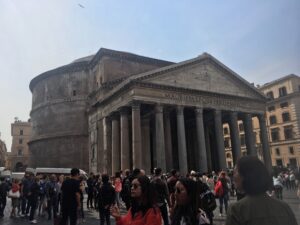 From here most people would call it a day or just leisurely walk around the streets in that area. Of course me being me though I continued to walk and ended up at Piazza Navona which is only a short walk. It is around 6 minutes according to the map I would say 10 minutes max. It is a busy route between the two locations but it has lots of little shops that line the streets. Pretty much anywhere I walked in Rome I found it was full of army and police, this is reassuring and makes me wonder why London doesn't do it. Make sure you are being good though as they are very hot on anti social behaviour and don't point a camera in their direction. Rome does have this really safe feeling which is great considering the current world situation.
I couldn't seem to stop walking on my first day and just kept going. I went and ventured into the Vatican City which I didn't realise technically isn't part of Rome! This is a further walk than the first few sections and takes around 30 minutes. My maps say 21 minutes but it did seem to take a little longer but that might of been due to me stopping to take photos. The walk from my hotel to the Vatican City took just under an hour.
My tickets for the Vatican Museum and the Sistine Chapel weren't until the second day but I decided to do a few things whilst I was over this way. I went and found the queue for St Peter's Basilica and couldn't decide if I wanted to join it or not. I asked the security guards and apparently it was short for midday on a Tuesday so I decided to go for it. It is free to go in there and tickets aren't required but just as an FYI – you do have to go through security barriers so make sure you are prepared for it. Also you cannot go in with shorts on or shoulders exposed as it is a holy building.
Once you are through security you can decide to enter and do the Basilica or the Dome and I decided to do the Basilica first then the Dome. I didn't really picked it that way for any reason just how it turned out. When I was exiting the Dome I realised you enter straight into the Basilica so it doesn't really matter which way round you do it. The dome is ticketed though and they can be purchased on the day. I will do a separate post about both of them as there is a lot to say especially about the Dome.
After completing the Dome I was knackered and I ached in every muscle. I walked back to my hotel and had a nap as my legs were shaking due to the amount of exercise I had just done.
I spent my evening just chilling out and walking around the streets taking in the sights and relaxing. By the end of the day I had done around 38,000 steps and had my alarms set already for 6.30am.
Second Day in Rome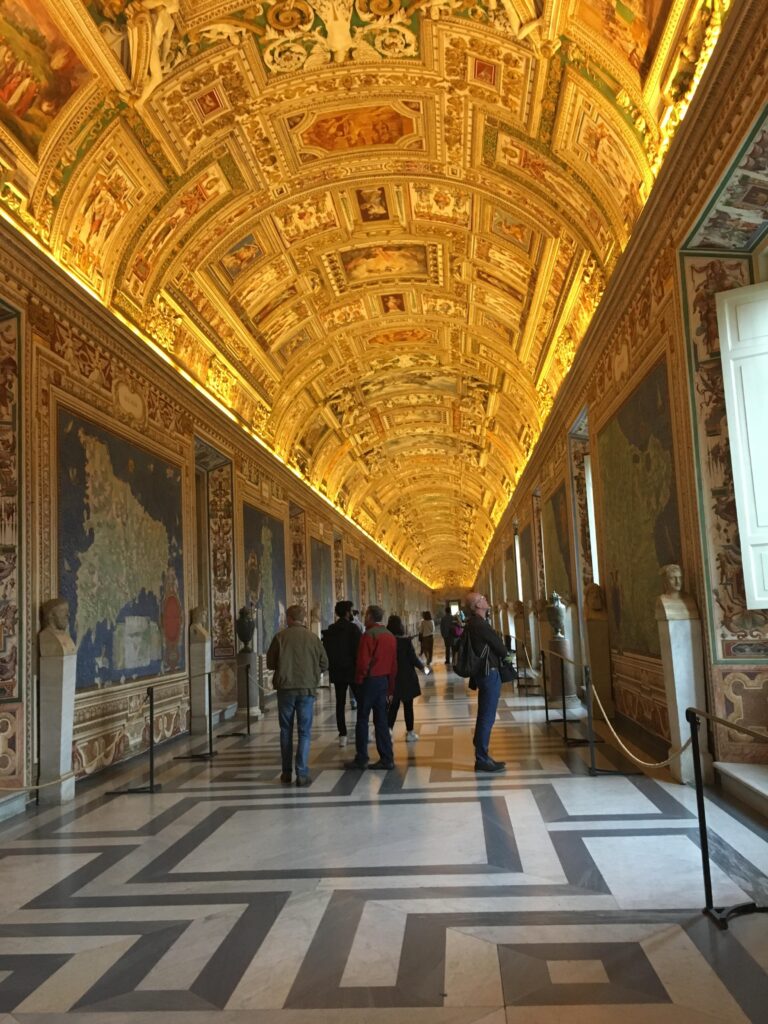 My alarm went off at 6.30am to allow for the walk to Vatican and Sistine Chapel without having to rush. I chose an early slot as I didn't want to have fight with the crowds and wanted to have all day to explore. Finding the museum was hard as there were so many people about due to the Wednesday Mass but with some bad Italian I found it.
It is breathtaking and it is 100% on my must do list. The ticket was €17 plus a €4 fee and I purchased it via their official site rather than a ticket company. The Sistine chapel was so peaceful and it made me feel quite emotional.
After visiting the Museum and the Chapel I walked back to the Square but it was closed off due to the Morning Mass so I walked back towards the Trevi Fountain. I was starving by this point so I went to a cute little restaurant called Hostaria Trevi which wasn't too expensive or busy. The owner served me and he was a lovely Italian gentleman who really looked after me. I had a beer and Carbonara which came to €14.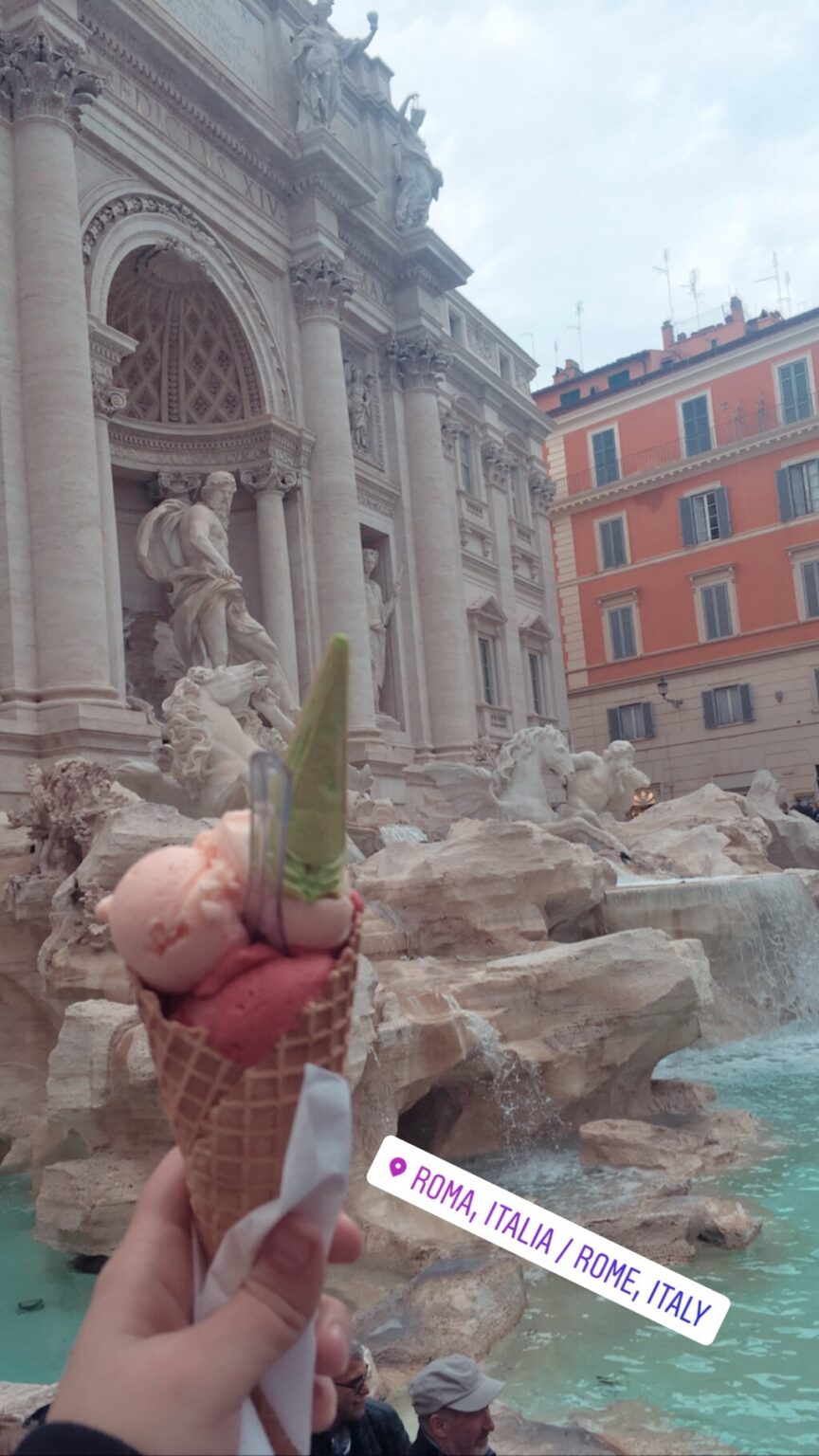 I saved room for desert and went to a little Gelato shop right next to the fountain. There are a few and they are all priced around the same. It should of been €5.20 but the gentleman only charged me €5 so that was a winner.I didn't want to do much else as my legs were killing me but I couldn't risk doing anything major on my last day. I decided to walk to the Spanish Steps as it was only 20 minutes from the Fountain. The steps are actually quite close to my hotel but I didn't realise. The steps were busy but not as busy as I expected. I had been warned that they get super busy but I guess I was just lucky. I walked from the top to the bottom of the steps before having a sit down and did some people watching.
By this point it was around 4pm and I couldn't decide whether to go to the Colosseum or not. I wasn't going to go inside as didn't want to pay the price of the ticket but I wanted to see it in person. It was a 30 minute walk from the steps and it was starting to spit with rain. I decided to go for it as I knew I would regret it otherwise. The maps took me via Roman Forum to get there so I ended up seeing more than I expected. It was worth walking too but I wouldn't of paid £50 to go inside. The current building works kind of ruined the peaceful environment I expected.Despite trying to take it easy I ended up with around 35,000 steps and decided to stay local for dinner. I went across the road to Café Washington which was opposite my hotel and I ordered a beer and a pizza. I couldn't leave Italy without having a pizza and this meal came to €16. It was worth it 100% and I would eat it again tomorrow if I could. After dinner I got an early night as my feet were in pieces and my hips were in so much pain. Honestly the blisters were so painful so make sure you wear good shoes and they are supportive!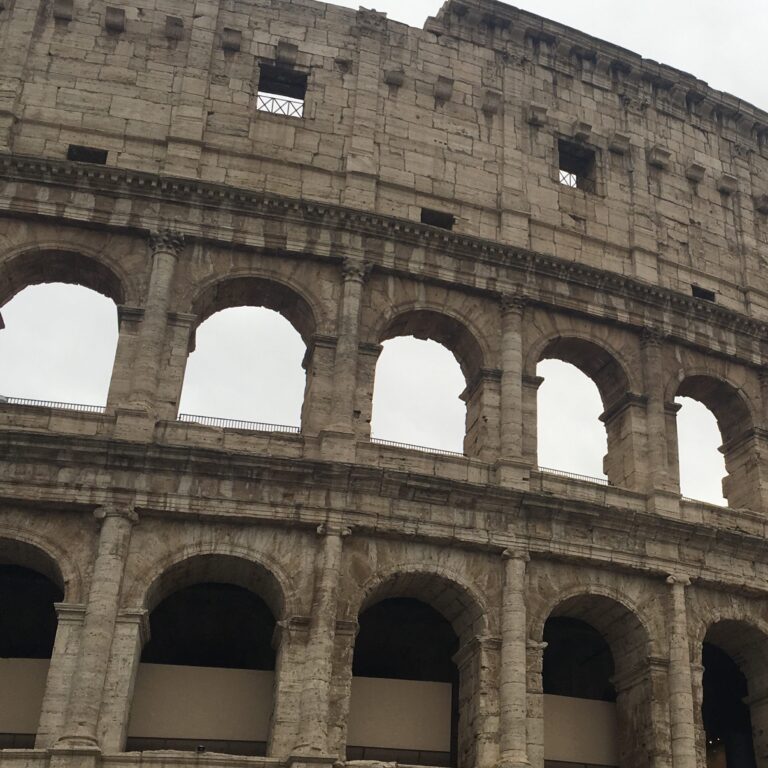 Third Day In Rome & Travelling Home
I woke up about 10am and I had to be checked out of my hotel by 11 am so took it nice and easy and packed my suitcase and paid my city tax (€6). You must have this in cash for most hotels by the way! I then chose to walk to the Trevi Fountain to have one final gelato before heading to the airport. I'm glad I didn't leave anything until the last morning as my feet were covered in blisters and the rain was coming in quick.
Once the rain started to chuck it down I decided to walk to the bus station / train station and get myself to the airport as it wasn't worth getting soaked before travelling home. It cost me €6 to get a single to the airport with Terravision who I used to get into the city on my arrival. It is a VERY SMALL airport and barely any shops so I admit I made a mistake in getting there so early. I should of found a shopping centre or cafe to mooch in for a bit.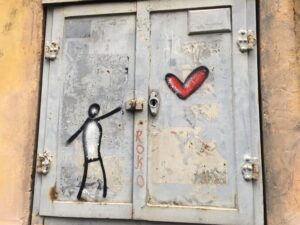 The airport is super small so Duty Free and shops are minimal. I got some food and just chilled out but in all honesty if security isn't busy then you don't really need to be there any longer than 2 hours before the flight. I did the standard 3 hours before and I was bored by the time the flight was ready.
Rome was amazing and I will write separate posts about the places I visited as there is just so much information I wish I had known before traveling.
It is one of the places that was on my 30 before 30 list and it didn't disappoint. I plan to return but this time for a more leisurely holiday.
There is a Youtube Vlog of my trip here if you fancy watching it.