Whilst visiting Cromer we also popped up the road to Sheringham where we spent the early evening and rest of our afternoon. I didn't realise until I got there that I had visited Sheringham before but it was around 10 years ago with Ethan's dad.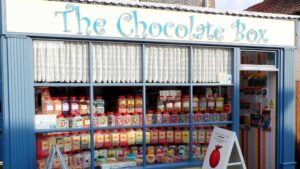 We had a lovely walk around the town and we went into all of the shops and bought our weight in sweets, fruit cake, nougat and fudge. I think we probably bought enough sweets to last Ethan a life time but that's what holiday presents are for. The Chocolate Box is the sweet shop mentioned above and they sell online too! The ladies in there are super lovely too so definitely pay them a visit.
We stopped off at the North Norfolk railway and waited for the train so I could try out my new camera and I didn't realise just quite how far the train goes. It's called the Poppy Line and it goes from Sheringham all the way to Holt. It looks like it has the most amazing views too according the photos they had around the station.
They do various events such as afternoon tea and lunches but The Norfolk Lights Express event and the Santa Specials caught my eye the most. They look amazing and the price per ticket isn't that expensive when you consider what is involved and how long they go on for. The light event looks fab but due to the nature of the event it does have late start times of 16.30 and 18.30. It might not be suitable for younger children but I am debating taking Ethan as he would love it.
When walking back down towards the shops and the seafront we found a cute little shop called The Giddy Goat which sold a range of Ales, Gins and Cider. The major selling point that caught my eye is a lot of the beers are gluten free and the majority of their stock is suitable for vegans which isn't that common. I have contacted the shop to see if they sell online as gutted I didn't get any when there. (They don't sell online, so will be stocking up next time).
Whilst we are discussing shops we loved in Sheringham we also fell in love with a little gift shop near the seafront. We may of spent a lot of money in there on gifts for people and for pieces for the house but that is what holidays are for. It's called Creativity and it has everything you could need from a gift shop / trinket shop including lovely staff who wrapped up all our purchases in lovely tissue paper and helped us when we couldn't decide with a present for the wedding.
We decided to get some ice cream when in Sheringham as the weather perked up a lot and we got it from "The Ice Cream Shop" but all of the shops did look great. A couple of them offered a doggie ice cream alternative too which was very popular.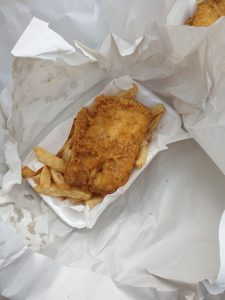 With the weather being temperamental we weren't sure if we would manage to have fish and chips on the beach for dinner which is my favourite thing to do. We got our food from Straits when it reopened and luck was on our side so I got to sample the best fish n chips in the area and sit on the loveliest beach. It wasn't greasy, it was a huge portion for a medium and the queue went for miles. The queue itself showed us just how good the place is to eat and that was without even tasting the food. The prices are great for the portion size and much better value than what we get back home!
We honestly had one of the best days in Sheringham and there is still so much we didn't do such as the Museum and The Little Theatre. It is worth a visit 100% and once again didn't feel that busy despite it being peak summer season and parking was also a doddle and very close to the beach.