SpyX Micro Gear Review [AD]
Ethan had this at the top of his Christmas List and he freaked out when he saw he was gifted the SpyX Micro Gear Set. This set is designed is for ages 6+ and it features 4 'Spy Tools' to help the young James Bond with their adventures. It does also include a carry belt and clips to store all your gadgets, which I will admit is quite cool, it can be adjusted to fit smaller or larger children and the clips can be attached and removed easily.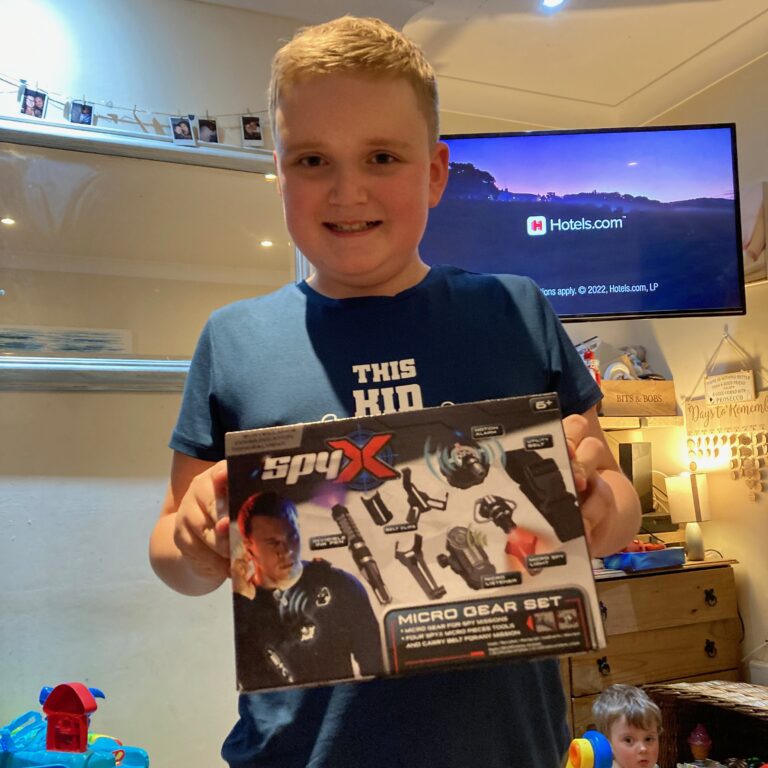 The SpyX Micro Gear Set includes a micro listening device, a micro spy light, an alarm that can be set as a motion detector or vibration alarm and invisible ink pen.
This kit is way more advanced than I thought it would be and it is definitely better than anything that was around when I was a child. All of the gadgets are lightweight and do what they are meant to do / function as described.
The invisible ink pen allows you to write messages which are virtually undetectable until you use the decoding UV light at the other end of the pen. Once the light is shone across the message the truth is exposed and Ethan has loved using it on his banknotes too as apparently they have "secret messages" too. There is even a secret compartment with a small writing scroll so you can record your intercepted messages on the go. We didn't realise this until a good few days into using the kit so it is definitely a secret area.
The listening device is possibly Ethan's favourite item in the kit, it has a range of about 5 feet and it amplifies the sound in the direction of it's microphone (with some distortion). There is no volume control which can be an issue but I didn't expect it either . Ethan did say that he thought the wire between the listening device and earpiece could have done with being longer, simply for the ease of use, comfort and manoeuvrability.
The spy light is a nifty part of the kit and it fits snugly over the left or right ear and emits a strong orange glow in the shape of a target.
Ethan really loved the motion alarm and it is his favourite item in the SpyX pack. At the flip of a switch you can set the alarm to go off if someone crosses its path or change it to sound. It is very sensitive, and loud enough to hear from other rooms/floors in our house. Ethan really enjoyed trapping us as we attempted to sneak into his room.
Each of these items fit precisely into the clips and they can easily be attached to the belt. Ethan couldn't fit it on himself across his hips but he wore it across his chest and he said it was awesome like that.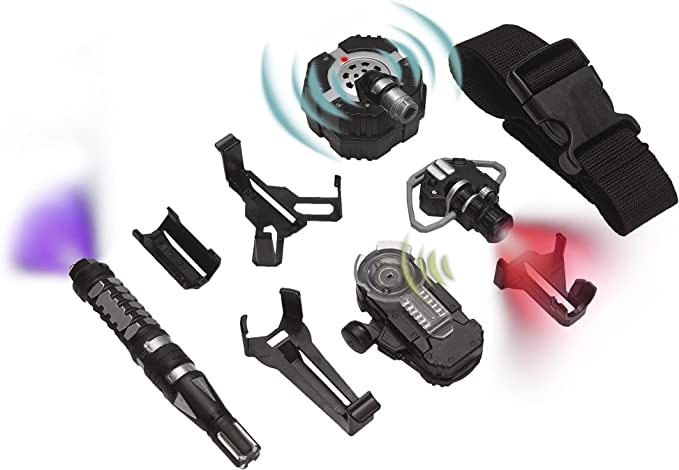 What do we rate the SpyX Micro Gear Set?
Ethan and I would rate this product 4.5 out of 5 as all the gadgets functioned really well and Ethan hasn't stopped playing with it. For a toy it is really advanced and certainly a lot more technically superior to anything I played with as a kid.
Where can we buy the SpyX Micro Gear Set?
It is available to buy from Argos.