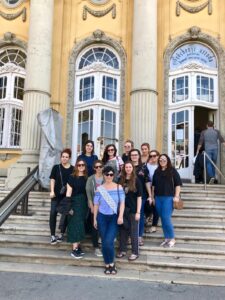 When researching Budapest I was told one of the best things to do was the thermal spas but in all honesty I didn't think it was my kind of thing. There are 3 to choose from which all had great reviews. Overall, I had no clue which one was best but I'm lucky as the maid of honour sorted it all for us and pre-booked it for us. We were off to the Széchenyi Baths.
On the second day with nearly everyone hungover
we went to the Széchenyi Baths.
Half of the girls got a taxi from the rank outside the Hotel, and we got the hotel to book us one and met everyone at the Spa due to us running a bit late getting ready.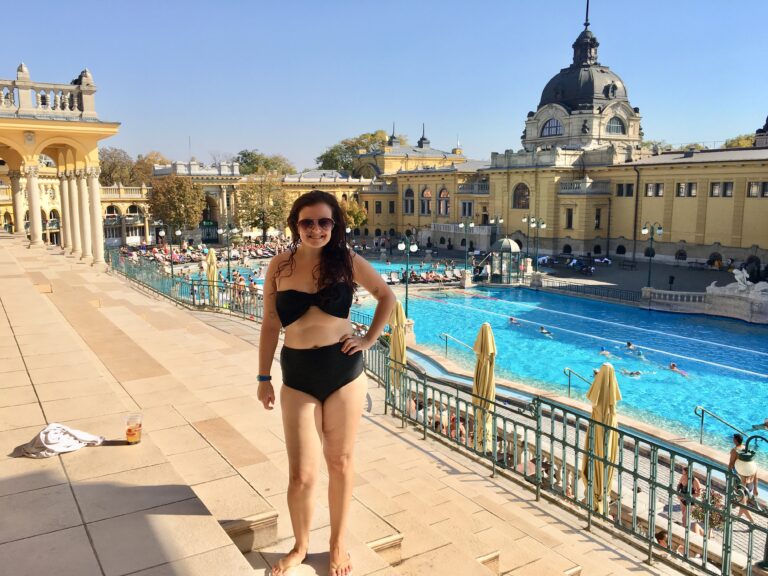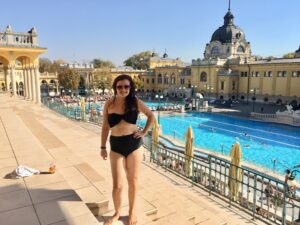 Our taxi to the spa cost 1,500 HUF (£3.50) as it was a private cab company rather than a self-employed driver. If you stopped one on the side of the road it was going to cost us between 4,000 to 8,000 HUF(£8-£18). The taxis are cheeky and like to overcharge tourists, book via the taxi app or through your hotel for 'normal' rates.
On entering the spa, it was quite open and lots of stalls selling extras and upgrades to your experience. Then you walk through to get your wristbands which allows entry to the baths and also gives access to the changing rooms including locking your items in the changing cubicle too.
Note to everyone: Do NOT touch the electric lock on the front of the changing room door before entering or you will lock yourself in – speaking from experience and your friend's will have to save you.
Once changed and ready we locked our items in our changing rooms and went off to the baths. There is a kiosk for drinks and snacks which is fairly priced so make sure you take some money with you. They have outside lockers too for phones and valuables, but these are coin activated like in the UK. They sell alcohol too which surprised me.
In this particular thermal baths there is various different pools ranging from inside or outside to different styles, I didn't venture to see these as I was happy in the outside one due to it being a sunny day however I do plan to return and to have a further walk around and test some of the other baths.
There are also optional extras of massages which our Bride to Be had and said was amazing and so relaxing. I plan to book one next time I go.
Whilst looking around I found a leaflet for a Beer Spa which sounded amazing as you get unlimited beer whilst having a soak and relaxing in the beer. I would love to do this so I will be looking into this for our next adventure to Budapest.
The girls absolutely loved the spa, and it actually helped their hangovers despite previous worries of it making the hangover worse.
Would I recommend the Széchenyi Baths?
Yes, it was an amazing relaxing experience and totally worth the money. It wasn't too busy, and we were really lucky with the weather as it was so warm for a weekend in October.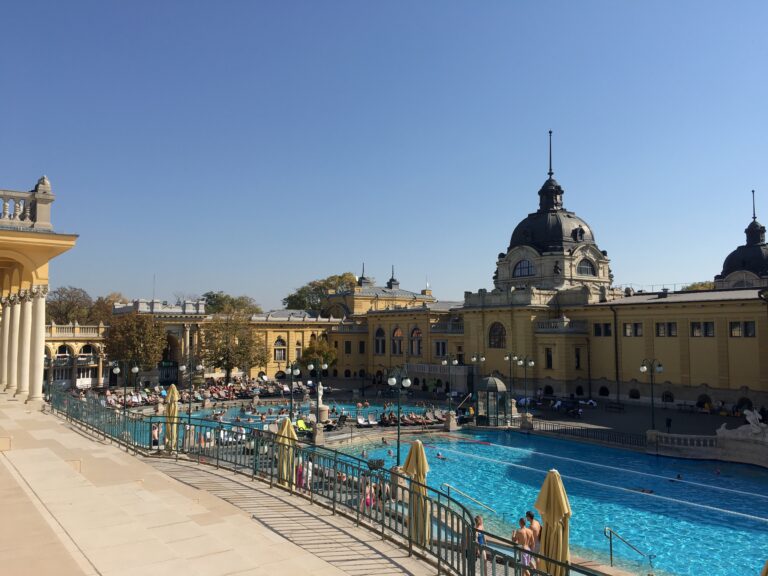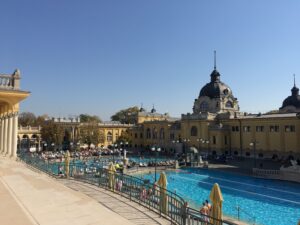 I would recommend bringing your own robe, towel, and some form of footwear as the floor gets really slippery around the poolside and the robes were quite pricey to rent from there direct.
I would advise making sure you pre-book any massages and treatments to guarantee a time slot and to get the best prices as that's how we got a good deal for such a big group.
All photos are mine / Not sponsored, affiliated or paid for / All opinions are my own