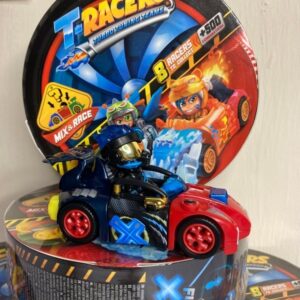 I like to think I'm up to date with the latest toys, but I have to admit that I'd never heard of T-Racers until I was offered this review. I was asked to try out the T-Racers Turbo Wheel Assortment and we found them on an AMAZING deal at Tesco as part of their 3 for 2 on toys. Have you heard of T-Racers? We have since seen them everywhere since we got gifted them.
The packaging is really eye-catching and depicts a cartoon mock-up of what's inside each set, with some added flare of course. I love how it looks like a tyre and it is obvious on the shelf, so it draws your eye to them. It is also made out of paper and cardboard which means it is friendly to the environment and less plastic is involved in the packaging.
The principal concept is "mix and race", which allows you to design and build your own cars by mixing, matching and swapping vehicle parts before racing them against one another. This idea works when playing alone and racing your own designs against one another but is also great fun when racing against anyone else and it can get very competitive.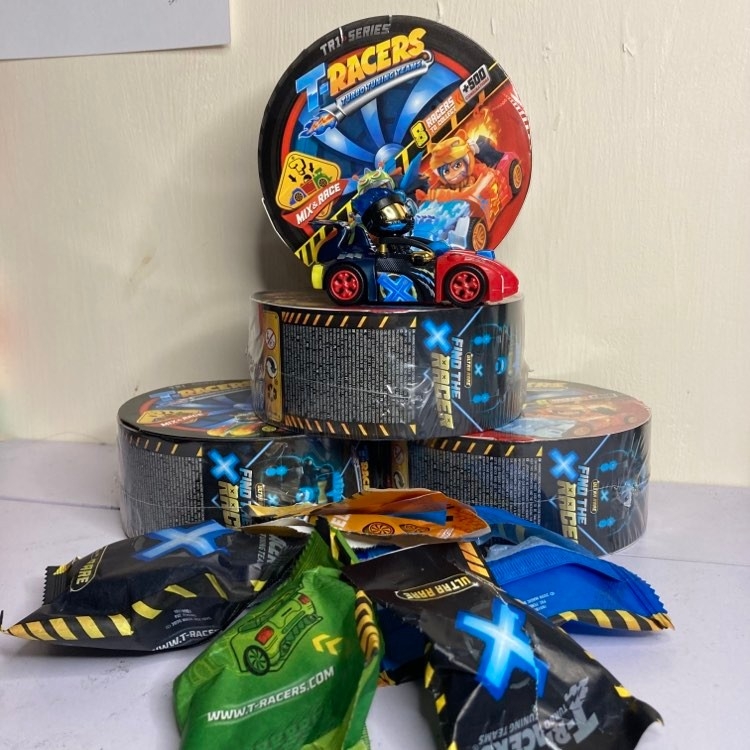 The T-Racers Turbo Wheel Blind Box contains one full car and character set. There are 8 styles available with the prospect of 500 combinations, although I suspect there is already more in the works as they increase in popularity. The box is shaped like a wheel, and you roll the top sleeve away to reveal the main box.
Now for the fun part which all kids love and that is the blind bags. Inside the box are 5 different brightly coloured packages and each one contains a different component. The packets are paper rather than plastic which is a bonus and seems to be following in the footsteps as other brands such as SuperThings. In the packets you will find the driver/racer, the front chassis, the cab, or cockpit, then the rear chassis and of course you will need the 4 wheels. The pieces fit together easily, and they stand up to Ethan's hulk like strength which means they are well made, and they have fantastic attention to detail.
When you have more than one vehicle the fun really starts as you can swap the parts and drivers around.
The leaflet inside details the names of each part, e.g., each racer has a name and each individual design on the front of chassis also has a name such as formula freeze. This applies to all of the car parts which makes it quite a different game when you go further than just racing. We love the fact that you can even exchange car parts mid-race during your pit-stop which makes it more than just a standard two car race.
Apart from the standard racing you can do, the racers are also part of a team. There are three teams and the ultra-rare character X-Racer, and according to Ethan he is THE racer to beat. This adds another element to what could have been a very bland car game. Ethan loves playing with his T-Racers whether it be playing teams against one another or on his own he keeps finding new ways to play it and combine them.
On the leaflet it mentions that you can follow the racers on their Youtube channel, and find out more all about their special powers. Each clip is around 2-3 minutes and it shows each of the racers and their cars. It allows the view to learn about their special powers and it is definitely worth a watch if your little one's need an imagination boost.
The age range appears to be stated as 3-8 years, and I have to say that Ethan is 9 and A is 10 and they loved playing it so maybe it just depends on what you child is into and how they play. Ethan loves playing with his cars, and you can often find him creating crashes or scenarios on his car mat in his room so this is honestly perfect for him.
If your child really gets on with the toy and loves it then it can become a good item for birthdays and Christmas. The turbo wheel set is priced at £6.99 in Tesco so it is an ideal pocket money find or as a reward at the end of term etc. It is also a good price for a present for a birthday for a friend's birthday etc, lot's of fun without the high price tag.
I would award these sets 4.5 stars out of 5. They are fun and the kids love to unbox them. I don't begrudge paying £6.99 for one of these as compared to other similar toys this has higher value and more playability. It is also on a 3 for 2 with a clubcard in Tesco so you get more for your money! These toys give parents of car loving kids something unique to add to their present lists and also some hours of silence – which as most parents know is golden.
Check out our instagram page (@DittrichDiary) for a competition where 1 person can win 4 (!) of these sets. It is a free competition and perfect for a newbie to these cars.
It will run for 2 weeks from the 8th April 2022. One winner will win 4 of these sets and will receive them within 30 days. UK ONLY entry and they must follow myself and @T-RacerUK on Instagram. It will be drawn at random and it can be taken down at any point.