Metal Movers By Tonka [AD]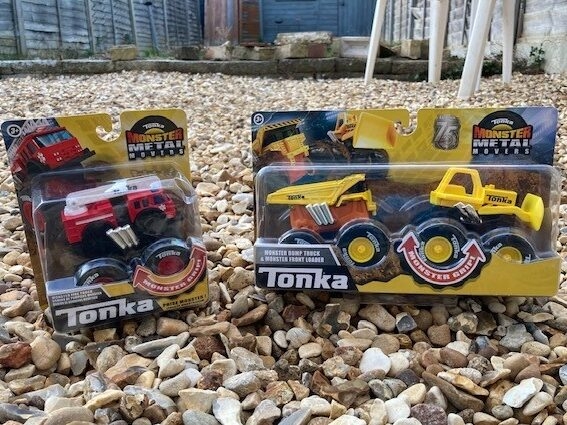 Ethan has been gifted two sets of Tonka's Metal Movers trucks as he loves to play with his cars be it inside the house or outside depending on the weather. He has always been a big lover of construction vehicles and the combo pack he received was perfect as it includes a Dump Truck and Front Loader. Tonka's Metal Movers are a hot toy right now have you seen them?
The Dump Truck has a moveable bed, and Front Loader's moveable blade means they don't have to pretend play they can re-enact real life with real loads on the trucks. Each truck is made of coloured diecast metal and is 1:64 scale. It is around 3″ tall which is bigger than the current Mover Truckers on the market and they are built Tonka Tough, which means they are made to last.
Tonka has been a favourite all over the world for over 70 years and is built to stand up to the toughest of play. We have always loved Tonka toys in our household as they can take a serious bashing, hitting, and dropping from the boys and they never age despite years of play.
Ethan was also gifted the Solo Red Fire Truck which comes as either a stand-alone toy or in a set of with an EMT vehicle. I love fire truck toys especially ones like this that are robust and have a moveable ladder that isn't flimsy and going to break with one movement. Ethan's favourite thing to do was move the ladders up and down on his trucks and Tonka Trucks have always held up against his rough nature.
Much like the construction set each Fire Truck is made of brightly coloured diecast metal and is 1:64 scale, and 3″ tall! The super grip tires allow for easy manoeuvring and are safe for indoor/outdoor use which is perfect for the muddy puddles, the many stony patios and the many car mats we own.
All of these are suitable for 3 years+ but of course it depends on the child's nature as Ethan was playing with toys much like these from when he was 18 months.
These would make a great present for a birthday present or a non-chocolate Easter present as they don't break the bank at £12.99 for the double pack.