Valentine's Gift Guide 2022
I love writing a gift guide and trying to include lots of small businesses and Valentine's Day is no exception. I know some don't celebrate Valentine's Day so these ideas could also be used for any Birthdays, Christmas, or for a just because present. Some items' have been gifted to us which I will mark with [AD] however all views are honest and my own.
Dog and Hat Valentine's Coffee and Brownie Pack
We worked previously with Dog and Hat at Christmas and they have brought out the most AMAZING sounding Valentine's Box for all you coffee lovers. I am no way a coffee consierour but just note this coffee can be whole bean or ground for espresso or filter and it won't be shipped until 9th FEB 2022 to allow for the box to be fresh.
This box looks great and it includes a bag of Chip Coffee and Carringtons Coffee and two HUGE slices of gooey chewy brownies which look lush and they are from the Curious Brownie Company. They apparently are the best brownies in Yorkshire, and I am desperate to try them as they look mouthwatering!
This box will include:
1 x 250g Carringtons Columbia Coffee Finca Villa Natalia Natural Process
1 x 250g Zach Chip Brazil Fazenda Cetec Sugarcane Fermented Natural Anaerobic Process
2 HUGE slices of brownies, in a presentation box from the Curious Brownie Company.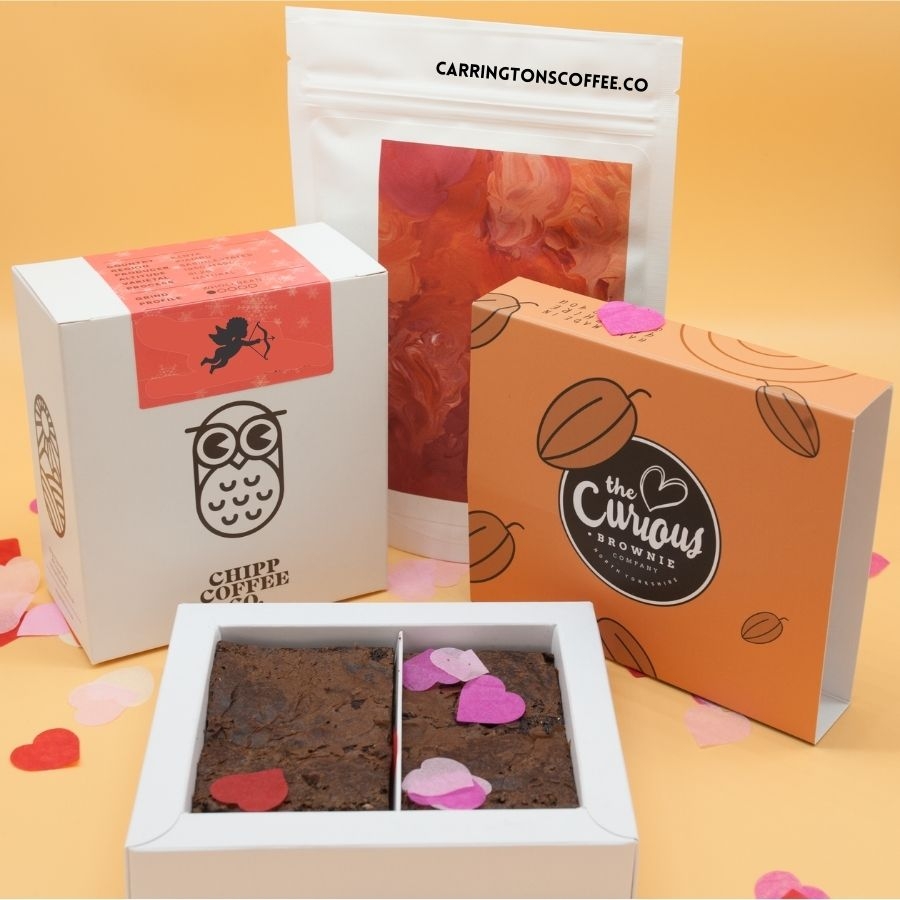 Skateboarding, Skates & Scooters from Skates.co.uk [AD]
If you have a skateboarder in your life or just someone who loves a bit of an adrenaline frill / wants to learn a new hobby then check out www.Skates.co.uk the best website for scooters, skateboards, and various other types of accessories too. They GIFTED Ethan a skateboard as he desperately wanted to learn to skateboard this year and now his dream has come true. The prices on the website are in line with high street stores and to be honest most are cheaper than they would be if you went to a main brand store. The postage is super quick and it came discreetly which didn't give the game away to Ethan.
A BIG thank you to Skate for the board we chose this style as we knew he would love the design. We love this challenge Ethan has set and if you want to follow his journey head to our YT channel!
This featured board is usually £59.95 but currently on sale at £29.95.
Flower and White Meringue Valentine's Gift Bundle [AD]
I have been GIFTED a box of Meringue kisses by Flower and White and they look so pretty and taste lush too. I love the fact that they are vegetarian friendly and gluten free but most of all I LOVED the flavours as they actually tasted of what they said and not just sugar. They are ONLY 13 calories each which is amazing as I am trying to diet for the wedding but I have such a sweet tooth. If I was to recommend a bundle I would suggest the Meringue Kisses Bundle as you get the best flavours to sample and some of them won the Great Taste award in 2021.
The bundle is priced at £9.60 and includes the following:
1 x box of White Chocolate & Raspberry Meringue Kisses (100g) – Raspberry Flavoured Meringue Kisses with a white chocolate drizzle.
1 x box of Chocolate Meringue Kisses (100g) – Chocolate flavoured meringue kisses.
1 x box of Rainbow Fruit Meringue Kisses (100g) – An assortment of Passionfruit, Black Cherry, Lemon, and Raspberry.
They are made of all natural flavours and colours with no additives which makes them the perfect little treat after dinner without feeling guilty. Also bonus if you order before 2pm during the week you get FREE next day delivery so perfect for last minute presents or just because you fancy a treat midweek.
Boutique Gifts UK [AD]
We have been talking to the lovely ladies at Boutique Gifts about what is currently best selling for this years Valentine's Day and they have given us some of their top products to review and give our feedback. I have picked my top 3 products for the ladies in your life and I will link a few products that I love for the men but I haven't seen them in person so can't comment fully on them.
The 1st item I fell in love with is the Courtney Handbag with personalised initials. I didn't realise at the time you can get more colours than black but I LOVE the mint green and will be purchasing that as a treat for myself. At £29.99 it is affordable, and can be dispatched within 24 hours so it doesn't require a long time in planning for that special gift. I got my soon to be married initials on my bag as I plan to use it for my hen and then to store my bits in on my wedding day. I have always wanted a bag with my initials on but a lot of companies charge a lot for this service so when I saw this I jumped at the chance.
It is made from a luxury leather and then it can be embossed with silver or gold initials, it features a zip fastening and wrist handle so perfect for date night! The bag arrives beautifully presented in a premium gift box so you don't even need to think about wrapping it which is a bonus when life is super busy. As I mentioned about the bag also comes in other colours and I have linked them here you : Grey, Coral, Stone and Mint.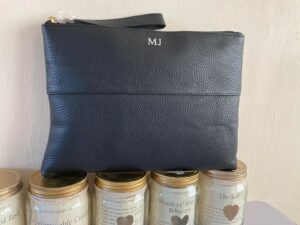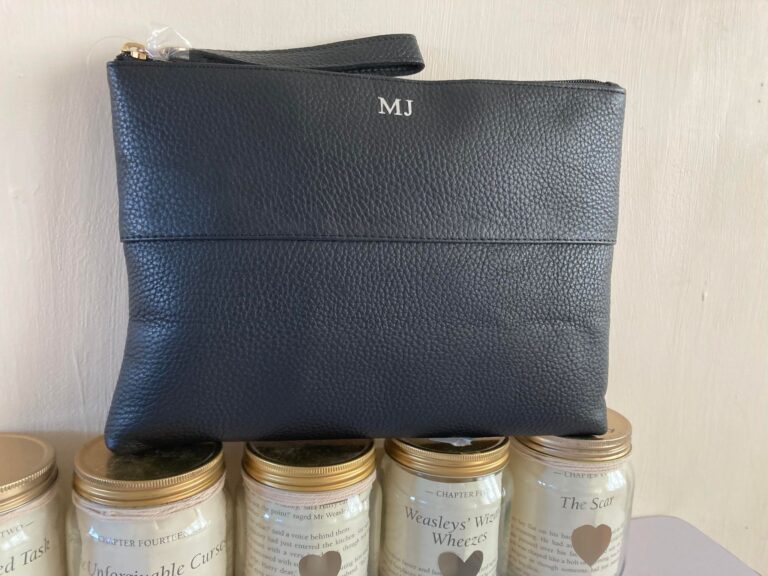 I LOVE the photo candles, and think these make such a great personalised present that can really capture a moment or a memory and make you smile when you walk past it, light it, or just have it for display. At £11.99 it is an amazing price and I have seen them on the market for a lot more. These would make a fab Valentine's Day Gift or if you are thinking ahead it would be brilliant for Mother's Day too.
The crossbody leather bag looks like a briant alternative to the clutch for everyday use and the colours that it comes in are lovely and pastel and I just love the initials it makes it so personal and thought about. At £30 for a bag of this quality it is a steal and a definite investment piece and it will be added to my wish list for when I can afford to treat myself next. Also there is this version which is just GORGEOUS at a slightly higher price tag of £45.
I am going to go with a slightly different item for my third item as a soon to be bride I just thought it was so cute and very cliche but I would love it if my partner got it for me and it's a JUST WED licence plate effect keyring and for £11.99 it is just such a sweet reminder of such a lovely day and it would definitely make me smile every time I looked at it.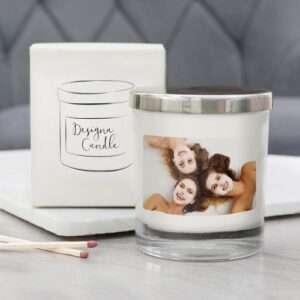 The Men's Valentine's Section includes a lot of lovely and thoughtful items. I personally love an item that you can make unique and add names and dates too and these are my Top 4 Gifts that I would buy my fiance:
MozaBrick Brick Photos [AD]
Mozabrick is a photo construction set and it is a wonderful gift for anyone but I think it is super cute for Valentines. In order to get the correct pattern order you need to choose a photo and then follow the pattern to create the photo in black and white bricks. The design is suitable for selfies, single close-ups and macro photography. The black and white mosaic image will fit perfectly in any house and when you are bored of the image you can build another one.
This product is new to the UK and I met them at The Toy Fair and loved the idea, the effect and the look of it. I have a set to create a photo with and this will be up on YT soon.
We have three sizes of mosaic art: S, M, and L. The sizes are universal and help you to create bigger pieces if that's what you want.
Small: 51×51 cm/20×20 inches, It includes 5800 pieces. Ideal for selfies, macro photos with good details
Medium: 51×76 cm/20×30 inches, It includes 8700 pieces. It's a perfect size for a portrait of a couple or close friends
Large: 76×76 cm/30×30 inches, It includes 14500 pieces. This is the ideal size for images with several faces /nature/ flowers / animals or a pet.
Clear Confidence Shaving Brush [AD]
The traditional wet shaving experience has been around since the 1800s and it's still the best way to obtain a superb shave every time. It is back in fashion thanks to high street barbers using the technique more and more. This shaving brush from Clear Confidence is brilliant for the male in your life or to be honest anyone who shaves. It is a 100% plastic-free construction with grass-based bristles which makes it a vegan friendly product too which is awesome as we have just had Vegan January.This shaving brush offers a great alternative to badger or boar hair shaving brushes which are still commonly used in other brands. It's enables you to obtain a superb lather on your face whilst massaging the skin to vastly reduce irritation. I love the feel of it and I LOVE the wooden handle too as it looks old fashioned and isn't unattractive sitting on the shelf.
Here are just 5 reasons why you should use a shaving brush each time you shave:
It works up a great lather which helps to lubricate the razor against your face
It massages and exfoliates the skin for a smoother finish
Using a brush helps prep and soften hairs for easy shaving
It is proven to help reduce irritation, redness, soreness, razor burn and ingrown hairs
It is superb quality and long-lasting with an extended 1 year warranty for free!
It is £14.97 and available here.
Gummee Teether Hearts [AD]
Ezra has been teething and drooling so on Black Friday I purchased a set of teething mittens from Gummee Glove in the size of 0-3 months. He has now upgraded to the glove and he gloves it. We got the black and white one which you can buy here.
Ezra has now been GIFTED two heart teethers to put with his Glove which we love! Perfect Valentine's Day gift for a teething bubba.
I love the fact that they are soft which means their hands don't get sore from holding them and the drool is easy to wipe over as it is food grade silicone. We now have grey, purple and red which is adorable and plenty for us to have one everywhere which is exactly what we need right now.
Ezra seems to love them and using them with his gummee glove helps us as he drops everything right now. The design is brilliant and child friendly that it isn't offensive or too OTT and I don't mind the colours either which is unusual for children's product as usually they are very obnoxious.
Gummee is very proud to have won multiple product and business awards over the years. Although we have never really sought out awards We are always pleased to receive them, but we do believe that customer reviews, social media likes and Gummee live video views mean more because that's where real mums and dads have told us how much we mean to them, through good communication and always being there if they need any help with teething. Gummee Mummee (Jodine Boothby) goes live via facebook and instagram every Monday at 20:30 and every Wednesday at 14:00 to discuss our products as well as doing a live giveaway of the product of the week from another company who will also be a small business. Hope you can join us.

Gummee Glove Website
We LOVE this product and it has helped us so much with Ezra now he has found his hands and we really hope it will help you too.
Everytime you support a small business they do a happy dance and you are not paying for a second home or an expensive holiday but you are supporting a family, paying for school activities and new uniform, as well as much more. It means an awful lot to them.
---
Few other companies contacted me after I wrote this so please check our posts about @Bird&Blend / @LoveLox / @EngraversGuild. Once they are Live I will try to attach a link to the business name.
Thank you to all the companies who contributed to our gift guides.
---
All views are my own and do not reflect on the businesses mentioned, no money was paid for the businesses to feature in my article and the only exchange was them giving me products but at no point did they state it was for review, promotion or paid work.