We decided to take a little mini break and we went up to visit Cromer and Sheringham. We started off in Cromer which is a beautiful little seaside town and it wasn't busy at all. The weather was a bit hit and miss but as we didn't have Ethan with us a bit of drizzle wasn't an issue. If you have never been to Cromer before it's got all the little traditional seaside type of shops with a mixture of the more modern high street.
We had a lovely little mooch around the shops before sitting on the beach and watching the world go by for a while. The beach is mainly stones but some of the children there had found sandy spots to make sandcastles on. When we got up we realised we were covered in dry seaweed which caused a lot of amusement as well as me struggling to walk across the stones.
When we noticed the weather was getting a little worse for wear we decided to head to the pier and explore. The pier is the main attraction is Cromer and lots of people were crabbing off it and catching HUGE crabs. I have never done crabbing so this intrigued me a lot. We have decided we would bring Ethan back to do it as he would love it especially when he gets donuts too.
At the end of the pier is the lifeboat station and museum which is free to visit but it does rely heavily on donations. We popped in there to shelter from the rain but it was really interesting and we spend 20 minutes in there roughly. You can see just how large the lifeboat is when you are inside and there are photos around showing just how much it has changed over the years. It does gets busy in there but it isn't suitable for wheelchairs or buggies as far as I could tell. I would recommend popping in there and having a look around if able to. It did have a little gift shop attached too.
I picked up a leaflet about the Hillside Shire Horse Sanctuary in the piers gift shop and it looked like it would be a good thing to do with Ethan. It's probably best to do it on a sunny day and I have added it to our plans for next year. We only didn't do it that day as the weather wasn't really on our side. We had also planned to do the coastal walk but between the sunshine and the rain we thought it was probably best to do it another day.
As we left the pier and walked back to the car we decided to brave the rain and grab some donuts because what is a trip to the seaside without some hot donuts and the sugar getting everywhere? They were blooming lush and a lot cheaper than the prices we are used to at home.
We were really lucky and managed to park alongside the sea front so we didn't have to pay for parking which worked in our advantage. There are a lot of pay and display car parks advertised though and they aren't far from the seafront. I'm guessing they all fill up pretty quick on a sunny day but they are well sign posted along the route.
Food wise we were recommended No1 Cromer for fish and chips but we waited until we got to Sheringham so we just stuck with the donuts. The ice cream shops looked amazing too but it wasn't warm enough for one of them really, Cromer Ices was the top recommendation though.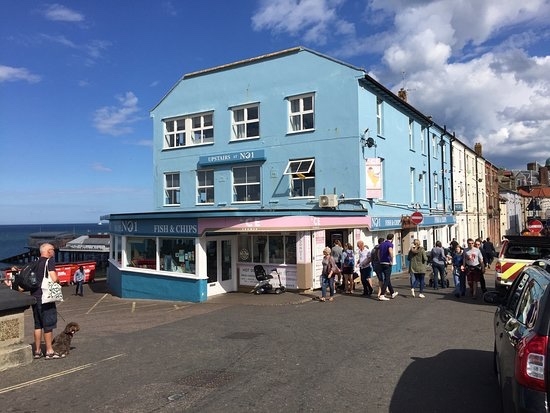 I can't wait to go back with Ethan though as it was such a lovely and relaxing area which really wasn't that busy considering its the summer holidays. Hopefully we are that lucky next time as it was lovely with minimal people around.