I love to promote small businesses and as my Valentines Day Gift Guide went down really well I thought I would do it again for Wedding Gifts & Products .
If the company have GIFTED me any products, I will mention it in the heading with AD.
Incense Sticks -Vedmantra [AD]
Vedmantra have such lovely ranges of Incense Sticks amongst other products which are perfect for Wedding Gifts. One of the primary reasons people use incense sticks is because it works as a mood soother and a relaxing agent, and they are also seen as a natural mood stabilizer. They have been reported to help with sleeping, eating, and digestion as well as reduce depression, and regulate anxiety and headaches.
Did you know that 67% of the families light incense sticks for a variety of reasons.
Vedmantra is one of the preferred name for Incense sticks, and they are becoming incredibly popular amongst people as they are trying to become more natural with how they deal with health issues. It would make a great present for anyone in your life but it would also make a great Wedding Present starting from £4 plus postage.
Hazel Bee Wedding Products [AD]
Hazel Bee Gifted me these super cool heart glasses through the post for this blog but to be honest they are so amazing that they suit many situations not just weddings. Hazel Bee also does other products which I will talk about in a moment.
These Magic Psychedelic Rainbow Love Heart Glasses use refraction to turn ANY strong source of light into a coloured heart shape which is perfect for wedding favours or to put on the table for guests to use and have a go with. They also have SUPER cute drawings on the arms of the glasses which made me smile when I saw it. The fish couple are my favourite on the back of the glasses!
I think that these are the best gifts to go in wedding favour bags especially for kids or they would work really well in cards too. I mentioned before that these would work really well in many situations not just weddings and I thought of a few ideas of where they could be used for: party favours, anniversaries, new year, christmas, birthdays and valentines day!
Bonus for me is that they come packaged in a biodegradable cornstarch wrapper as I am trying to cut down on the amount of plastic / non recyclables I have with products.
Hazel Bee also do gifts and eco friendly cards and the cards I got sent are HILARIOUS, if you know someone with a sense of humour then these are the cards for you. They are priced in line with most card stores and other online retailers and I love the fact that the card is 100% recycled card, the cellophane is biodegradable and the ink is vegetable ink. They have really thought about covering every base when it comes to being eco friendly and that is a thumbs up for me! This is my favourite card that I will be buying for Nick's Birthday.
Anna Elizabeth Candles [AD]
If you love candles, tea lights and wax melts then you need these in your life. I got them in the post today and I could smell them before I even unboxed them and they smelt AMAZING! Anna Elizabeth has smashed her scents and they smell for ages when burning them and afterwards when it is just sitting on the shelf. The packaging is super cute and would make the perfect gift as it arrived all packaged in boxes
and tissue paper. You could order it straight to your recipient as it is wrapped up perfectly for that. My top recommendations from what I have tried would be: Pink Pepper and Rose, Melon and Cucumber and All the washing / laundry related scents because they are AMAZING.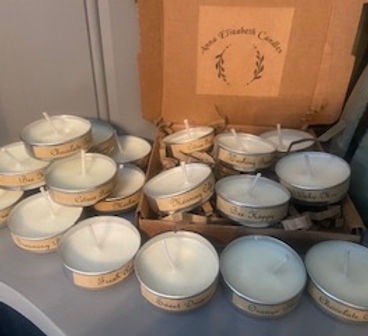 Honestly, I am not the biggest wax melt person but I have been won over these are so beautifully done that they are too good not to share.
The business is in Bridgend, South Wales and all of the products are handmade and can be personalised for any occasion. The candles and wax melts are made using eco soy wax and each one is hand poured. As much as they can they use eco friendly packaging too.
Personalised Wedding Glassware – Needi [AD]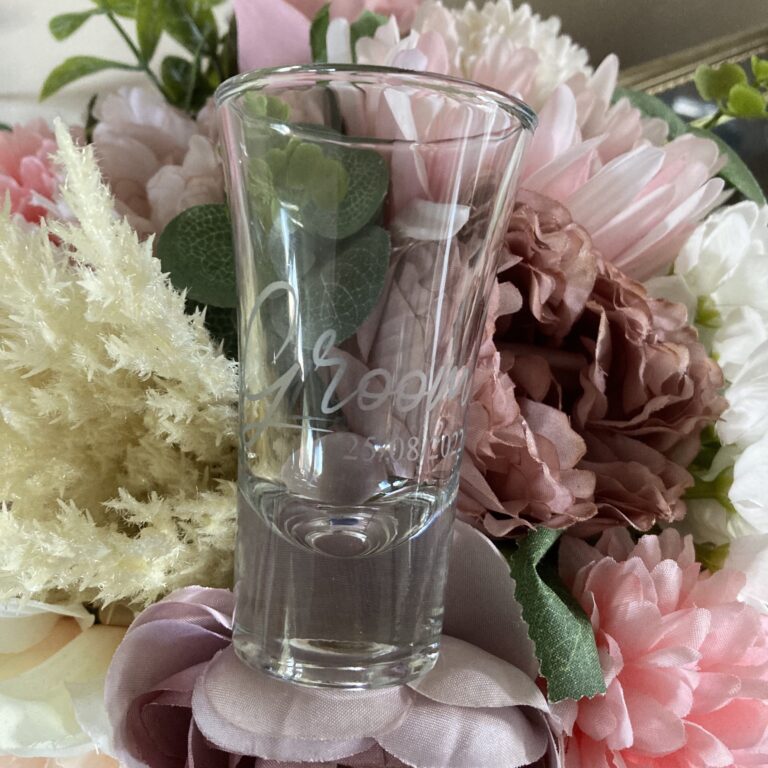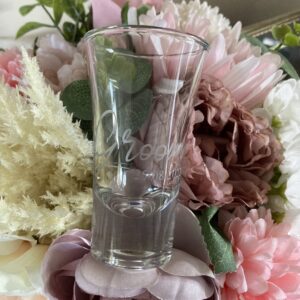 Needi Personalised Glassware is great for a wedding present or as part of the wedding gifts for bridesmaids or the wedding party. There is a great range of items in the collection and they are a one off personalised item which will allow you to remember your day forever. From song lyrics to kids drawings and logos to your own handwriting this company will do it all. If you can't see the glass style you want then let them know and they will order it in. They can also etch liquor decanters, glass storage jars and wine aerators!
Personalised Cheese Boards – Boutique Gifts [AD]
We got gifted this gorgeous Carved Heart cheese board from Boutique Gifts and it is made from environmentally friendly Hevea wood and it has an integrated knife compartment. The knife compartment contains 3 wooden handled specialist cheese knives. I personalised the top of the lid with our initials to create a romantic gift perfect for my husband to be as he loves cheese. This can be ordered, personalised and dispatched within 72 hours so great for those last minute presents and a bargain at £36.99!
Cheese board includes: Cheese fork, Stilton Knife & Cheddar knife
Dimensions of board: 22cm x 22cm x 4cm
Dimensions of knives: 12cm x 3cm (at handle)
Personalised Hip Flask – Engravers Guild [AD]
I contacted Engraver's Guild looking for personalised items for me to gift to my husband on our wedding day and they came up with this awesome personalised hip flask. We aren't big drinkers but you only get married once so i thought he might want a little tipple on the morning so this works great for us and is in a lovely presentation box. I ordered the classic personalised hip flask with brushed stainless steel finish and detailed chrome features on lever-arm cap. It is a 6 oz engraved hip flask which measures 11cm high by 9 cm wide and is delivered in a stunning jet-black luxury gift box and a pouring funnel is included.