I am getting MARRIED this year!!!!!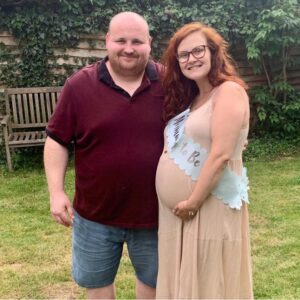 I literally cannot believe it but I am getting married this year to my soulmate, my best friend, my everything and as much as that cringes me out writing that it is true and I can't deny it. He is the one who makes me laugh, makes me believe in myself and the one I message 24/7 [not stalkerish promise]. That Must Mean Wedding Plans Here We Come!
Anyway I have been tracking our wedding plans over on YT and thought I would write up a little blog. It is only a small wedding & reception as we are on a tight budget so everyone has chipped in to help us where they can.
I have already purchased my dress and I got it from ASOS. We ordered a few to just see what I wanted and I fell in love with it so with a few adjustments it will be perfect. I also got my shoes off Vinted as I am not a heels person so didn't want to spend lots on them.
My amazing sister in law is doing my hair and makeup for me and she is also organising my hen as she is my maid of honour so that's exciting and can't wait to do some trials with her. I have some ideas of what I want but just depends if my hair will do it.
Now onto what I can share with you lot which is the crafting side of it. I have been making as much as possible for the wedding with help from the web and I want to document it in a blog for me to look back on.
I have made light jars to go on our tables along with photos of us from years long gone as we aren't having a sit down meal so we just wanted some cute table decorations for anyone who does want to sit down.
I got the jars free from the local selling pages and they are perfect! They are honey jars and I need to source some more as they are just the right size, shape etc and I didn't really want to purchase them if I could save money. I used a Harry Potter book for the pages inside and this was also free off fb and I felt horrendous ripping out pages. I have fake tea lights inside which I got from Amazon and used Prime to get them shipped for free. The price fluctuates a lot so keep an eye on it. I got them for £5. I love these as they look so cute either on or off and I just wrapped string around the jar before putting on the lid.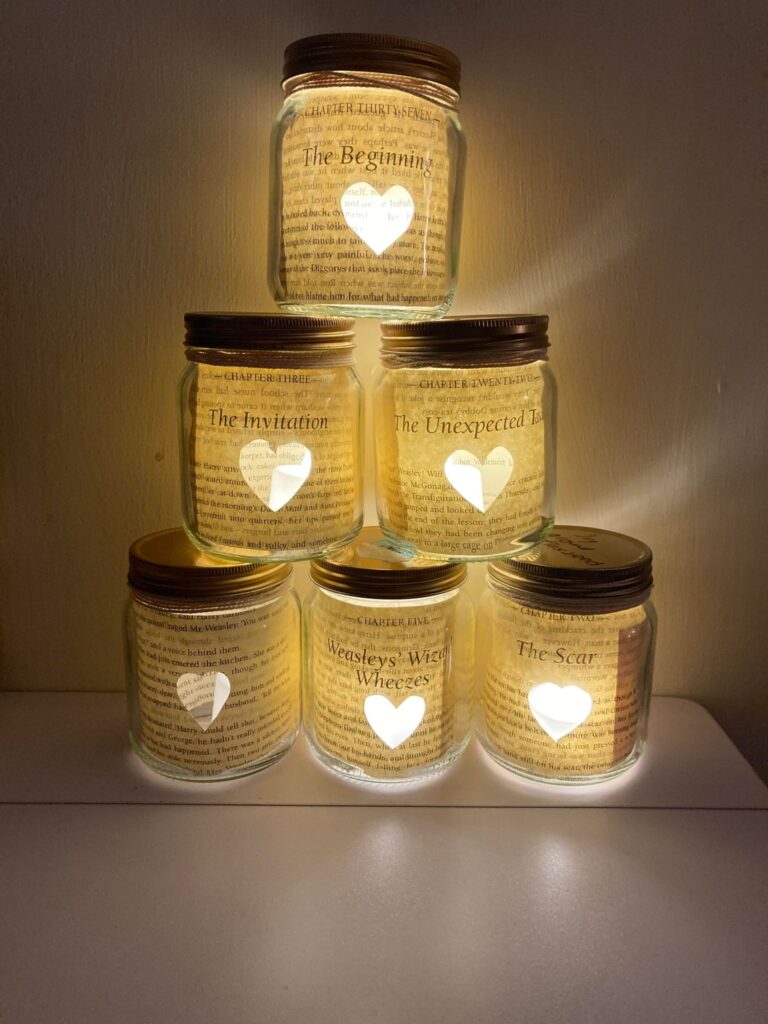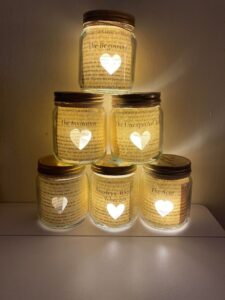 Another craft I have completed so far is our tissues for our guests. I know sounds odd right but I thought it was a cute idea. My plan is that each guest that comes to the ceremony gets a pack which includes 2 tissues with a cute sticker on it and a pack of confetti for afterwards as our venue states it must be biodegradable. I saw it online on pintrest and made it my own with pieces from eBay.
I used this seller for my stickers as the first lot I brought were wrong as the seller messed up. I then ordered the bags and I ordered 3 lots of 20 which was enough for my tissues but I will need to order more for the confetti. We haven't brought our confetti yet so don't go buying it all please. I also found this rainbow confetti for the kids as thought it looked so bright and colourful. We are going to let the kids throw that after the proper confetti. All of the confetti packs will be in the bags I linked above and have this cute sticker on them as I just thought the bag needed something extra and this was nice without being in your face,
For our invitations I had searched and searched online but everything was so expensive and then I checked eBay on a whim and came across this seller who was brilliant. They send proofs before printing and its unlimited edits and they come with envelopes as standard. I also used them for our RSVP cards and reception invites as I was so happy with them. Carly (SIL) found the template for our invites online and has managed to match our signs and other bits to our invites which is brilliant.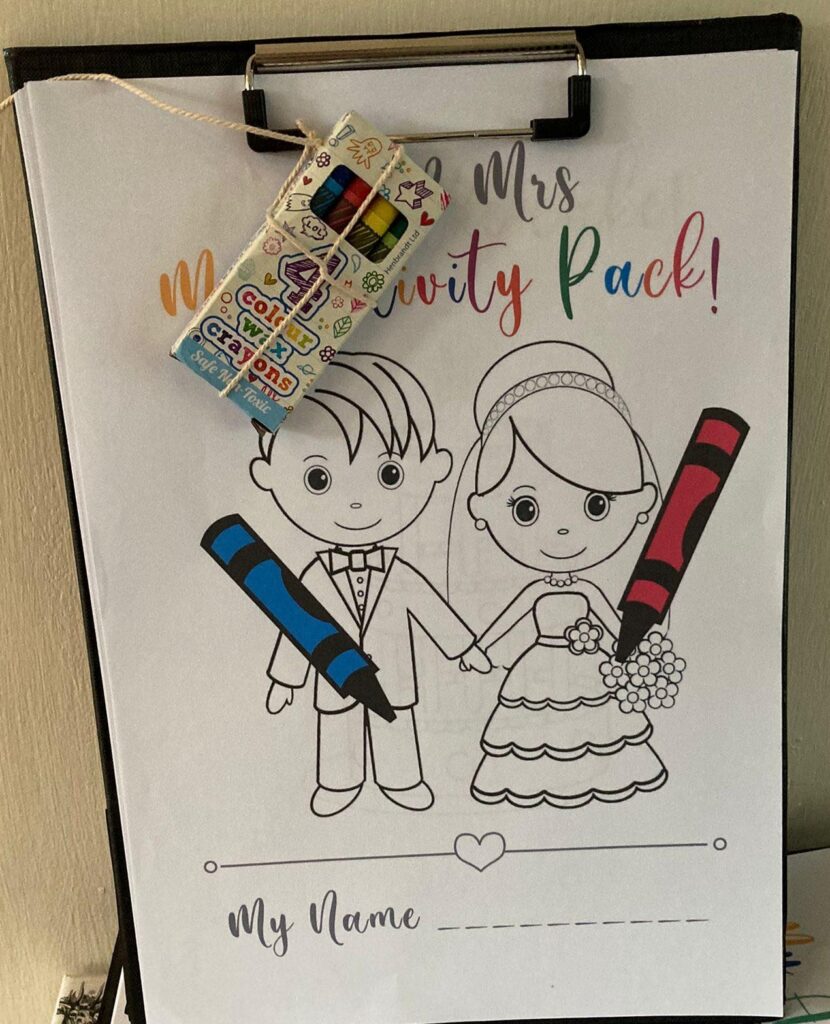 The last thing I have made [so far] is activity packs for the children who are coming and I got these printables from a FB and I cannot find them now but there is plenty on eBay, Etsy and the web if you google it. Also happy to email over the PDF if you drop me an email. I got clipboards from Poundland as I wanted wooden ones but they are expensive so I got plain black ones. I have teamed it up with packs of crayons from eBay but soon realised there isn't any skin colours so going to have a pack of pencils with the sets too. We are going to have some strange skin colours which is gonna be quite amusing.