I got gifted 3 tickets to go to the Zippo Circus for Easter Monday in Blackheath London. I couldn't wait to go and didn't tell Ethan until nearer the time as wanted to make sure the trains were running. After all it's a bank holiday and luckily they were running so off we went with Grandad.
The journey didn't take too long it was under two hours. We had to go into London and back out the other side so that's not bad really for the distance we travelled.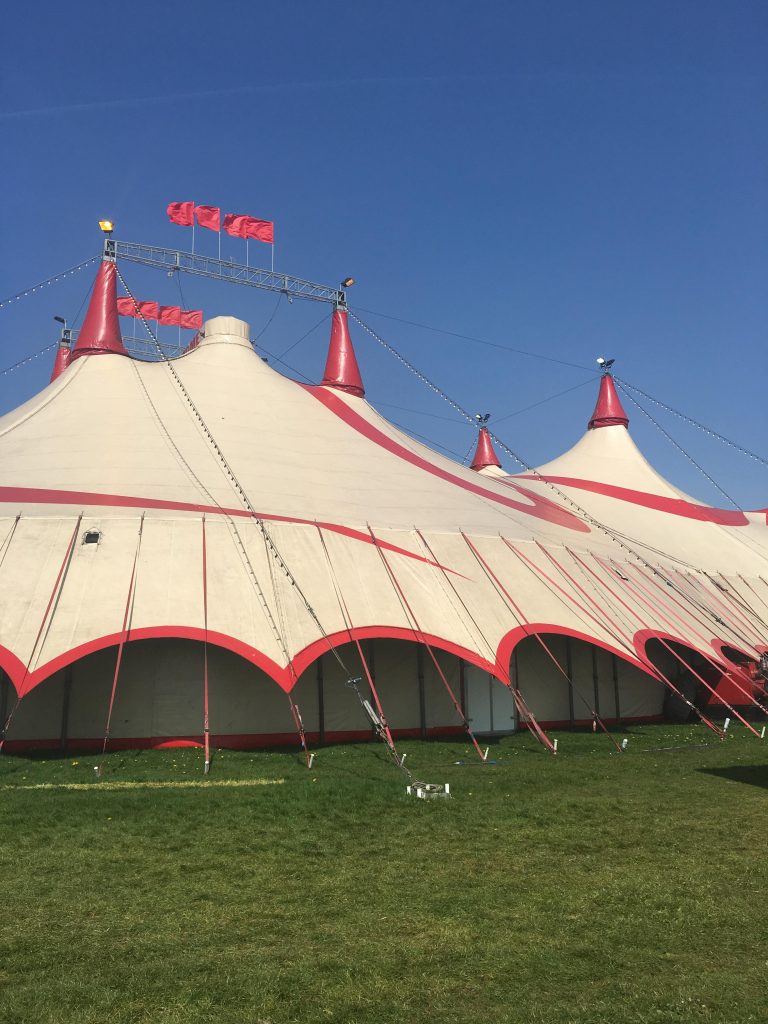 Zippo circus was about a 15 minute walk maximum from the train station and the tent was huge so was easily seen. Ethan was super excited as soon as he saw the tent and managed to spot an ice cream man too on route.
On arrival we were led to a VIP area which made the whole day that bit extra special. Once in the VIP area we were gifted free programs, popcorn, candy floss and a lightsaber for Ethan. He couldn't believe his luck considering I would never usually buy him one.
So once we got our freebies and Ethan filled himself up with slushy we went to go and sit down and waited for the show to the start. By this point Ethan was buzzing and couldn't wait to see what acts were coming. He was hoping the motorbikes would be part of the show but I couldn't be sure!
The show lasted around two hours with a short interval and it was amazing. I don't want to give away too much but I haven't seen a circus show in years and this was honestly fab. The acts are so talented and they put their all into it. They all multitask throughout the show so it could be selling the lightsabers at the intervals and then throwing the knives in the show the next. It's got such a community feel to it and I want to go and join the circus now.
My favourite act was the aerial acrobats as the moves are so delicate and it has to be precise. They all did something different as well none of the acrobats did the same moves or used the same equipment. To watch someone swinging their whole body weight around by their neck was not only scary but fantastic. It left everyone with their mouths open in awe.
Ethan's favourite was the motorbikes within the globe. It started with just one bike and ended with five. It was honestly scary to watch as it was so worrying, that they would crash! Each time they added a new bike into the globe, you heard the crowd shout and scream as they couldn't believe it. Even my dad couldn't believe it and he's been to the circus a few times with us kids when we were younger. There is a video of the bikes in our YouTube video but it was hard to truly catch the details.
In the interval we were treated to a wonderful spread of food as well as drinks. We also got to meet some of the acts and have a chat with the Ring Master himself. Ethan thought it was super cool to meet one of the bike riders from the globe and went super shy! It added to the experience as we felt truly special and like it was just us despite there being a lot of people in the VIP area.
I will 100% be looking to go back and paying for the tickets myself when it's back over this way. There are other circus troupes that visit my town but m I will be waiting for Zippo Circus to arrive back in London.
Full listings of the venues and dates for Zippo Circus can be found here.
We had the best day and it was the perfect way to end the Easter break. I can see why they have been voted the best circus in the world!
We also videoed a lot of it and stuck it on our YouTube channel here.