Dunelm Christmas Preview 2019 [AD]
Dunelm invited me along last week to their Christmas Preview 2019 in London. It definitely felt strange thinking of Christmas this early in the year but it has got me all festive already.
I was surprised by the colour trends this year and the mixture of textures used. The colours appear to be a lot of blush pink, emerald green and deep reds. The base colours didn't surprise me as after all it is Christmas but the pink feels like an unusual choice. In amongst the colours this season they have mixed in textures with a lot of succulents and big feathers. I personally think the pink shades do work nicely alongside the greens but I'm not sure if my partner would be so keen.
Each of the little areas in the showroom were representing a room in your house. The plan included the living room, kids room, spare room, breakfast table, bathroom, plus the big dining table. It was really nice to see it in situ rather than just on a shop floor. It also gave great ideas for customised items rather than all shop brought.
Living Room Christmas Style
The living room was cosy and welcoming but with minimal furniture and the main attraction as the tree. The living room set up was more to show off the furniture that you can buy from the store to compliment your tree and Christmas theme. It was mostly greens and pinks within this room set up which is why I think it felt homely. Each of the colours really complimented each other and the tree was decorated accordingly.
They had a half tree on show which is brilliant for small spaces or smaller homes. You could place it in a corner of a room and nobody would even know its a half tree it's brilliant! In the living room the main focus is the tree/presents so it's good to be minimal compared to other rooms. Despite it being minimal, it still had the festive feel due to the colours and textures used .
My favourite part of this room was the tree as it just looked so lush and full. If nobody had said anything I would thought it was real as it wasn't limp like your tradiutional fake tree.
Children's Section
The fad of the last few years has been animals and they have made an appearance again this year. They have been incorporated across all the rooms too not just in the kids section. The chosen animal seems to be a Narwhal this year which we saw alongside the Unicorn and Llama a lot last year. They had the cutest Narwhal soft toy and slippers in the kids bedroom which I fell in love with. I will be trying to track them down for the Christmas eve box as Ethan would look adorable in them.
In our house it wouldn't be Christmas without new bedding and Christmas Eve boxes and Dunelm have catered for both. They are two of the newest traditions that have everyone seems to be going mad for in the last 3 years. The children's bedding they had on display is super cute and it feels really nice and soft. The blue version has Santa riding lots of different vehicles with presents and the pink version has animalswith Santa hats on. If they did the pink version in a double duvet set I would snap it up! The wolf and the polar bear soft toys are also super lush and if I can track them down I will be buying them.
My favourite part of this are was that it has lots of cute items without making it feel too babyish. Ethan will be 7 by Christmas so he doesn't want to be babied but still loves his cute teddies etc. You have the pink for girls and blue for boys but to be honest the majority of it is unisex and Ethan would happily have either.
Spare Bedroom
I loved the ideas in the guest bedroom as its often a room that is forgotten about. Christmas is all about family for me and that means having people stay and they need to feel welcomed. The bedroom set up was a lot of cosy blankets and comfy duvet sets. They had two sets on show which was a traditional penguin and polar bear scene and the other one was a Nordic tree scene again in greys and white. The sheep skin rugs they had on the floor around the event were sourced from abattoirs, they are incredibly fluffy. It's not something I would have in my house but they suited the style. My favourite items in the bedroom had to be the freestanding lights and the window style mirrors. I will be looking for the bedding too as its just so cute and soft.
Christmas Breakfast Table Layout
The breakfast table layout was super cute. It's not something we do in my house but I know a lot of people who do. I plan to take ideas from it and use them on my dining table, such as the name tags with wooden letters. I love the idea of a Christmas morning breakfast but Ethan is always too excited to open his presents so breakfast tends to be a grab and go affair. My favourite two items from the breakfast table layout were the little straw alpaca and the matching bowls and mug set. They are so cute and they can be used all year round not just Christmas. The only thing I would of done to improve the table layout is use Christmas themed water glasses.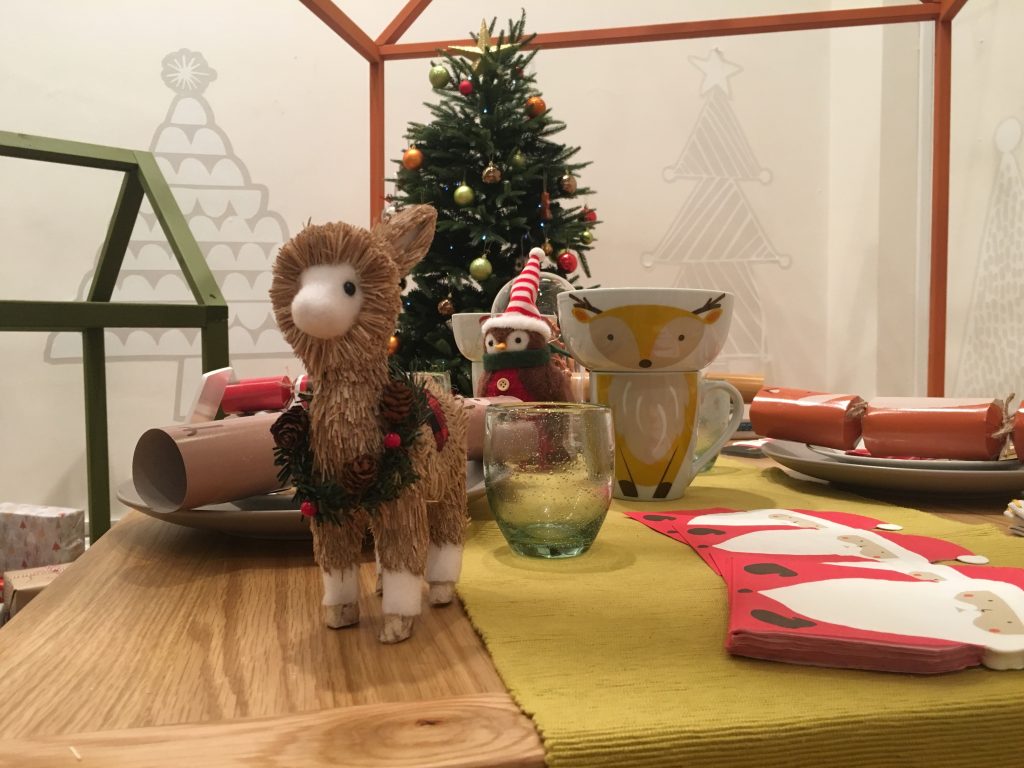 Bathroom
The bathroom decorations were minimal but I love how they even included it in the thought process. The lovely red and white towels really carry through the festive vibe along with the little Penguin/Santa Duck. If you fancy going all out they do also sell Christmas bath mats with either Santa or Rudolph on but I wouldn't recommended a tree in the bath. They also sell really nice bath boards which seem to have been incredibly popular in 2018/2019. My favourite item from the bathroom display would be the towels as they are super soft and feel like they would wash well.
Christmas Table Ideas
Once you were walking to leave the event you were directed upstairs for the dining room table display. The long dining table is the feature of the upstairs area and it is dressed to impress. The chairs running alongside the table are in a lovely blush pink and royal blue and are in a very soft velvet which you can't help but touch. The theme on the table is very much natural and rustic with sheet music on the table joined by ivy and bells. My favourite item on the table is the fairy lights which have little trees with them inside a trinket jar. They are hanging just above the table but would look cute across a fireplace or round a mirror.
Wreaths and Workshops
In the background of the workshop section there were multiple wreaths and driftwood style garlands to show alternatives to the traditional wreath. I love the garlands and my mum got one last year and I've said ever since that I wanted one. I am so happy they have brought them back out as I wont miss getting one this year.
The workshop was super cute and was held by Secret Styling Club who taught us how to make mini macramé decorations with succulents. It was super easy to do especially once we watched them do it once. I can't wait to make some larger ones for my bigger succulents. They would make super cute presents for friends or teachers too and cheap to make. I'm going to try and do a YouTube video of me making one in the future to show how easy it is.
Gifts and General Decorations
They had gifts ideas at the front so we could see what kind of gifts they are stocking this year. The range of gifts are really good and not your usual items. They had a mini foosball table to a vegan cooking book plus loads more. Some of the gifts are available now in store or online.
The Christmas event overall was brilliant and it was great to get insight into the trends for 2019. I love Christmas and it is one of my favourite times of the year so I was super happy to get asked to attend. This isn't a paid post and they didn't ask to me to post but I wanted to share my fab day with everyone. I have added my day to the highlight reel on Instagram or there is a short YouTube video here.
Christmas 2019 can't come soon enough as I want to buy all the decorations!