Father's Day Gift Guide 2023
Each year I write a Father's Day Gift Guide with some different suggestions for gifts and I try to mix up what I suggest as well as the price range.
Boutique Gifts – Personalised Tool Belt [ad]
This tool belt would be a perfect gift for Father's Day, it is made from heavy duty leather and has six pockets for storing essential tools. The belt is fully adjustable as you can see by ours we have personalised it for a Grandad gift. If DIY is your dad / grandad's hobby then they also do a personalised hammer / spirit level / multi-tool too!
The leather tool belt comes in at £27.99 and is usually dispatched within 72 hours so it makes for a nice speedy gift too!
Two Chimps Coffee – Father's Day Special [ad]
The wonderful people at Two Chimps Coffee sent us a sample of their Father's Day Coffee for us to try and we LOVED it! Have you ever thought I want a coffee that tastes like Tropical limeade or maybe Sweet grilled peach with hints of strawberry then this is the coffee for you.
'DADDYWADDYDOODAH – Say 'cheers' to an A-Star dad with this a-star coffee and from £9.95 this coffee makes an awesome present for a coffee loving dad.
Engravers Guild – Spirit Men's Watch [ad]
Engravers Guild have sent us an engraved watch that has a PU strap and black sunray dial with a personalised back for a message of your choice. The watch gives has a 42mm silver casing with a sports bezel, a quartz movement, and it is splash proof up to 30m.
When choosing something for Nick I wanted something that was going to last a long time and be a memory maker rather than just a bar of chocolate (he loves his chocolate). I really like the appearance of this watch and the functionality of it for everyday use but how it can also look good with formal wear too.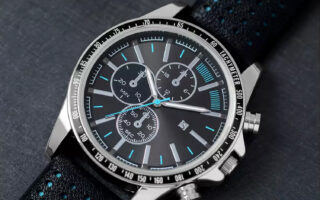 Mylee London -Personalised Bottle Opener [ad]
Over the years I think my dad been brought a lot of beers for Father's Day but I can't remember buying him a bottle opener. I think this bottle opener is great as it is a push down version so accessible to lots of people and you can personalise it too. It would be a [perfect gift alongside a bottle or two of their favourite beers or ales and it is already gift wrapped so saves you a job too.
Grab yours from Mylee London today.
Pioneer DJ got in touch with me asking to a products they want to put forward for Father's Day gift ideas.
If dad is a music lover then Pioneer DJ have got some brilliant speakers available which would make an awesome present. He recommended the DM-40 & DM-50 speakers which would be perfect for the upcoming summer weather and BBQ's as well as the family parties he might host!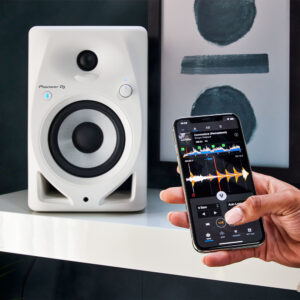 If your dad / grandad/stepdad etc is looking for a new hobby this Father's Day then the Casio piano would be an ideal present.
The CDP-S110 digital piano is the ideal beginners piano for dads (or anyone) wanting to learn the piano or pick up a new skill! If you purchase through the Casio website then you will get FREE online lessons worth £49.99 and free delivery.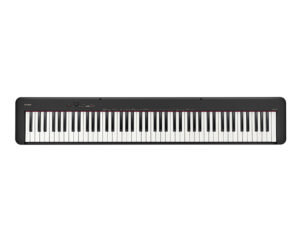 CityStack was first launched in order to help support the independent pubs which were hit hard by the economic crisis, pandemic etc. It has also been created to help the pub lovers get back in the pubs and allow them to socialise within their budget.
This is the perfect gift for pub lovers: It allows them to discover amazing hidden gems across London, essentially you need to spend 2 coasters to get your money back. The stack is valued at £100 worth of food & drinks at ten great independent pubs across London.
CityStack offers ten money-saving beer mats, each giving £10 off a £20 spend at one of the ten independent London pubs that are part of the collection.
USE DISCOUNT CODE: DITTRICH23 FOR FREE SHIPPING ON YOUR FIRST ORDER.
How Does It Work?
When it is time to pay, give the beer mat to receive a £10 discount on your bill. This discount is available on any item on the menu (food, drinks…) at any time.
It has been recommended by TimeOut and featured by Metro and other media.
They also sell 3 different types of Tote Bag which also support the cause. Both can be purchased on their website here.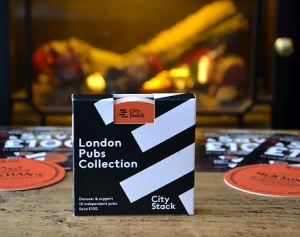 ---
DISCLAIMER: Various items from this guide have been gifted to us but our opinions do not reflect on the products company, or the thoughts of any social media companies we have shared this review on. We give our 100% honest opinions on the products we test and we have declared it is an AD and gifted as required by the ASA guidelines