Father's Day Gift Guide 2022
I love to promote small businesses and as my Mother's Day Gift Guide went down really well, I thought I would do it again for Father's Day. All the companies have gifted me their products to take photos and try for myself. I am only recommending the products I enjoyed and liked myself. I have recommended things I would be happy to purchase for Nick or my dad.
All views are my own and they DO NOT reflect on the business' views / opinions/ thoughts.
Club Seven have got great sets of underwear and socks for the man in your life. We all know that men don't throw away their socks when they are full of holes and their boxers are losing elastic, so this Father's Day treat him to a nice new set. These socks are super comfy and soft and the trunks are really well fitting, and they wash well too! The men in the household were happy with them and said they felt really good quality. I have to say they are 100% nicer than the ones we usually buy. The Base 4.5 Collection started in February 2022 and it is already very popular so get in there soon if you want to nab them for Father's Day this year.
They have created a 15% discount code for my readers and the code is DITTRICH.
If you have a gardener in your life, then these seeds are the perfect present. Each biodegradable, plant seed pod is pre-sown with high quality seeds and comes ready to plant. All you need to do is water the soil and plant the seed pod. Once planted, the seed pod will absorb and retain the moisture it needs. It will continue to feed the water directly to the seeds. The pod protects the seeds and over time they break down naturally leaving zero waste and high-quality healthy plants. Honestly as a gardener myself I have found these so quick and easy, and I love the no waste element of the packaging.
You can purchase these directly from their shop online or in selected supermarkets. If you order online from their store, the packaging fits perfectly through the letter box so no missed deliveries and ideal if you aren't local to see your dad on Father's Day.
If the Dad in your life loves Escape's Rooms then this is for them! This the first printable escape room game, The Murderous Scallywag. The game is set in 1902, and the city is awash with villainous gangs, pickpockets and thieves. All very small fry, but there is one big fish you are after. The idea is to solve the mystery and catch the villain before it's too late.
Escape rooms have become incredibly popular over the last two years and with the growing popularity it has resulted in the geniuses at Epic Escapes have made a version you can do in your own home and people are loving it.
This is suitable for 1-6 people; it requires NO set up and you have just 1 hour to solve the puzzle. This Father's Day why not have a night in and spend your time trying to beat the puzzle with the one's you love.
Side Note: For £24.95 they will print it professionally for you and ship it to you if that is what you would prefer rather than printing it yourself. The choice is yours.
FREE DOWNLOAD LINK FOR MY READERS:
Please Note: This link will expire 30 days after the article is published (after this time, you will need to buy the game to play).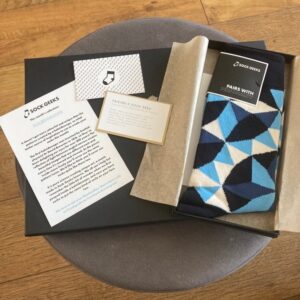 If he is a fan of socks, then this is for them! It comes in a lovely gift box which is filled with three pairs of their special socks. They are special because the socks are designed by the company to match the personality of the wearer (there are 3 categories) and not only that they are created with high quality feeling and durability firmly in mind. The sock box comes complete with one of the 3 cards such as the personality card. There is no subscription or no nasty surprises in a months' time, just a one-off lovely gift.
DISCOUNT CODE: LOVEDAD22 for 20% for all orders and please mention you heard about them through dittrichdiary.
Take the quiz to find out your sock personality.
If you want something different and unique to that special man in your life, then this is for you. Each one is written personally based on the information you give at the time of ordering. I got one made for Nick and I was so excited to see it when I got it via email. I printed it off and got a frame for it and I know he is going to love it. It isn't just a Father's Day present either they do them for all occasions and they are loved by many people not just us.
I have been given a special discount (DD15OFF) for my readers which will help you get 15% off your order for Father's Day!
Books by Small Authors [AD]
I have been sent 3 small authors books to share with you which are perfect for this guide. We have Mr Jones by Alex Woolf, The Packing House by G. Donald Cribbs and Countdown to A Killing by Tom Vaughan Macaulay. I have read each of these to make sure they were as awesome as the company said and they are brilliant. They are well written, the characters are relatable, it is so easy to read, and I finished them really quickly. I was disappointed they were finished to be honest I didn't want them to end. My favourite has to be Countdown to A Killing, but I loved all 3 of them. If they want to read something new then check these out as I can guarantee one of them will be the genre that they enjoy reading.
Store Links: Countdown to a Killing / Mr Jones is available on this link or from Amazon / The Packing House
Nick loves football much like 99% of the male population so I have ordered him one of the personalised Dad and Lad prints of him and Ezra featuring Spurs. I also added Nick's favourite shirt numbers to add to the personalised aspect of the gift. This is the ORIGINAL designer of these type of prints, and I love supporting small businesses. I have opted to frame it myself as we love a certain style in this house, but he has lots of options from prints to canvas to digital download if you don't mind printing it yourself. There are limited teams on their website currently but on their Etsy, they have loads or drop them a message them on Instagram if your team isn't featured. There are other options too including day and night or mum and child instead of dad. It could easily be grandad, dad, stepdad, brother etc depending on what is required. I love it and I know Nick will too.
This isn't an ad or gifted just LOVE the one I got for Nick.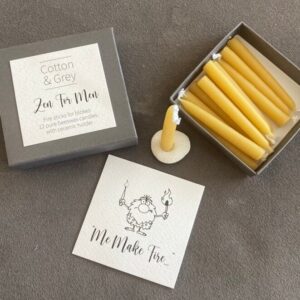 I was sent a lovely little candle set by Cotton & Grey that are designed with the men in your life in mind. The idea behind the Twenty Minute Candles is that there is ten pure beeswax candles, and a ceramic candle holder which has been designed for relaxation and well-being. During the burning of the candle the idea is to lose yourself for twenty minutes and to use the time to slow down and just live in the moment. Each candle is made with 100% non-drip pure beeswax, and the candles burn with a gentle and sweet honey aroma. They are designed to burn for at least twenty minutes but may burn for longer. Help them relax for 20 minutes at a time by slowing down and living in the moment with our 'Twenty Minute Candles'. These are perfect as a little present for Father's Day, and the candles smell amazing both when they are being burnt and when just on display.
I have been sent this gorgeous leather wallet, that is personalised, which is ideal as a gift for Father's Day. Thank you, Engravers Guild, for sending me it to review and include in our Father's Day Guide.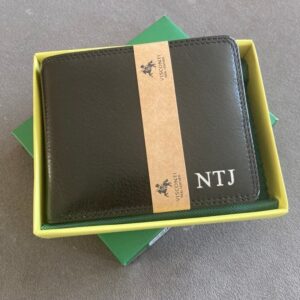 I chose the premium black leather wallet, and got it personalised with silver embossed initials. The other options are gold, or blind embossed initials depending on what style you like / want. I loved the brown wallet, but my partner usually has black so that's what I went for. The custom wallet is one of the best sellers, and they have been designed to carry both cash and coins. He has been looking for one with a coin section for a while, but most don't have them anymore, so this is a welcome addition. It comfortably accommodates four credit cards but I'm sure he will put more in there. The wallet allows for three slip compartments and a slip note compartments for all essentials to be carried neatly.
Bonus: The wallet features
RFID protection

to keep personal data safe, and a very fancy looking Visconti lining is used throughout.
I have been sent this amazing Bubble Whisky Glass, and it is personalised, which is ideal as a gift for Father's Day. Thank you, Engravers Guild, for sending me it to review and include in our Father's Day Guide.
It is a classic straight sided whisky glass with a lovely little bubble in the base. It is presented in a luxury silk lined presentation box and is gift ready when it arrives. This personalised whisky tumbler has great durability and is incredibly stylish. It has lots of character making it a perfect gift for the whisky lover in your life. Precision laser engraving cuts a beautiful impression which makes for a personal and special gift and is included in the price.