Ezra has been GIFTED a really cute Peppa Pig Weeble Car Set with 2 extra figures and these are great for his age as they are chunky and toddler hand friendly. It is classed as 18 months + but he loved it as he could hit them and they would wobble but never fall which made him giggle an awful lot.
The Peppa Pig Weeble set doesn't just have the car it also includes a Train and a Playhouse which I am sure Ezra will love when he is older (they require a little more coordination than he currently has). I have to admit thought that I love the look of the Train as Ethan loves trains so I hope Ezra ends up liking them too. Both the Train and the Car are perfect presents for Birthdays' or Christmas as they come in under £20 and they will allow for hours of make believe fun.
The Playhouse comes in at Under £35 so it would be a higher price present but I am sure it would be a very BIG HIT with a Peppa Pig Fan and of course it works well with the other two vehicles and all the figures are compatible with it. The toys allow for the imagination torun while and do the work but they can also re-enact their favourite PP scenes such as when Mr Bull is digging up the road or When Daddy Pig gets them stuck on the hill in the car. The amount of playtime the boys will get from this toy is endless and that is my favourite part of any toy when they can play with it again and again as it means it has great value for money.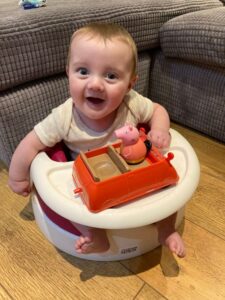 There are 8 figures to collect in the Weeble collection and this includes Danny Dog and Suzy Sheep amongst other big names in the show. Ezra has Zoe Zebra, George Pig and Peppa Pig which are brilliant. He loves them as they are such vibration colours and easy for him to bash around his tray. I know he would love Emily the Elephant too as we call him Ezzie the Elephant so I can see us making a trip to Smyths Toys soon!
At Smyths you can get the figures as a Single, In a 2 pack or a 4 pack depending on which characters you need and what your local store stocks. Online at Smyths you can get the Peppa Pig, Suzy Sheep, Danny Dog and Rebecca Rabbit for £14.99 which is great value for money. The single characters start at around £3.99 in store.
The Peppa Pig Weebles Collection is available at Smyths Toys Store NOW both instore and online so why not check it out! We would love to know which character is your favourite so comment below and let us know or pop over to our instagram post and let us know there.
If you would like another families opinion on these fun toys then please pop over to our friends at The Strawberry Fountain who review a lot of childrens toys too but they also talk about holidays at Butlin – which I will be reading before we go away,