We decided to surprise Ethan with a trip to Paradise Wildlife Park in Broxbourne for his birthday and we adopted him the penguins too as his present so it was a present and a surprise rolled into one.
I love PWP and I went for my birthday as my fiance adopted me the red pandas that are there so it is a place we try to visit often if we can. One of the really good things about PWP is that they have the World Of Dinosaurs too so it isn't just animals for the non zoo loving children.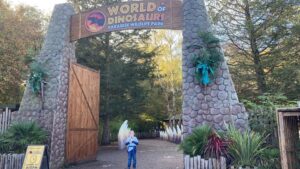 We were really lucky and it wasn't overly busy when we visited, we have made a youtube video of the day and at 30 minutes it definitely shows off our day. We found we could go around the park without getting too close to other people or having to wait to see the animals and that was definitely a perk of going on a weekday. The BBC were also there filming for the new series of the CBBC show "One Zoo Three" so that was pretty cool and if you spot us take us a photo!
Ethan was over the moon with being able to adopt his penguins and he was super surprised that we were going to see them. With the adoption it meant he also got his name on the adoption sheet in the zoo which he LOVED and was very excited to see as we didn't tell him in advance.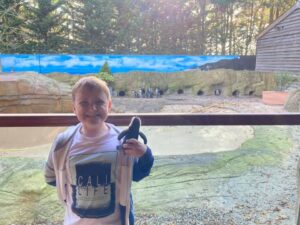 We had a nice sunny day which was brilliant as the previous week had been chucking it down and we were dreading the day in the rain, either way it would of been a good day but 80% of it is outside so when it rains you will get wet. I have been numerous times before but this time we went on the Rex Express which I haven't done before and it was £2 each for around 5 minutes max on the little train. It is good for the kids but I wouldn't do it without a child as you can see it all from the path.
Due to COVID the site is cash free and you have to prebook tickets and use card in all the outlets, including the gift shop which was Ethan was gutted about as he had cash on him. This may change with the rules and guidelines but it is something to be aware of, and there is NO walk up tickets available either it is strictly pre booked only.
Ethan has already asked to go back soon and to do the dinos in the dark next year which looks awesome as I saw it on Stacey Solomans Stories for her nephews birthday. The Dinosaurs are getting some new additions in 2022 and the park is adding Sunbears and an improved leopards area too so we can't wait to go back and see that.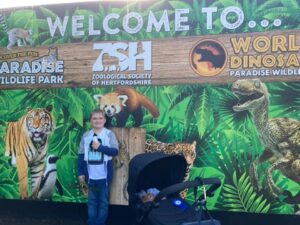 If you are local I totally recommend doing it and you can definitely spend a good half a day there and longer if you do the play parks and stay for lunch too. We will be back after Christmas and I can't wait to see the Sun Bears as I have never heard of them before!