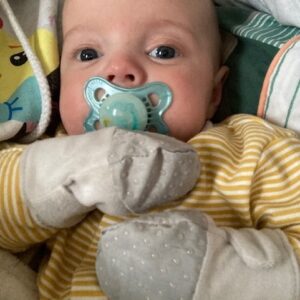 Ezra has started teething and drooling so on Black Friday I purchased a set of teething mittens from Gummee Glove in the size of 0-3 months. Ezra is obviously still smaller than most babies at 4 months due to being premature so the gloves having a velcro closure is PERFECT as it means we can adjust them to fit him.
I love the fact that they are lined which means their hands don't get wet from the dribble and drool and we have been using them as gloves too as none of his standard gloves fit him and it is super cold lately.
Ezra seems to love them and when he is slightly bigger I will be purchasing the gummee glove which has teething attachments on it and will last him a long time. The design is so well done and child friendly that it isn't offensive or too OTT and I don't mind the colours either which is unusual for children's product as usually they are very obnoxious.
Gummee is very proud to have won multiple product and business awards over the years. Although we have never really sought out awards We are always pleased to receive them, but we do believe that customer reviews, social media likes and Gummee live video views mean more because that's where real mums and dads have told us how much we mean to them, through good communication and always being there if they need any help with teething. Gummee Mummee (Jodine Boothby) goes live via facebook and instagram every Monday at 20:30 and every Wednesday at 14:00 to discuss our products as well as doing a live giveaway of the product of the week from another company who will also be a small business. Hope you can join us.

Gummee Glove Website
We LOVE this product and it has helped us so much with Ezra now he has found his hands and we really hope it will help you too.
Everytime you support a small business they do a happy dance and you are not paying for a second home or an expensive holiday but you are supporting a family, paying for school activities and new uniform, as well as much more. It means an awful lot to them.