Plasticine Craft Kits [AD]
My kids just love to make a mess and that includes crafting and to be honest I can't stand the mess, but Plasticine I can handle. It is the perfect way to keep them occupied on the rainy days over this Easter Break. I was kindly sent some awesome Plasticine sets from FlairGP for the kids to play with.
Plasticine is the original modelling clay and a timeless classic that conjures up all sorts of childhood memories. I remember it from when I was at Primary School and that was 20 years ago. It also smells the same as when I was a child which is crazy that it hasn't changed much in 20 years! Ethan and A couldn't wait to get tucked into all these goodies and even F decided to get making!
Over the course of a snowy, rainy, miserable Easter afternoon, I gave them a challenge of creating Easter items and let them crack on with their plasticine pictures, figures, and models. It kept them quiet for hours and they were so happy with their Easter figures and scenes and even started making a whole little garden arrangement with carrots and bunnies.
Plasticine is a lot more durable and long lasting than other brands we have used over the years, and this is why we love it as it doesn't dry out or go rock solid. No matter how hard the kids have tested it by leaving their crafting activities out or forgetting how to close the tubs it's nice to know it can be used. Ethan is the worst for leaving crafting bits laying around the house, so it is nice to be able to use them again and again despite him leaving tubs open, packets laying around and his creations not drying out and cracking.
Plasticine is suitable for children aged 5 years+ and a great way to keep little ones occupied without too much mess. It rolls out easily without adult help and my mum said it smells nicer than she remembers from 30 years ago. The colours are bright and vibrant, and it doesn't come transfer onto the hands of the person using it no matter how often they touch it, roll it, break it. It is really easy to manipulate unlike other modelling materials and it is easy to use no matter if it is brand new from the packet or used for 7 days straight. These sets are all available over at Amazon.
PLASTICINE TOOLZ BOX
I love the Toolz Box which contains 7 colours of Plasticine, 5 shaped cutters, 1 modelling tool and 1 roller which allows the user to shape and create with. The fact that you can pack it all away in its box is a major bonus point as it means it can travel with us between houses and it doesn't get stuck over everything else. It is a big bonus points for me as a parent as it means it is contained and I won't be finding it mushed into the carpet. It is a sturdy box, and the carry handle is much appreciated by A as she has been using it an awful lot at our 2 houses. You can then store all your Plasticine Models in your toolbox to continue with at a later day. It is Suitable for ages 5+.
PLASTICINE FLURO SELECTION
A loved this set as it was bright and colourful and inviting, and it meant she could create more wacky creations with the fluorescent colours. This set includes 9 neon colours and 1 modelling tool. It also came with an ideas sheet, but she didn't require this as she was off as soon as she saw the neon colours. Once again, the colours didn't transfer to her hands and didn't dry out when she left it on the chopping board.
PLASTICINE TOWER BLOX SET
This set includes 10 x tubs of plasticine, 10 x cutters of various shapes, 2 x modelling tools, 1 x Roller, 1 x Mat and 1 x Instruction Set. It is a whole playtime in one box and if you were gifted this set then there is plenty to keep little hands busy. It is an extension to the other sets, but it is also a standalone set which works great for a newbie to Plasticine. We love the animal cutters in this and the play sheet so you can really make a whole play scene without much trouble The tubs also work out nicely as cutters and moulds as you can use the wavy sides to cut into the plasticine and the tops to make star shapes. It really is a bargain for around £8.99-£12.99.
PLASTICINE COLOUR MAX SET
This set is a bargain for £5-£6 as it includes 24 colours and is the perfect set for a beginner or for topping up colours when you are running low as the range of colours is just perfect. Minimal packaging so it really is a perfect add on to any kit to allow for more wonderful creations.
PLASTICINE UBER TUBES
This set includes 16(!) colours, 2 modelling tools, 1 mat and a roller. It is a lovely set, and the colours are larger amounts than we have seen in the other sets, and this really pleased A & F as they were making a huge garden so needed lots of browns, green and orange (for carrots) so the extra-large tubes of Plasticine were happily received.
Our Opinion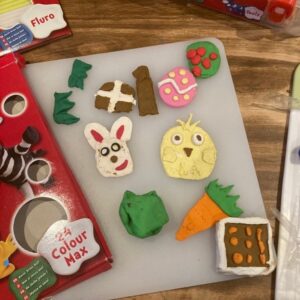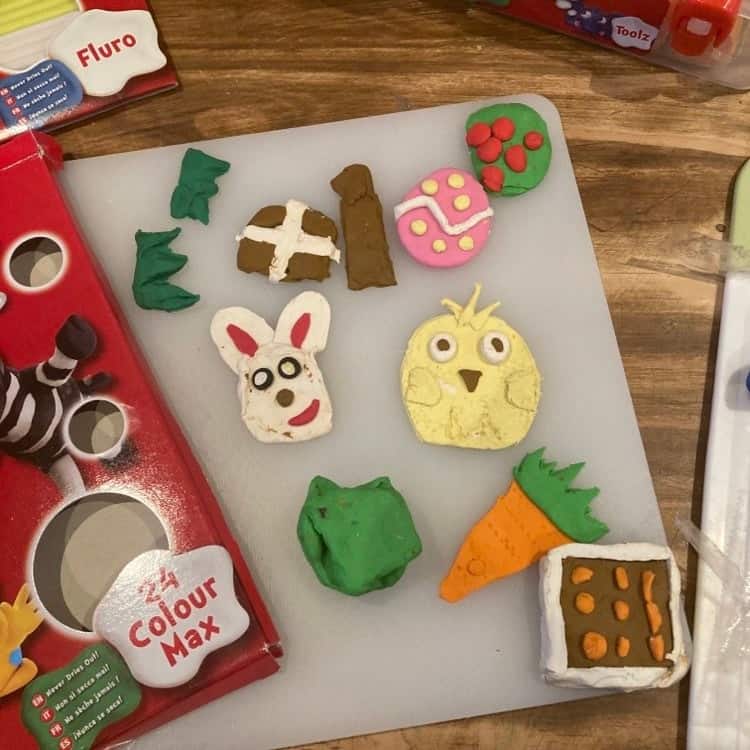 The kids were happy with all the sets but if I asked A her favourite, she would say the Tower Blox and E would say the neon colours. F would say he is too cool, but I think he really liked the Uber Tubes as it meant he could make a giant plant pot for his creations. It is a great activity to keep the kids busy at any time but especially over this Easter break as the weather isn't our friend this year.You can get your hands on these sets over on Amazon now.
Which creation do you like best? Let us know in the comments or vote over on our Instagram post.