The following blog post is talking about sex, sex toys and is An 18+ Post.
Sex toys were created many years ago and yet it is still a taboo. Some people believe that sex toys were even used more than 20,000 years ago how mind blowing is that? The last few years talking about sex toys and sex in general has been normalized thanks to TikTok and Instagram and people just wanting to crack those taboos. It really is great news because using and owning sex toys is much more normal than you might think.
When I went to BlogOn I met with a lovely lady who works for Skins Sexual Health and Creative Conceptions and they want to normalise talking about sex, toys, lubes and making it all fun again especially if you have hit a rough patch. If you want to freshen up what you get up to under the sheets or just want to explore some more then this article is for you, it isn't all fifty shades and just the smallest addition can make the biggest difference.
So Let's talk!
Some People need them
Using dildos or vibrators isn't only for single people, they are often used by couples and they can easily be brought into foreplay as well as solo play. Some women, find it difficult getting to the point of orgasm by sex alone and some need that extra stimulation. This is why some people / couples like to bring in toys so both parties can reach a full orgasm and equally enjoy the time together.
Sex toys like The Scream Egg** are designed for Clitoral or Nipple stimulation but it can be used anywhere (within reason), and it comes with 10 different pleasure settings. It is discreet and can fit in the palm of your hand and can be used as a solo toy or with your partner.
Discuss sex together
Many people refuse to use sex toys within a relationship as they think it is strange or that it means they aren't good enough, but believe us, that isn't true. Once you get the conversation going and you start talking about sex toys, or spicing things up in the bedroom, then this will open new doors and new boundaries in your relationship. It doesn't even have to be about bringing in toys, it could be about using flavoured lubes**, different condoms** or just wanting to try a different position. Bringing up sex toys can be the opening conversation you need to talk about your sex life and it opens up the conversation to discuss things your partner wants or that you want to try. Until you talk about what you want, you won't know what each other wants or has fantasies about, many see sex toys as a fifty shades full blown red room but it really isn't as daunting or as overwhelming as that – unless you want it to be.
Use the correct products
Using the correct products is key when having sex and if you are putting anything up or in your private areas then you need to make sure they are safe and tested to the highest standards. Skins Sexual health and Creative Conceptions have a great range of sex toys, lubes, condoms and more on their websites. They are tested to the highest standards and believe me the products are much better than what you used to get out of the toilet vending machines when you were 18.
If you want to venture into the world of sex toys, lubes, condoms and more then check out Skins Sexual Health [for public use] and Creative Conceptions [for business use] for high quality products and a company that wants the best for you and your in between the sheet activities.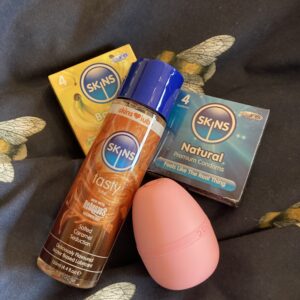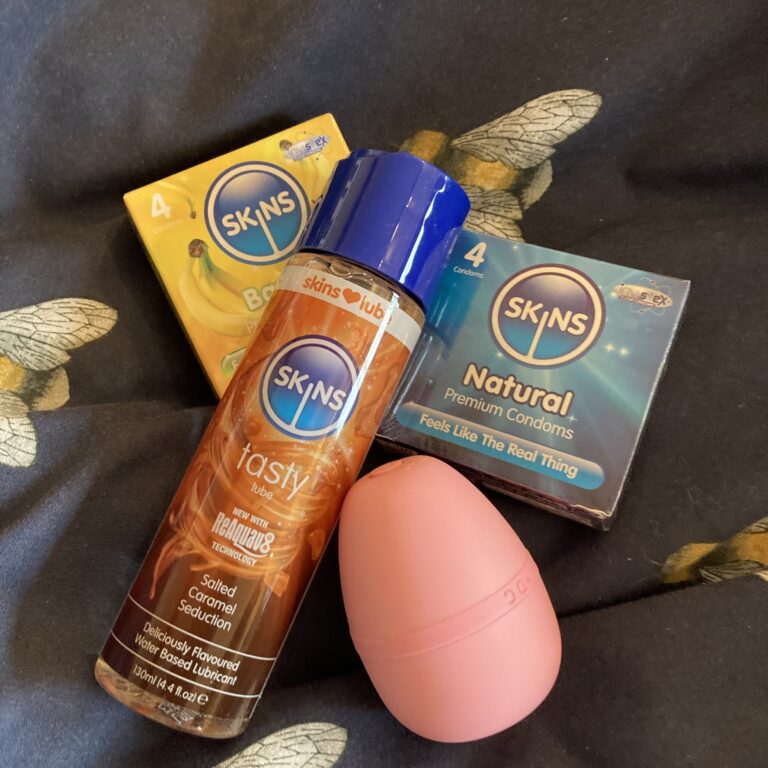 ---
DISCLAIMER: This is post about sexual health with links marked as ** as I was gifted these products. No payment or expectations of a review were discussed. Our opinions do not reflect on the products company, or the thoughts of any social media companies we have shared this review on.
We give our 100% honest opinions
---