Not heard of Squishmallows or Squishville? Where have you been!!!
Squishmallows / Squishville sets seem to have taken over the toy market this year as well as social media. They are at the top of most young girls Christmas lists and when they hit the shops they don't seem to stick around long. These soft, squidgy creatures come in all shapes & sizes from pocket size to extremely large. Not only do these little characters have their own unique personalities, they have now brought out their own village for them to live in complete with sweet shops, schools, diners and holiday accommodation!
Squishmallows have been around since 2017 but within the last year thanks to TikTok they have become an international sensation. When it first started they had just eight characters, but there are now over a thousand in the collection. They are so soft and anyone who knows me knows I don't say that easily and as I am sure you can guess from the name they have a marshmallow like texture. As someone who has issues with textures and prefers things to be super soft, these give a huge positive sensory stimulation and I 100% know why they are popular. Each of the designs of Squishmallows come with their own name and personality traits which makes them all feel individual (think like the TY beanie bears from the 00's). The smaller ones are popular as 'fidget' types due to their size and feel.
The Squishville Academy** which the kids received to review is amazing. Presented in a very eye – catching box, you can immediately see the fun that was in store. It's back-to-school time with the Squishville Academy, and this is where schoolwork and play blend for fun. The set contains a 5cm Eunice the unicorn, two accessories, and a themed playscene, this playset makes learning fun.
Let Eunice make a quick stop at her squishy locker on the way to class, and when she gets to class, there's a plush desk to sit into where she can flex those brain cells. After school it is time to kick it at football practice on the rooftop field.
Ava is totally Squishmallow obsessed and the school set is brilliant. She loved playing with it, and she was gifted two extra character sets so this meant she could expand her play area and make believe play. Each item is so well made and so much thought had gone into the product to get the maximum play value from the toy and the design.
Would We Buy Squishmallows / Squishville for our friends?
This is certainly an amazing addition to the ever expanding collection of Squishmallows available. As a Christmas gift this is sure to be an instant hit. Whether it is a first Squishville item or an addition to an existing collection, there will definitely be some happy children when they receive this on Christmas morning.
Where can we buy Them?
This item can be purchased from various high street stores such as The Entertainer, Smyths, and Asda and online from sites such as Amazon.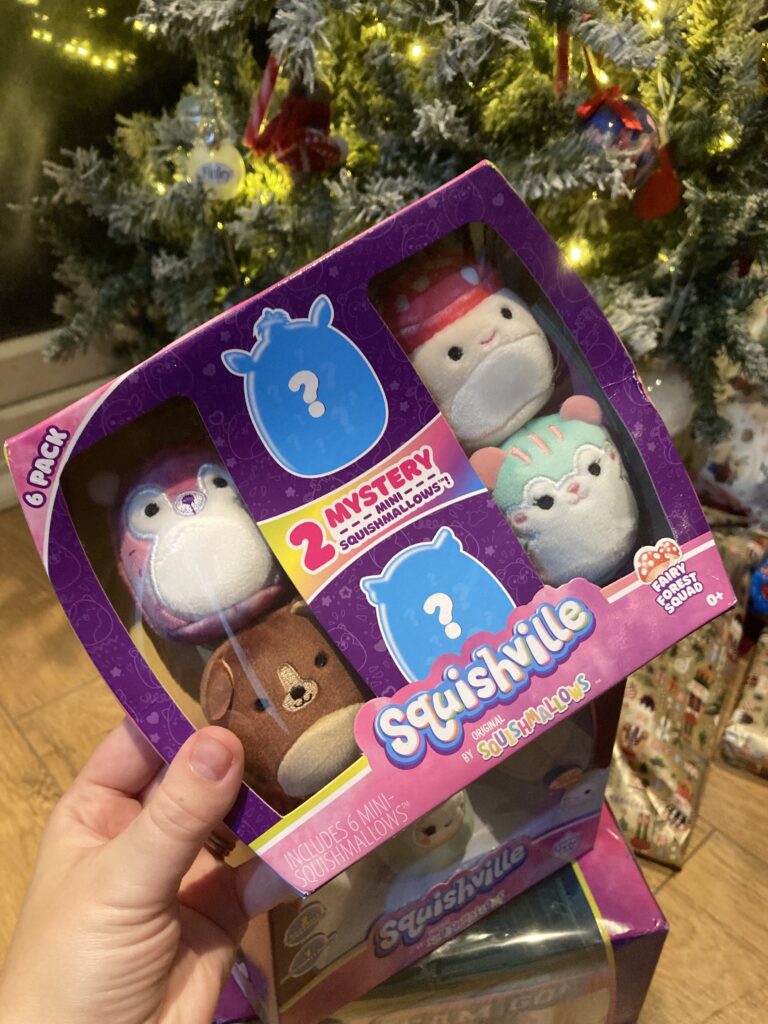 ---
DISCLAIMER: If marked with a ** then it is an affiliate link – if you purchase from this link I may receive a few pennies from the retailer. It doesn't increase the price you are paying.
DISCLAIMER: This item has been gifted to us but our opinions do not reflect on the products company, or the thoughts of any social media companies we have shared this review on.
We give our 100% honest opinions on the products we test and we have declared it is an AD and gifted as required by the ASA guidelines
---