Dobble – The Quick Paced Family Card Game [AD]
We have been GIFTED a Harry Potter Dobble Set and if you know anything about me then it is that I LOVE Harry Potter and anything related to it so this is a winner already. I briefly learnt how to play Dobble at the Toy Fair at the Asmodee Stall and have been itching to introduce it to the family for our game's nights.
The family friendly card game from Asmodee is suitable for ages 6+ and is played with 2 to 8 players. It is a fast-moving fun game which is really easy to learn how to play and the more players, the quicker the game.
I love anything that tests our quick thinking, and this does exactly that but without too much brain power being needed. It can be played with all the family, and this suits us brilliantly as the ages in our little family range from 9yrs to 37yrs if you include the adults too.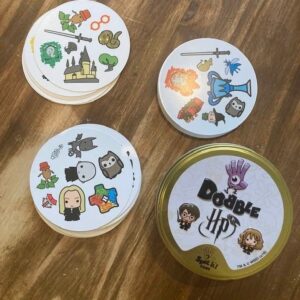 There are 5 different games you can play with Dobble cards, but essentially you play by finding a matching symbol between different cards and whoever does this first wins that round. Each card has 8 symbols on and there is always one (but only one) shape that matches between any 2 cards. Think of it like snap but with multiple icons on one card. We found that sometimes it is easy to spot and sometimes it is harder. We found that there were multiple times that we were convinced that nothing matched but then suddenly it was there. F (13) was very good at getting the most cards and he won all 5 games that we did last night. A (10) found it slightly harder but that was because she would see the item but couldn't often get her words out quick enough to win the card.
As I mentioned before there are 5 different versions you can play with the same deck and the games may sound complicated but once you play, it makes more sense. We have started with The Tower, and The Well but we haven't tried the slightly more complicated ones yet.
The 5 Versions Of Dobble
The Tower where each player starts with one card and the rest are in the middle. The aim is to get as many cards as possible.
The Well is basically the reverse of the Tower, you start with one card in the middle and the rest shared out between all the players. The winner is the first person to get rid of their cards.
Hot Potato, each player has a card face up on their hand and if they find a match with the card that another player is holding, they pass them their card until 1 player has all the cards. This works best with 4 or more people.
The Poisoned Gift, the player in charge shuffles the cards and places one card face down in front of each player, then place the remaining cards in the middle of the players to form the draw pile, face up. This setup is similar to the tower. To win you must collect as few cards as possible from the deck. Players must turn over their cards and each player needs to try to find the identical symbol between another player's card and the card from the draw pile. Once they name it, they can take the card from the middle and puts it on the player's card.
Triplet, 9 cards are put face up at a time and players must find a matching symbol across 3 of the cards. They then take those cards and replace them from the draw pile. The player with the most cards at the end of the game wins.
For full rules and further explanations on how to play then check out this website.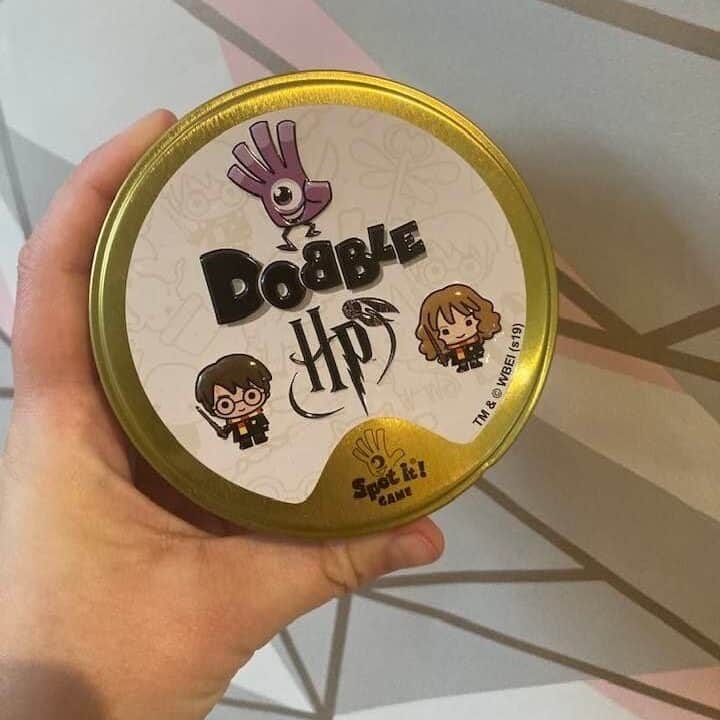 I really like the concept and the idea that Dobble is compact and it comes in its own storage tin. It makes it perfect for travelling and it can be played lots of times without it losing its appeal. I have looked around at the various prices online and in stores and it seems to be quite a standard RRP of £12.99. I found all the different brands and styles to be really varied and Ethan is already eyeing up the Arsenal Dobble
Set for his birthday (which is not until November).
I think it would make a great gift (or stocking filler) for children over 6 or of course adults. Nick and I had a great time playing it last night and getting very competitive. It really is a game for all ages not just children. The original game is aimed at 6 years plus, but there are other versions which are better suited for younger children. The games aren't difficult, but the kids and junior versions have larger pictures and easier to recognise shapes so it makes it easier for younger siblings to join in too.
We loved it and the kids haven't stopped asking to play it since I opened the packet so It is definitely a 10/10 for us. Ashmodee are on Instagram, Facebook and Twitter and their website is https://www.asmodee.co.uk/ if you want to check them out. You can get Dobble in most high street toy stores, Waterstones or online at Amazon.
---
Other bloggers you may enjoy:
4 Things To Do With Kids Before Going On A Road Trip