Mechanics Challenge Strike – Geomag Toy Review [AD]
We have been GIFTED this Mechanics Challenge Strike set to try on our family game nights, it comes with 185 pieces and is made up of two magnetic rods, 24 steel spheres, elements of different shapes, such as loops, cylinders and modular parts, and a playing board. It is suitable for ages 8+ and for 1 to 4 players. The idea is that you get to build your structure and then watch how the rotor spins the swinging magnetic rods knocking over the pins.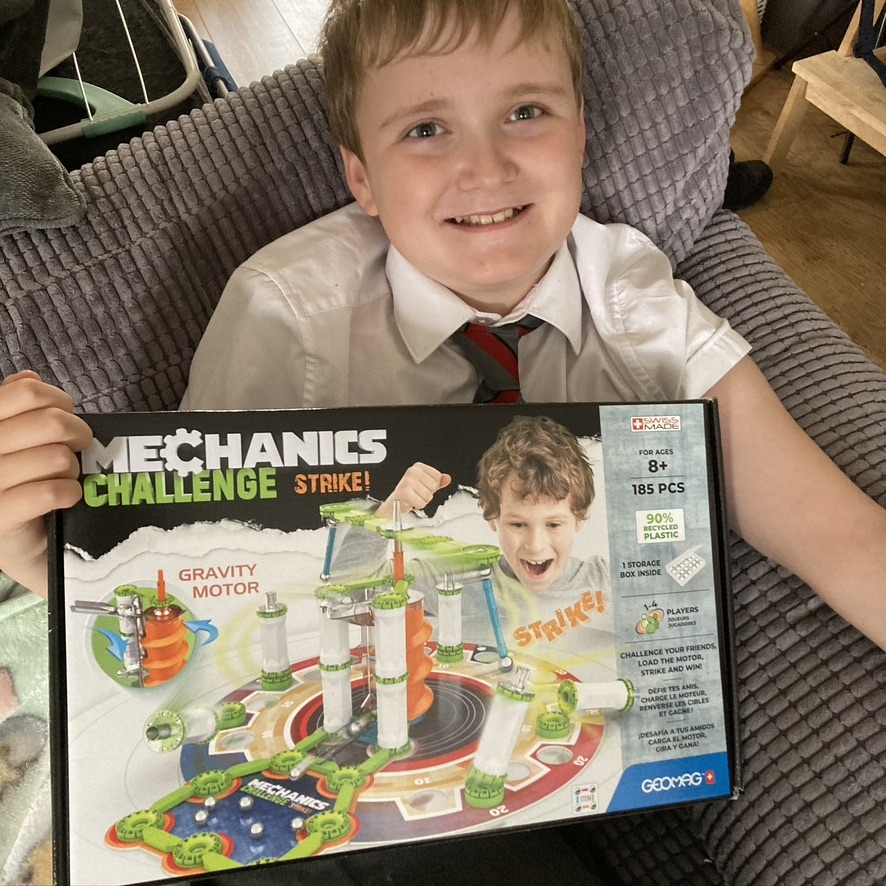 We are big fans of the Geomag brand and we loved the set we got in our BlogOn Kids goodie bag. We really like how the kits are always created with fun in mind but also they are really good as educational sets. They are really good for home education as they teach the children about invisible forces, such as acceleration, magnetism, gravity, propulsion and friction. With this set you can compete with yourself or your friends, and the idea is that you use the invisible forces of magnetism and gravity to knock off the pins.
It comes with full colour instructions to help you to build the game plus plenty of extra materials for you to be able to create your own design. Ethan struggled to build it on his own following the pictures as it really needed clear written instructions but with a little help from Nick they got there in the end.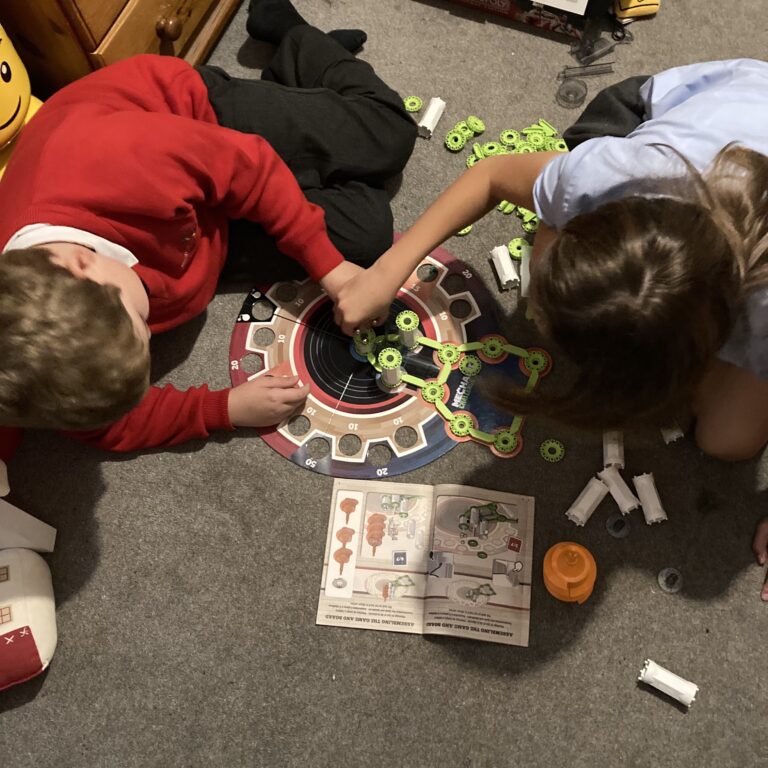 The orange gravity motor does not require batteries to rotate, but you need to feed the spheres into the chute fast enough, to make it speed up the rotor to spin the swinging magnetic rods to knock over the pins. The spheres will then exit through and land on the ball pit for collection. It all works together but it requires good concentration and speed to make it work correctly.
All the pieces are finished to a high standard with no sharp edges and the colours are vibrant and attractive to the eye. You can tell it's made with high standards in mind and good quality products. The playing board is made from thick cardboard rather than plastic and one of my favourite things about the brand / this toy is that 90% of the materials are made from recycled plastic which is a huge plus point for me with any toy. It is Swiss made and all products are aligned with the stringent European and international safety standards so you can guarantee you are getting the best quality.
How To Play
Simply place the pins on top of the round bases inside the scoring circles, then follow the game rules via in the instructions. You can make it easy or challenging but to be honest once you know the style of the game you can adapt it however you like! As it is from the Geomag brand, you can also add more obstacles by using your other sets so the adaptation opportunities are endless if you have any of the previous kits.
Once you have finished playing with it, it is easy to pack away which is a major plus for me as I hate dismantling toys as most of them are a hassle. It does comes with a plastic box to keep all the spheres in place as they are a nightmare if you drop them. I used this and a plastic ziplock sandwich bag to keep it all together. The kids ruined the box when opening it so unfortunately we can't store it in that.
This is a fun set and we all love playing with it. it even drags the teenage away from his game console. This set would make a fantastic present for anyone (aged 8+) and would make a great christmas gift as it will keep them amused for hours!
Where to Buy
For further information on where to buy and alternative ideas to create then visit www.geomagworld.com.
---
DISCLAIMER: This item has been gifted to us but our opinions do not reflect on the products company, or the thoughts of any social media companies we have shared this review on.
We give our 100% honest opinions on the products we test and we have declared it is an AD and gifted as required by the ASA guidelines.
---