When I was a little Megan; all I wanted was a Mr Frosty. I was that 90/00s kid who went through the Argos catalogue and marked everything she wanted. I did have an original Mr Frosty and from my memories of it, it was awesome! I'm guessing like most toys one day it just disappeared so when this arrived on my doorstep I was over the moon.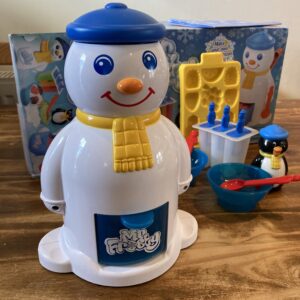 If you haven't heard of Mr Frosty – firstly where have you been? But in all seriousness you might remember the penguin alternative that did the rounds for a few years.
Mr Frosty is designed for ages 3+ but as my kids are 10+ I let them use it without any adult supervision. I do tend to help them though as I love it and even though I am a full pledged adult sometimes I even have to ask Nick for help as the handle can be a bit tricky with big chunks of ice. 
Generally it's design is done with the safety and comfort of smaller hands in mind and it has been redesigned so that nobody can easily access any sharp blades.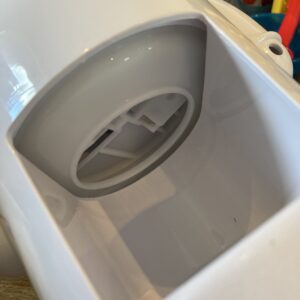 What Is In The Box?
Mr Frosty The Ice Crunchy Maker
3 ice lolly moulds
2 Mr Frosty spoons
1 penguin juice dispenser
1 Shaped ice tray moulds
2 Mr Frosty bowls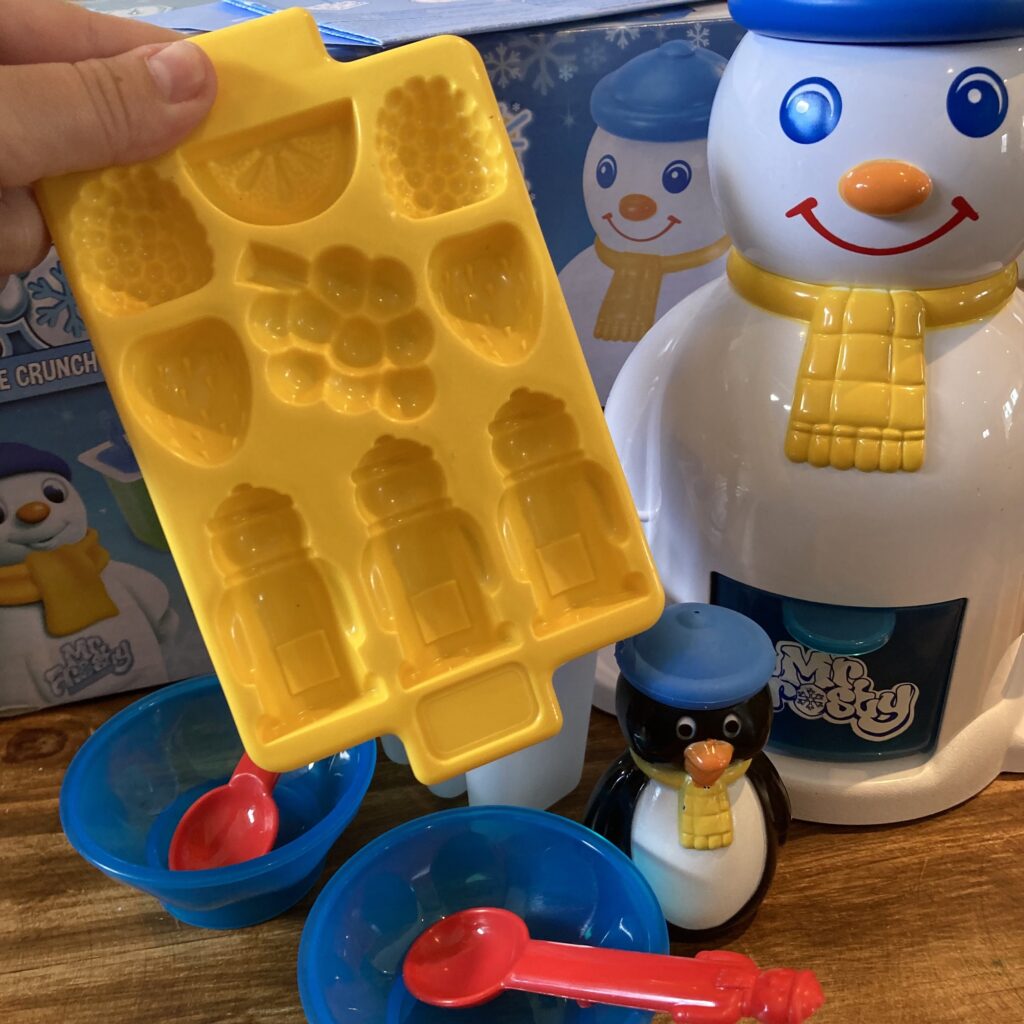 Is it easy to use?
Seriously easy like you don't really need the instructions easy but of course they do include them and I would always suggest reading them just in case.
The basics if you have never seen one used is that you put cubes of ice under Mr Frosty's hat, turn the handle until it becomes too easy to turn.
This will mean there is crushed ice in the box (his tummy) and now all you need to do is put your ice into a bowl and either eat it or top with your fruity flavour from your penguin juice dispenser.
We used cordial as it was in the cupboard but honestly any liquid would do.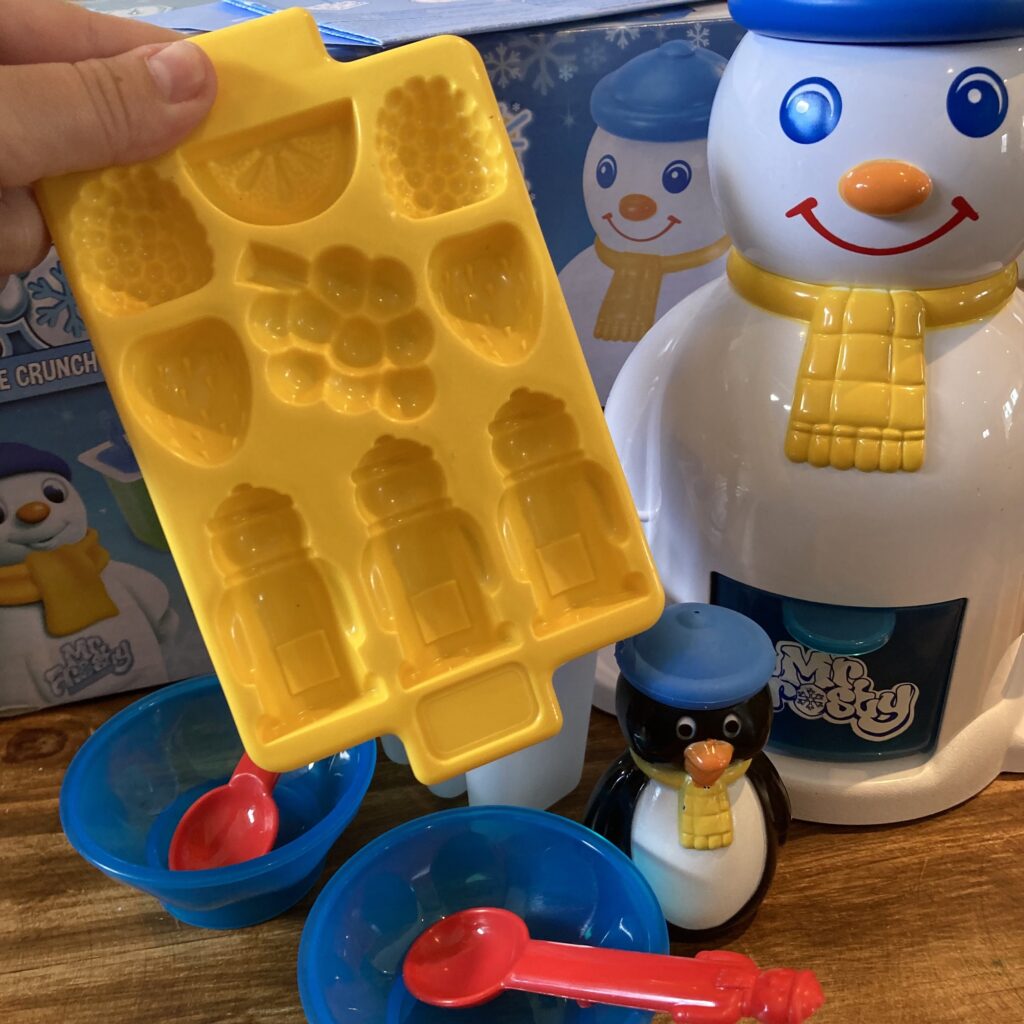 Apple cordial or lemon would be perfect for the hotter days or maybe you could make mocktail crushed ice with the "mojito" drinks you can buy in the supermarkets. It would be good fun to make random ones with your friends at bbqs or bank holiday events. 
Once you've made your Mr Frosty crushed ice inventions you could make ice lollies with the rest of the cordial / flavours and then make the fun shaped ice cubes for your next drink! They do take a few hours to freeze but they are worth it!
It is a classic 80/90's toy but it still has its place in 2023 and all the kids big and small loved doing it. It's definitely a nostalgic thing for me but Ethan and Ava were excited to get involved too! 
Both kids said 10/10 and I would agree too it's definitely how I remember it and I'm so glad it hasn't changed!
Mr Frosty is widely available from a range of stores including The Entertainer. It costs around £23 and is suitable for ages 3+. It would make an awesome present for a summer birthday or as an extra activity for the bank holiday. 
---
DISCLAIMER: If marked with a ** then it is an affiliate link – if you purchase from this link I may receive a few pennies from the retailer. It doesn't increase the price you are paying.
DISCLAIMER: This item has been gifted to us but our opinions do not reflect on the products company, or the thoughts of any social media companies we have shared this review on.
We give our 100% honest opinions on the products we test and we have declared it is an AD and gifted as required by the ASA guidelines