I went to Toy Fair on "influencer day" this year as I have the correct following number across my social media accounts, I didn't take Ezra with me as I much prefer to do these shows without children around me. I would recommend doing an extra day if possible as it is a large venue and you can feel a little rushed with trying to cram in the meetings and events. Toy Fair is mainly a brand trade show but a few businesses will talk to the media / influencers / content creators depending on who is manning the stall. It is a good way to get business cards, contacts and know what is come for 2023 but don't expect freebies / samples as it is a trade / business show.
I had a brilliant day and I hit around 20,000 steps according to my watch so I would definitely prefer it do it over 2 days rather than one busy overworked day. I got there for the 9am opening and I would recommend it this way if possible as it was quiet and you had a chance to work out the space before it was super busy and you got the maximum amount of time for meetings throughout the day. I would book meetings on the hour as it allows for meetings to overrun or for you to get lost via meetings. (I did this many times).
Location wise it is really easy to find from London Liverpool Street as I went to Shepherds Bush then you exit the station cross the road and it is just 1 stop on the overground. It was a LOT easier and quicker than the suggested routes on the train websites. If you wanted to, you can get the Elizabeth Line Tottenham Court Road and then jump back on the central line for the rest of the journey. I did this on the way home just because I wanted to use the diagonal lift at Liverpool Street.
Olympia is a very big venue, that is currently having work done so be aware of this when arriving as some entrances / exits are out of use. I would recommend taking your own food as it is pricey and a lot of it was vegan. I got a slice of banana bread for £4.50 and a can of coca cola for over £2.
I was lucky enough to meet a lot of amazing brands who all had time for me and were lovely to speak too. A lot of the bigger companies required appointments but I managed to email ahead and arrange a few as well as get help from Laura at BlogOn who took us around a few stands too. I would like to give a special mention to these businesses who I loved and really had a great time chatting to them. None of these are ad's just a nod to a lovely company.
I did a vlog style video of the day and it will be available on YouTube soon, I need to edit a lot of it still. Please make sure you like, subscribe and comment if you do watch the videos as it helps get my videos seen.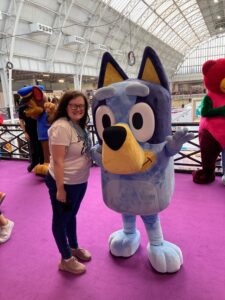 ---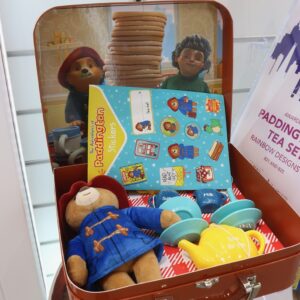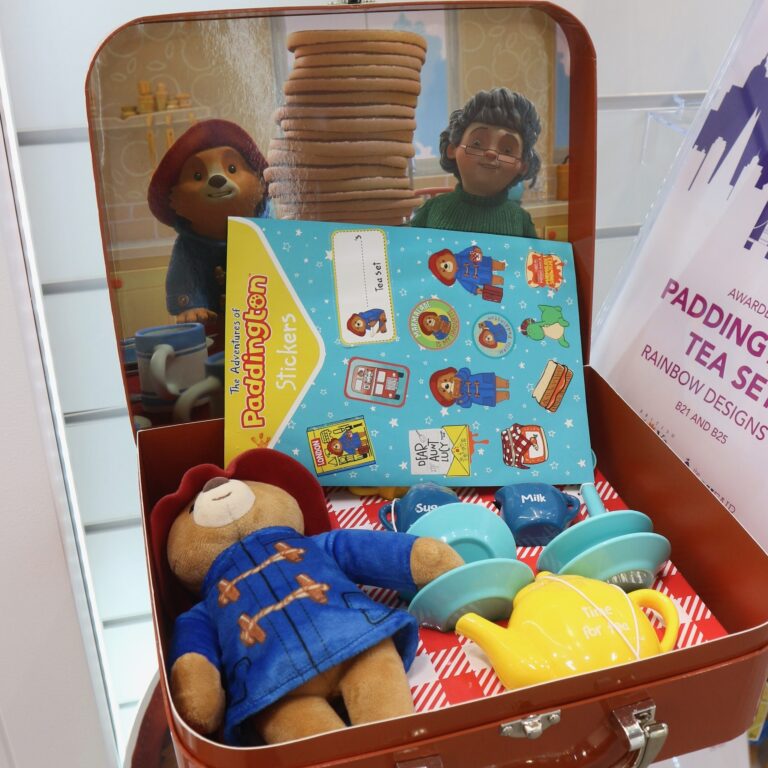 Rainbow Designs stock a range of characters, including Paddington which is Ezra's current obsession.
When it comes to classic characters, Rainbow Designs are one of the leading forces and innovators in the toy and nursery industry. They are extremely passionate and care about what they do and the products they deliver. Rainbow Designs believe it is their mission to provide their customers with the ultimate in licensed character soft toys and the best service possible.
Rainbow Designs – https://www.rainbowdesigns.co.uk/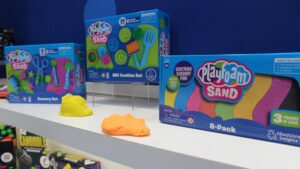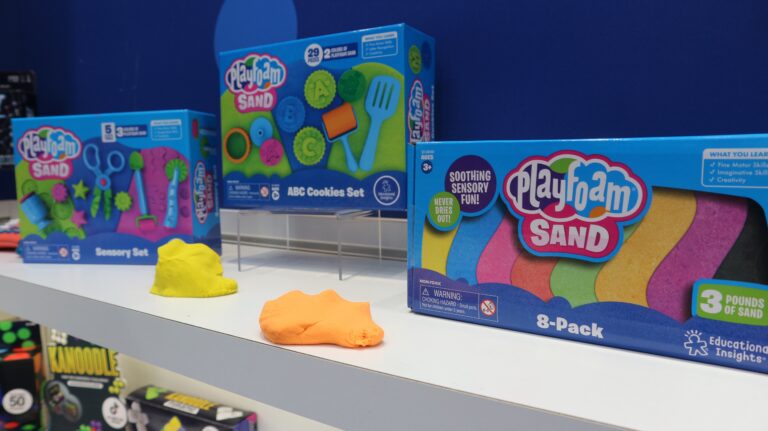 Playfoam Sand is from Learning Resources and we LOVE this product.
Playfoam is the sensory creative toy range that's perfect for children ages 3+. There are so many ways to play and learn with Playfoam! You could use the Original Playfoam which is squishy, squashy, shaping toy that is ideal for sensory play. You could use Playfoam Pluffle™ which is the feelgood fluffy foam that has an eye-catching "lava" flow action. We love Playfoam Pluffle especially the lava effect. We haven't tried it yet but Playfoam Putty™ is the stretchable putty with Playfoam beads inside it that makes a very satisfying popping and cracking sound with every squish and stretch.
If the above ones don't attract you then you can mould, and sculpt with Playfoam Sand (which is pictured above). If you like the feeling of wet sand / dry sand for moulding then this is for you.
We have worked with this brand before last year but the range has massively expanded and we love the bath toys for Ezra. We originally met them at The Toy Fair last year when they gifted us the Elephant Shower head and we have used it every bath time since to get him used to the hair washing shower sensation. This year we were lucky enough to get gifted The FunEleFun Fill 'n' Sprinkle which Ezra loves and has been playing with it in the bath and outside of it as he loves to flick the paddles and make lots of noise with it. We are going to do a full review on it later this month so keep an eye out for it.
If you love Harry Potter then this is the site for you. The website also has stocks Friends / Disney merchandise too but as a Potter Head this is my main section I look at. I have worked with them previously on a gifted basis but I am friends with the lady behind the business so I love to support them when I can. I have a few items from this website and they are brilliant quality and a lot cheaper than the main shop at the WB Studio Tour so check them out.
---
---
DISCLAIMER: If marked with a ** then it is an affiliate link – if you purchase from this link I may receive a few pennies from the retailer. It doesn't increase the price you are paying.
DISCLAIMER: This item has been gifted to us but our opinions do not reflect on the products company, or the thoughts of any social media companies we have shared this review on.
We give our 100% honest opinions on the products we test and we have declared it is an AD and gifted as required by the ASA guidelines