You've seen the sights now try the food. To follow up on my Amsterdam post I promised I would do a Top 10 Places to eat in Amsterdam post and here it is! Amsterdam has a lot of  takeaway food stalls and I can't really say I've had many sit down meals down there as I am a eat on the go person but I'll sum up the best places in my opinion!
This pancake place is a must go too and they are amazing and freshly made for you, in front of you. I have been twice now and each time they have made us feel special and made that extra effort, such as sparklers in our pancakes as we were celebrating birthdays. The actual cafe is very small so if you are lucky to get a seat make the most of it as they get full very quickly!
They are an environmentally friendly company with wooden cutlery and can cater for food requirements too (vegan, gluten free).
Chipsy King
It might not of been voted Hollands Best Chip shop however I have found this one to be the best and tastiest without the hefty price tag. The shop assistants are lovely and always love a chat. They will keep you talking for ages if you talk about football teams and London with them! I would advise trying the curry sauce as it is tasty! Sauces are extra so make sure you really think what you want as most places charge on top!
It has been voted Hollands best chip shop so it must have some appeal l and to be honest the queues do reflect this as it is always so busy. It is worth visiting just to see the sauce dispensers behind the window as they do add a slight comical factor to the stand. The medium chips are enough to keep the munchies at bay and a large would be good for sharing.
If you have a sweet tooth or need a place for a celebration then this is for you. Not only do they add Nutella to everything they also love a good song and dance for their customers when its somebody's birthday.
They are the home of the freak shakes and the tower waffles and unlike most places around the red light district they are open later. The coffee is also amazing and lots of whipped cream.
This restaurant does something for everyone including chips to take away or a sit down meal from Burgers to Toasties to Omelettes.
There are reviews online saying it is over priced however I disagree as the quality is worth the price and the customer service is top grade. There is plenty of seating available throughout the day but they do offer outside seating as well.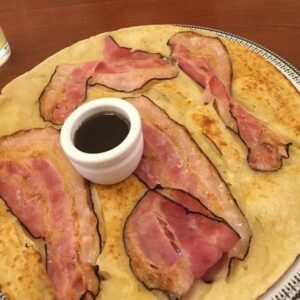 This is the first place I ate when I arrived in Amsterdam as I had no clue where to go or what to do. It is an Irish Pub and the food is lovely for the price. It is all done via table service and they offer indoor or outdoor service. Make sure when you ask for chips make sure you say fries or make it clear what you want because otherwise you will end up with crisps!! The chips are here are amazing and a little spicy and honestly I could eat them all day as the seasoning is just perfect!
This is an Irish pub so they show lots of Football games from the UK if needed.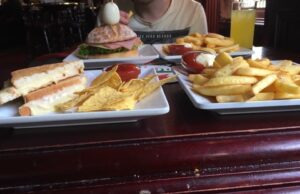 If you want an Instagram perfect drink or food then this place is for. The food tastes amazing but the fact that you can do the perfect Instagram post too that is just the icing on the cake.
Breakfast, Lunch, Dinner or a snack it does everything and is just outside of the central circle so easy location to get too and only five minutes walk from Anne Frank Huis if you are doing the museum circuit. Inside and outside seating to suit both types of people and as it is gaining popularity on social media I can see it only getting busier.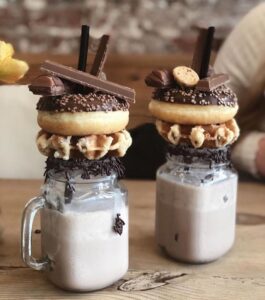 In Amsterdam they don't just sell a lot of chips, they do amazing waffles and this company is my favourite as they look amazing, taste amazing and smell fabulous.
My favourite is the chocolate covered waffle with mini fudge pieces and a hot chocolate whilst walking along the river sightseeing, it honestly cannot be beaten for that sugar hit. They are lush plain too, and can be brought in the UK if you need that Dutch itch, scratching.
Stay with me on this one, it is a vending machine which is full of different hot foods and they vary from 1.50 Euro to 3.50 Euro depending on location.
The hot snacks include hamburgers, Kroketten and Frinkandellen displayed behind glass doors and each FEBO seems to have different snacks and I think this is just due to stock and popularity so try them all! They are perfect for the munchies and late night snacks!
If you can get your hands on Oliebollen then you need to order loads as one will not satisfy the taste buds! Mum and I tried one each when we went to Amsterdam in November 2017 and when we returned in January 2018 the stall was gone. If you are a dutch local / national / dutch person then please let us know how we get hold of them!!
The name of them translates to 'oil balls' – but don't let that put you off. They are basically deep-fried sweet dumplings and dusted in powdered sugar and they have versions that come with fruit in them. They cost less than 2 Euros each and honesty they are so worth it. We haven't seen them again since ☹
if you head to amsterdam and try any of these places I'd love to hear about it!