In 2019 we ventured to Paradise Wildlife Park for the day as a late birthday treat! We bought the tickets ourselves and we used a discount voucher we found on our local car park tickets.
I have sourced a discount code for you guys though: PWPSUMMER10 for 10% off when booking online
Paradise Wildlife Park is only around a 30 minute drive from us. It is in a perfect location and always leads to a brilliant day out. It's also accessible by the train at Broxbourne but you have to pay for the mini shuttle bus which is around £2-£3 each way. Car parking is free at Paradise Wildlife Park and it's not got a time limit either which is one less thing to stress about.
On arrival we went we decided to do the World of Dinosaurs area first as it's away from the main park area. We also wanted to walk around it whilst it was quiet and not too busy.
World of Dinosaurs Area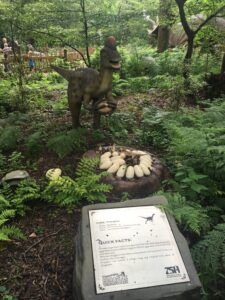 I didn't know what to expect from this section as it's still relatively quite new.
I only watched Jurassic Park for the first time not long ago and it definitely helped me enjoy this section more. It has a little train which goes around the whole dinosaur area but that is extra. Ethan tells me it's under £5 but I didn't check it out so not sure.
The majority of the animals are either animatronic or have sound effects playing around them. They are based on the dinosaurs from Jurassic Park but have the facts about them on an information board.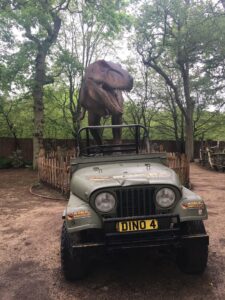 My favourite one was the T-Rex and the land rover they have included as a photo opportunity. It is free to do and had huge queues. It appeared to be very popular especially with families.
Follow the arrows on the floor to make sure you get the proper experience and not see it in the wrong order. It's a bit like IKEA and people get angry if you go the wrong way round. The dinosaur at the end is definitely one to stand in front of and watch especially if you have young children! (Film them as it squirts water!). Like most paths in places like this it leads into the gift store but don't rush as you can visit it before leaving or use the main gift shop.
The Main Park and Animals
The main park is across the road that leads to the car park but before you leave the dinosaur side there is a few other bits to see.
On that side of the road you have the pirates cove, woodland animals, safari stage and the paradise lagoon. There is also Safari Sam's Diner and Jumble Jungle. Depending on the time of day you are visiting these areas can get very busy.
Once across the road you have the whole park, The Birds Paradise, Mini Golf and The Discovery Centre. If you have pre booked an experience they are also on this side of the park.
The experiences can be booked here.
We blindly walked around the animals following our own paths despite having a free map from reception. No particular reason for this but it was a nicer way to do it as most people were following the maps suggested route.
We attended the Otter talk and feed and the Red Panda feeding time too. We didn't purposely attend any of the others but did catch some of them by accident. They are a great addition to the day and they are not charged at any extra.
We arrived at Paradise Wildlife Park at 10am and we didn't leave until 4pm and we could of spent longer there but we had to get home.
We loved the penguins area as you could see them from all different angles thanks to the glass. The White Lion Area is also amazing as you can view it from a higher platform too as well as the ground level. The lions do get a lot more active in the mid afternoon so it's worth visiting them at the end of the day rather than first thing. I managed to get this brilliant photo before we left as they were in their housing area most of the day.
All the animals are brilliant and so well looked after here. You can tell when talking to the staff that they care about them a lot and are very well trained.
The BBC filmed a series about the staff and how they raised a baby jaguar called Maya by hand. It was called Big Cats Around The House. It's not currently on iplayer but it's often repeated on BBC 2. She is now living in their Kent Sanctuary and I am dying to go down there and see her.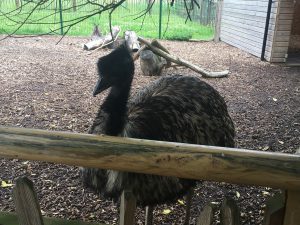 The Red Pandas, Meerkats and Penguins were definitely some of my favourites on the day but we both loved the finger monkeys too. They were very cheeky and bit us through the wiring on the cage! We also got bit by an emu for not stroking it! Full disclosure both were our fault and we didn't report it as we were being stupid!
We love Paradise Wildlife Park for a day out and I haven't been paid to say this or gifted tickets.
It's genuinely one of the nicest animal parks I've been too and would highly recommend it for a day out.
When you look at the map and include the splash park, the multiple play areas, the mini golf, the picnic areas and the dinosaur park you have more than enough to fill a full day and tire out little ones. It was perfect for us for a day out and we were exhausted by the end of it and we didn't do the added extras either!
Just as a side point the ice creams and the food are fairly priced and I would highly recommend going to the Tiger Treetops cafe as you can sit right by the tiger enclosure.
Even Arsenal's Gunnersaurus had his birthday party there which Ethan got to attend! It honesty does cater for everyone!