The Cotswold Company Summer Party [AD]
We got invited to a summer party at Cotswold Company in Chelmsford to preview their latest range and enjoy some cocktails and canapés on arrival.
We were greeted by two members of Tiptree who were making Raspberry Gin and Rose lemonade cocktails or Rum and Spiced Gin cocktails. Both were made with their alcoholic range which I have to say not only looks amazing but it tasted it too. It can be purchased in Sainsburys for around £18 a bottle but it is currently on offer for £14. Tiptree do a full alcohol range which can be found online but here is a link for the Raspberry Gin.
Once we were in we were given a tag to exchange for our gift bag at the end of the evening. We mooched around the store for a while and we started to plan what we would love to have in our house if/when we move in together and what kind of colour scheme we would go for. We have pretty much styled a whole house in one store and I'm sure we would need a lottery win to get it all but a girl can dream eh?
During the event they had a couple of girls from London Grace doing nails and hand massages for free and the queue was huge for it. Lots of happy women who managed to bag a manicure for nothing!
The little canapés looked lovely as the waitresses brought them around as well as the palm leaf biscuits that were placed around the store. The canapés tasted lovely but a bit too fancy for me personally.
They did have a selfie hoop in the corner but I left that to everyone else as it was very popular! I personally love the items in the store and have found even more that I love in the catalogue that we took home. There is so much I love and the colour schemes are on point!
We also tried out the seating in the store and they were all so comfy but definitely not big enough for more than one person! It would be perfect for a reading nook corner or like a dressing room. Cotswold know what they are doing 100% when it comes to furniture it was all lovely.
I also loved this Larder on the left but in Westcote Blue colour rather than Ledbury which also works out cheaper for some reason! Not gonna complain at that though! The event overall was brilliant and was very busy with lots of people purchasing items and asking for more information! I took home a catalogue and have fallen in love with a bumble bee cushion it's definitely going to be #1 on my payday shopping list! Cotswold Company thank you for having us.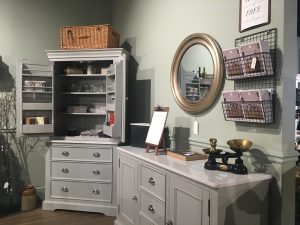 Chelmsford isn't the only store and there are 5 other stores across the country. I would recommend visiting them In-Store to get the full effect of the products. If you don't have a store near you then they do offer a full website with finance and free delivery. These are located in:
Godalming (Store)
Stow-on-the-wold (Store)
Norwich (Store and Outlet)
Wednesday (Outlet)
Harrogate (Store)