Skoodle Magazine is bursting with imaginative ideas and we have been sent it to check out how good it is for budding young artists and children who love to be creative.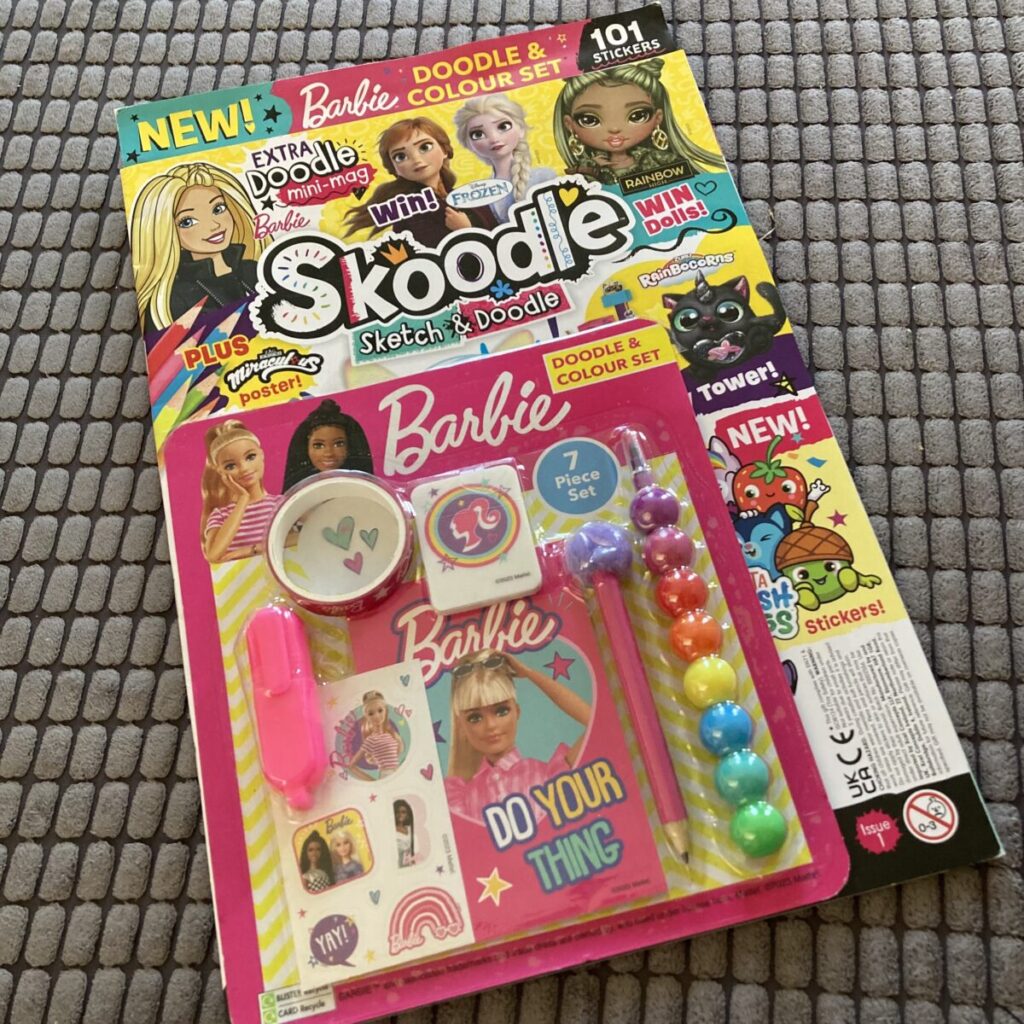 Skoodle is aimed at the primary school age group, and readers are encouraged to Sketch and Doodle (hence Skoodle). It includes a lot of familiar faces such as Barbie, Piñata Smashlings, and many more. It is full of QR codes for the kids to send in their artwork as well as competitions and giveaways for awesome prizes.
As someone who this magazine would of appealed to when I was younger I love that it is full of creative activities such as fashion designing, sticker mosaics, food art, papercrafts, doodling challenges, as well as lots more. It is released every 4 weeks which I think is a lot better than weekly as it makes it more of a pocket money treat and more affordable at £5.99 once every 4 weeks.
This issue has a mini doodle and colour set with it, in the theme of Barbie which is definitely current and cute for the age group they are targeting.
Skoodle aims to encourage self-expression, exploration and experimentation, as well as providing a time-out from eschool work, home life and any other worries a child might help. The time out will help with boosting their mental health and wellbeing as well as give them a creative boost.
Our favourite part is the colouring pages as well as the ease of entering the competitions. I personally really liked how Miraculous and Polly Pocket was included as they are often forgotten about in favour for the bigger Disney/Pixar stars. I really liked this magazine and thought the value for money was really good as it kept A quiet for a long time and she has already asked if we can get it again in 4 weeks time.
Check out your local newsagents and WHSmiths for your copies or you can subscribe at www.redan.co.uk/skoodle and get 3 copies for only £9.99 which saves you 44% off the instore price.** T&C apply check online or in the magazine.
---
DISCLAIMER: This item has been gifted to us but our opinions do not reflect on the products company, or the thoughts of any social media companies we have shared this review on.
We give our 100% honest opinions on the products we test and we have declared it is an AD and gifted as required by the ASA guidelines